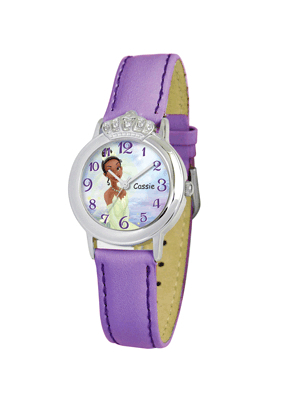 There are many people who choose to buy a used girls' watch. The reasons for purchasing a used girls' watch instead of a new one are varied. Some girls want an expensive watch but cannot afford a new one. Some girls like older watches for their look, how they operate, or because they need a durable watch that they do not have to worry about losing. As varied as the reasons for purchasing a used watch, are the watches available for purchase. There are many used watches available at jewellery shops, antique shops, car boot sales, and online auctions, such as eBay.
When selecting a used girls' watch, the girl's style needs to be kept in mind. If the girl is into sports, then chances are that she prefers a durable watch. If a girl is into dressing up, then a more delicate watch may be appropriate. While buying a girls' watch, there are a few things that need to be done. First, consider the style and activities in which the girl is interested, then find an appropriate watch style for her, after that, all that needs to be done is to find a watch and make sure that it is in working order.
Style and Activities
Just as there are a variety of adult personalities, there are a variety of girls' personalities. Since a watch is both a practical and aesthetic piece of wristwear, it is important to know whom the watch is for. There are many different styles of watch that suit the many different styles of girls.
Active Girls
An active girl is into sports and generally is harder on a watch than one that is not into sports. They have a need for a more practical watch. When purchasing a used watch for an active girl, a leather band may be most appropriate. Another thing to consider when purchasing a watch for an active girl is whether or not the watch should be waterproof or water-resistant. Many of today's watches are water-resistant. A girl who swims frequently needs one that is waterproof. A girl who is not into swimming needs one that is water-resistant. She also may want one that does not snag on things, and allows her to move freely without having to worry about it.
Feminine Watches
There are watches that are built to be more feminine. These watches usually have a more delicate band, are metal, and contain a fancy or thinner band. This is not to say that an active girl cannot wear one. It simply means that they are more susceptible to damage through everyday use. They are normally water-resistant but many take on water, which fogs the crystal. Some girls only use this type of watch for going out or for special occasions, but some use it for everyday wear. The watches meant for everyday wear are often still delicate, but sturdier than those used for formal occasions. These watches are meant for a girl who does not play a lot of sports or does not usually engage in rough activities, such as football. If a girl engages in a non-contact sport, a feminine watch may complement a feminine girl's style.
Girls Who Are In-between
Some girls are active and feminine. These girls may play contact sports but may also prefer a delicate watch for its appearance. There are watches that are in-between the active girls watch and the feminine watch. Some of them have leather bands, while others have metal. If a girl is half-tomboy and half-feminine, then this may be appropriate. Activities may include horseback riding, cheerleading, and other semi- or non-contact sports. They may also be a swimmer or diver.
Styles of Watches
There are many different styles of watches, but only a few categories in which they fit. Some watches do not fit into these categories, but most of them do. There are watches for every occasion and every type of person.
Watch Style

Function

Inconspicuous

Normally made from a high or noble metal

Plain or fancy watch face

Leather or metal band

Decorative or fancy hands and dial

Heavier dial

Heavy band

Most likely a leather band but may be metal

Plain white or silver face

Possibly glow in the dark

Feature-rich

Some are waterproof

Heavy duty bands and stitching

Heavier dial and easy-to-read numbers

Waterproof

Easy-to-read numbers

Glow in the dark or light up

Rubber or plastic band

Heavy duty for underwater use

Fancy bands made from leather or metal

May be inset with precious stones

Many varieties

Classic design for the watch face

Bevelled crystal

Stylised dial

May have any band or style

Have a character on them, such as a dog or cartoon

Are popular for girls who like a certain character
Most watches fit into one of these categories. It all depends on the type of watch for which someone is looking. All of these watches also come in girls' sizes. There are many other watches that do not fit into a category, such as antique watches, winding watches, pocket watches, and many others. The important thing is to purchase a used watch that a girl enjoys and that suits her lifestyle and her habits.
Finding the Proper Used Watch
Once the type and style of a girl is established, then it is time to start searching for the perfect watch for a girl. Each girl is unique and her taste in watches may vary drastically. While looking for a watch, it is a good idea to think about the size of the watch, as well as the style. Measuring a watch is a lot like measuring for a bracelet. Take a tailor's tape measure, and then wrap it around a girl's wrist just below the hand where the watch is normally placed. If a looser watch is desired, then add a few centimetres onto the measurement.
Most girls fit into a petite watch, which is usually 23 to 25 mm long. Most watches are adjustable as well, so a perfect fit is not as important as a watch that is adjustable. Girls have different sized wrists, so be sure that the wrist size is known, so when purchasing a used watch it is not too big or too small. Keep in mind that watch bands can be changed. If the perfect watch does not have a band, or is too large or too small, the band can be replaced easily. Watch bands can be found in a number of outlets, as well as on eBay. For a girl who likes to accessorise, many people purchase watches with an interchangeable band or face.
Making Sure the Watch Works
In battery-operated watches, make sure that the seller is willing to demonstrate a working watch. If the watch contains a new battery, the watch should work. If the watch is not working, then speak to the seller. Some watches have gears or other things inside of them. It is acceptable to bring a watch tool when purchasing a watch to make sure that everything in the back of the watch is flat and nothing is bent. With older winding watches, make sure the springs are in order and that they wind smoothly. Some watches are self-winding, which is a more difficult feature to judge if it is working or not. Self-winding watches may have the option of winding it manually. Self-winding is not a particularly important feature, and the winding depends on the activity of the girl.
Buying Used Girls' Watches on eBay
Finding a used girls' watch on eBay is not difficult at all. Simply go to the eBay website and type your keywords into the search bar. In this case, it may be "girls' watch". From there, a page of listings meeting your search criteria is displayed. When you find a watch listing that you like, click on the listing and a description is populated on the page.
Read the description carefully, and be sure to ask the seller a question if something is missing. From here you can also see the seller's shipping and return policy. The return policy is particularly important because if the watch is not working or is in bad shape because it is used, you may need to return it. You can also take a look at the seller's feedback. Many times this gives you an idea of which type of service the other buyers have had. If there is a seller with a lot of negative feedback, you may want to reconsider ordering from them.
Conclusion
There are many watches on the market that are both new and used. Good places to find used girls' watches are car boot sales, charity shops, and eBay. Just as there are many different varieties of girls, there are many different varieties of girls' watches. It is important to find the individual watch that meets the girl's needs and desires in a watch. An active girl is most likely enjoy a sports watch, while a feminine girl is most likely to enjoy a more frilly or delicate watch. If in doubt about which type of watch should be purchased, ask the girl which she would rather have. The fit of the watch is also important, but due to the adjustability of the band and the possibility of changing the band, it is not as important as the watch itself. The last thing to do is to make sure that the watch is in good working order, and if it is not, make sure that it can be returned.