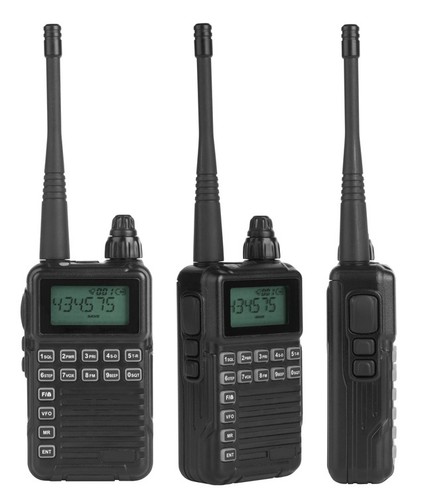 Amateur radio operators, commonly referred to as hams, communicate with each other via radio transceivers, as well as providing emergency notification services to anyone within range of their frequency. In more recent times, the use of radio transceivers has become more of a hobby than a necessity. This is due to the ever progressive advancement of technologies such as mobile phones, the internet, and satellite-linked communication. In the past, ham radio transceivers came with a costly price tag. However, since they have become somewhat obsolete and primarily hobby-based, they have become a very affordable option for buyers interested in this unique pastime.
Buyers interested in updating, or even owning their first ham radio transceiver, can purchase a kit. This not only keeps costs low, but allows the operator the freedom to assemble their own custom-built device from scratch. A ham radio transceiver kit usually includes a receiver, transmitter, computer, and amplifiers. Various kits differ in their complexity and cost. Those buying on a budget should consider purchasing a used kit on eBay.. For this option, they should inspect the used kit for signs of damage and defective parts. Buyers should familiarise themselves with the types of broadcasting, consider the various types of ham radio transceivers, and learn how to navigate the eBay website. Doing all of this helps buyers to take the proper steps to make an informed purchase.
Types of Broadcasting for Used Ham Radio Transceivers
Buyers who want to become a "ham", should familiarise themselves with the types of broadcasting that ham radio transceivers can provide. These transceivers use digital or analogue signals, or a combination of the two. There are pros and cons to consider when selecting either of these broadcast types, so it is best to research whether digital or analogue might serve the operator better. The operator's location also plays a significant role in this decision.
Used Digital Ham Radio Transceivers
A ham radio transceiver kit that uses digital technology as opposed to analogue allows for additional programming and modes including radioteletype (RTTY), voice over IP (VOIP), and TCP/IP-based packet radio. In general, these modes are more user-friendly and accessible and have replaced older radiotelegraphy methods as technology has advanced. For example, RTTY has taken the place of Morse code and allows non-verbal messages to be transmitted over the radio.
Additional benefits of digital ham radio transceivers include the use of more powerful signals and better adaptation to changing or worsening weather conditions. Also, digital ham radio transceivers are easier to operate and offer greater reliability for ham operators. They also have the ability to hold global multi-user conversations, and can even use signal repeaters and bouncing to communicate with operators as far away as space: astronauts at the International Space Station use this particular technology to remain in contact with NASA and other earth-based operators and computers. Digital ham radio sounds can be converted into digital text on the computer screen.
Used Analogue Ham Radio Transceivers
Ham radio transceiver kits using an analogue broadcasting signal operate via a mechanical system. Analogue devices are often more stable because they limit power consumption, which is a very important characteristic in the event of an emergency when the ham radio transceiver needs to be able to run when an electricity source may be inadequate or non-existent. It is possible to add a computer component to the analogue ham radio transceiver, but this increases the power usage. This is usually undesirable due to the lack of power resources in some emergencies.
Used Digital and Analogue Ham Radio Transceivers
Ham radio transceivers are also available with the ability to use both digital and analogue signals. This is very beneficial to operators in regions where there is patchy digital coverage. In the case of a lost digital signal, the device would automatically switch to analogue mode to maintain its signal. Buyers should consider that these transceivers are often more expensive because their components are more complex and require the maintenance of both digital and analogue parts. It may be possible to find a used kit at a less expensive price.
Types of Used Ham Radio Transceivers
There are various types of used ham radio transceivers as seen in the chart below. When choosing the best type, buyers should consider the intended location of use and their budget.
Type of Used Ham Radio Transceiver

Characteristics

Mobile

Designed for vehicle installation

Ideal for use in the car

Runs on low voltage direct current (DC) power

Often paired with a vehicle aerial to aid communication

Handheld

Ideal for use while travelling

Small and lightweight

Decreased level of output

Communication restricted to local areas

Less expensive

Fixed

Large and offers more features

Installed in a permanent location

Very high level of output power

Often paired with large outdoor aerials for increased range
Fixed ham radio receivers are ideal for buyers who require a greater frequency range. On the other hand, handheld and mobile receivers offer more flexibility and can be transported easily.
How to Buy a Ham Radio Transceiver Kit on eBay
Prospective eBay buyers are free to browse the website as much as they like as a guest, but in order to buy items, it is necessary to register. Once the buyer has an eBay account they can buy items, manage their buying activity, write reviews, give feedback, and post on eBay's community message boards.
Searching for a Ham Radio Transceiver Kit on eBay
Buyers looking for a used ham radio transceiver kit can do so through various means on the eBay website. From the eBay homepage,, buyers can use the search bar to type in keywords such as "ham radio transceiver kit". This conducts a search throughout eBay's inventory for all relevant items. They can then select the "Used" condition filter. Using this type of general search tends to result in a large number of listings. Buyers can browse through them all to get a good idea of what is available. For those who are unfamiliar with the various types of ham radio transceiver kits, eBay offers an easy to navigate category search option. By following the provided category links, buyers are lead to their ideal product. This is often the preferred way of searching as it allows buyers to see the options that they may have otherwise missed by limiting their search.
Alternatively, buyers with a more specific idea about the type of used ham radio transceiver kit that they would like to purchase should use eBay's advanced search feature. This allows the buyer to use more specific characteristics about the item to help to focus the results to a particular kit. The search listings from this feature can be narrowed down further by using subcategory listings, for example, condition, price, and location. When buyers have found the right used ham radio transceiver kit, they should read the item description carefully and look at the photos to detect signs of wear or damage.
Preferred Methods of Payment
When the buyer is ready to purchase a ham radio transceiver kit, they should understand what forms of payment the seller accepts. This information should be listed under the item description. All sellers are required to offer at least one approved method of payment. When purchasing on eBay it is best to buy an item with a validated form of payment. A credit card or debit card, and PayPal are the preferred payment methods. A buyer should never choose to pay by cash or cheque. When a credit card is used, the seller never has the ability to view the buyer's credit card details. For a complete list of payment options, buyers should refer to How to Pay on eBay.. If the buyer has any questions about payment methods or the ham radio transceiver kit, they are free to contact the seller using the "Ask a question" feature.
Conclusion
eBay offers a large marketplace from which buyers can purchase ham radio transceiver kits. Buyers should be able to find used kits at significantly reduced costs to those of brand new kits. Buyers should always inspect used products thoughtfully for damage, defective parts, or missing pieces, and excessive wear and tear. It is also important to consider the type of ham radio transceiver kit in order to find the desired device. There are mobile or handheld transceivers available for those operators on the move, which offer convenience and flexibility. There are also fixed units with a larger target frequency band, which are ideal for use at home.
Another factor for the buyer to consider is whether to operate from a digital or analogue platform. Buyers of ham radio transceiver kits should understand the differences between the two. Digital transmission is easy to use and allows the buyer to access advanced features. Analogue transmission offers enhanced reliability, particularly in areas where there is a limited or completely absent digital signal. By familiarising themselves with the eBay website, buyers are able to navigate the item listings to purchase a used ham radio transceiver kit with confidence.