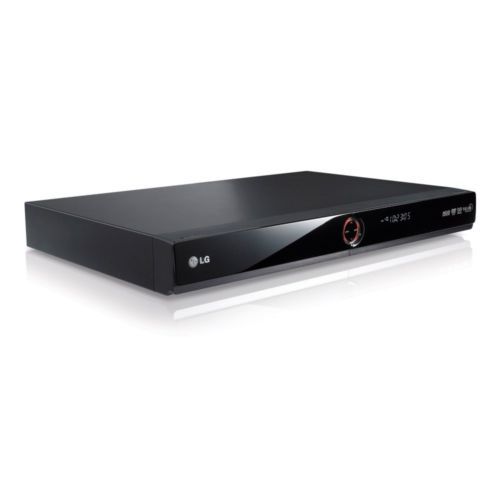 A hard drive recorder is one of the most popular systems used to record video from an external source, including cable or satellite TV, VCR, or Camera Playback. Within periods of time of extensive use, HDD recorders, like any piece of electronics, may begin to have working technological issues. However, many HDD recorders are built with fairly sturdy boxes and can be found in great cosmetic and working used condition. Hard drive recorders come in a small variety of designs and colours, but their features and hard drive capacity are the main attraction for potential buyers. Investigate brands and their durability over time, and research individual devices to find a recorder that will provide many years of convenient recording use.
About Hard Drive Recorders
HDD recorders are used to record video from a TV onto a spacious hard drive, which will allow for future playback. Many HDD recorders allow the TV program to be recorded from the hard drive to a DVD disc. Similar to a standard DVD recorder, HDD recorders feature a TV tuner that can record TV signals. Some HDD recorders also contain many different inputs and outputs and may include an EPG for those who wish to arrange a TV program to be recorded in advance.
Used HDD recorders can be purchased for a fraction of the price of a new model and can be found in perfect working condition. HDD recorders are traditionally purchased based on the hard drive capacity. Increased hard drive space means an increased amount of storage space and recording time. ReplayTV and TiVo initially launched digital video recorders available for consumers in 1999. These first digital video recorders cemented the foundation for others to follow in the same market.
The ability to capture TV shows and watch them at any time has become a must-have capability for many shoppers. Recorders such as ReplayTV came into early legal action because of certain functions available on the device. Most notably, capabilities such as automatic commercial skip and recording sharing on the Internet were the main aspects of the recorder targeted by media companies in the legal battle. Within time, these features became standard in many HDD recorders as well as the advent of many other abilities.
Choosing a Hard Drive Recorder
Finding an HDD recorder that is best suited for an individual will vary based on his or her needs. There are many factors to consider when purchasing a these devices, especially for a used piece of equipment. Since their initial debut in 1999, HDD recorders have come a long way, and many features have been added to the standard recording capabilities, including commercial skip, recording onto DVDs, time shifting, instant replay, chasing playback, and much more.
Hard drive space is also an essential deciding factor; anyone planning to record a lot of material will ideally be searching for an HDD recorder with a large hard drive. Cosmetically, most HDD recorders are very similar, offered in the typical silver or black colour. Compatibility with the buyer's TV is also another integral deciding factor for an HDD recorder. Used purchases must take into account the cosmetic and working condition of the hard drive recorder, in addition to the above mentioned criteria.
Types Of Hard Drive Recorders
PVRs
PVRs are very resourceful recording tools that store large amounts of recorded video onto an internal hard drive disk. Depending on the size of the hard drive, most PVRs can store hundreds of hours' worth of recordings. Successful PVRs are very simple and easy to use and do not clutter the machine with confusing controls. Many come standard with twin tuners, which allow viewers to watch one program while recording another. The hard drive allows the user to pause live television or watch a programme that hasn't yet finished recording. Many PVRs are offered in high definition, which will allow buyers to record HD programs. Only an HD PVR can record HD programs.
DVD Recorders
DVD recorders are usually included in most HDD recorders, which allows for the device to be used simultaneously as a PVR and DVD recorder. Initially, PVRs and DVD recorders had to be purchased separately, but they are now able to fuse the technology onto one machine. DVD recorders record programmes onto a recordable DVD. If a buyer is interested in an HDD recorder largely based off its DVD recording abilities, then they should search for a device that provides premium picture and sound quality. Most DVDs record up to two hours' worth of content and will begin to sacrifice quality if more space is needed.
What's Included in the Purchase
A Hard Drive Recorder can be advantageous for those who are busy but don't want to miss a show. If shopping online, it is crucial to know what comes with the item so an informed decision can be made. Ask the seller what's included with the item; plugs and or wires can be missing, or even the remote. A manual is another important factor when deciding on a purchase, as the buyer will have to set up the system with their television. It can turn out to be quite complicated to setup.
Any online sale should have a description on what's included with the purchase; if not, it is the buyer's responsibility to ask. Some items can be found separately and easily replaced, while others will be more difficult or even out of production due to the units age.
Warranties
Warranties are usually transferable from one buyer to the next. Regardless of whether one is needed or not, it is always a good idea to see what's available on the warranty, as this will give credence to the product and its quality. A warranty with an extended form of protection tells customers that the company believes in its product and that it's a quality build. No warranty implies the opposite. When the item at hand is used and being re-sold, then some warranties are transferable. If buying a new receiver, then most stores will offer a warranty at an extra cost.
Repairs
Any prospective owner should always question repairs that have been done or need to be done. When shopping online, ask the seller (if it's not mentioned in the description) what type of repairs have been done or if the unit (or any of its accompanying accessories) need work. This will help determine if the purchase in mind is of a positive value. If the unit did have some repairs done, ask the seller by whom were the repairs done and, most importantly, what was done.
If it was a minor issue and the unit is no longer acting up, the purchase can be a money saver. If it was a major issue, in the long-run it is better to avoid the product all together. The same goes for repairs that might still need to be made. Be sure to do sufficient research to ensure it's nothing major and that it can be done in a cheap and easy manner.
Return Policies
Return policies are almost always available with all new products. If shopping online, then it is the buyer's responsibility to make sure that the online store offers a return policy. If so, note that some stores will not reimburse return postage; this should be calculated in the price. If it is a second hand item, ask if the seller accepts returns and, if so, how many days are available. A return policy is a positive sign that the seller stands behind his or her product.
Buying a Hard Drive Recorder on eBay
When in the market for a HDD recorder, eBay provides a great selection of different brands at an array of prices. Once on the eBay home page, use the scroll down bar on the right side of the search bar. When selected, scroll down and choose the Sound & Vision option. Next, browse through the column on the left side and choose the option TV Reception & Set-Top Boxes.. The user is now able to choose from an array of different brands, conditions, and prices.
Conclusion
Overall, purchasing an HDD Recorder can be a smooth and enjoyable process with the vast amount of options offered online. eBay provides a good foundation for anyone looking to purchase a specific product, whether on a budget or looking for the next best deal. Purchasing used HDD recorders from eBay allows the user to make an informed and confident purchase. Searching online allows users to find a large selection of HDD recorders that may otherwise not be available in physical stores.