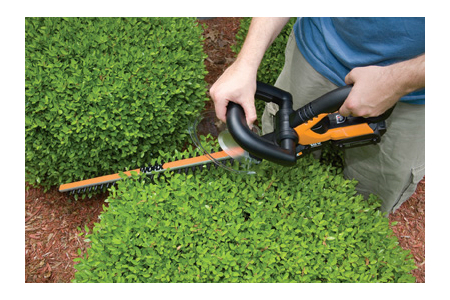 Hedge trimmers are a popular gardening tool among garden owners throughout the country. As new models appear, many owners will upgrade to a new model and sell their old one. This is good news for anyone looking to buy a hedge trimmer but who is unable to buy a new one. Used hedge trimmers can be found surprisingly cheaply from a variety of sources. The first consideration when choosing one is to be aware of the different types of hedge trimmer available and choose the type that is most suitable for the particular hedge trimming jobs it's expected to do.
Choosing the Right Type of Trimmer
There are three basic types of hedge trimmer. They are powered in different ways, and each type has its own unique advantages and disadvantages. The cutting mechanisms of all three types is much the same, however, and it's the length and width of the blades in combination with the power rating of the hedge trimmer that determines whether any particular model will be up to the job intended for it. In general, blade lengths of up to 45 centimetres are fine for light hedge-trimming jobs. Large and long hedges need a blade length of around 55 centimetres or more.
Corded Electric Hedge Trimmers
Corded electric hedge trimmers are powered by connecting them to the house mains electricity supply via their power cord. Having a continuous and never-ending power supply is the greatest advantage that this type of hedge trimmer has over the other types. Their need to be physically connected to a fixed power source, however, is their greatest disadvantage as it restricts free movement and sets limits on how far from the power source the trimmer can be used. Extension cords are usually necessary to enable access to all parts of the garden. They solve the problem of reach, but they still get in the way, and the longer the cable, the more it gets in the way. It is, of course, extremely important that the cable is kept well clear of the trimmer's blades at all times. Cutting through a cable carrying mains electricity could result in severe injury. To safeguard against this, apart from taking extra care not to let it happen, a residual current device (RCD) at the power socket is highly recommended as it will immediately shut off the current flow before it can cause injury.
Battery-Powered Hedge Trimmers
The greatest advantage of this type of trimmer is mobility. Battery-powered trimmers can be taken and used anywhere. There's no cord getting in the way or limiting the distance that the trimmer can be taken. Battery-powered hedge trimmers have a built-in rechargeable battery that supplies the power. When the battery is fully charged, it can provide enough power for around 30 minutes of uninterrupted hedge trimming. This is usually enough time for most hedge-trimming jobs, but if not, the hedge trimmer's discharged battery can be replaced with a fully-charged spare. Recharging the battery takes up to seven hours.
Petrol-Driven Hedge Trimmers
Petrol-driven hedge trimmers are powered by an engine that runs on a special petrol-oil mix. These trimmers are usually among the most powerful hedge trimmers available and are the trimmer of choice for use outside of the domestic market, such as in public parks and gardens, where unrestricted movement and a powerful cutting action are both essential requirements. For domestic use, however, they tend to be only needed for larger gardens with large, well established hedges. Petrol-driven hedge trimmers are the noisiest and most polluting of the three types and are usually heavier and more awkward to use too, but for sheer power, they can't be beaten.
Product Reviews
The Internet is an excellent source of independent reviews on just about any model of trimmer. Anyone considering buying a particular model of hedge trimmer can find many online reviews by performing a search with any search engine. Entering the brand and model name or number followed by the word "review" will usually return a fair number of reviews of that particular model by those who have already purchased it. They can point out design flaws that they've found or any strengths and weaknesses.
Where to Buy a Used Hedge Trimmer
There are many sources of used trimmers that can be found either locally or online. These include:
Private Sellers
Many people with a hedge trimmer to sell will advertise it on supermarket message boards, newsagents' windows or in the classified section of local newspapers. The advantage of buying locally is that the trimmer can be demonstrated and inspected for faults, damage, or excessive wear before buying.
Retailers
Used hedge trimmers sold in shops tend to be more expensive than privately sold trimmers because they'll have been professionally serviced and brought up to full and efficient working order. This is especially true if the trimmer has been refurbished by the manufacturer rather than independently. Most of the larger retail chains and supermarkets don't stock used or refurbished trimmers, but they can often be found in hardware shops, DIY shops and also online.
Checking a Used Trimmer
A used trimmer, unless it's specifically being sold for spare parts, must be in good working order with no safety problems. While it may not have a 'gleaming new' look, it should still be able to trim hedges as powerfully as it always did. All hedge trimmers need their blades to be undamaged and sharp if they're to trim hedges efficiently. A quick visual inspection can reveal unacceptable damage or wear to the blades.
Corded Electric Trimmer Check
Electrical cables and connections mustn't be frayed or damaged in any way. Visible nicks and exposed wires aren't acceptable. If possible, a check by a qualified electrician will be able to rule out any safety concerns. This is recommended for all used mains-powered electrical appliances, especially those that, like hedge trimmers, are going to be used outdoors. The motor noise shouldn't be too loud or rough sounding.
Battery-Powered Trimmer Check
The battery should be in good condition. Rechargeable batteries have a limited lifespan. They can be recharged only so many times before needing replaced. Currently the best batteries available are lithium ion (li-ion) types. These can be recharged many more times than the more standard (and less expensive) nickel cadmium (ni-cad) type of battery. Li-ion type batteries also deliver power more efficiently and tend to deliver full power to the trimmer right up until it's almost completely discharged. The trimmer's motor, like that of the corded hedge trimmer, should run smoothly and without excessively loud or rough motor noise.
Petrol-Driven Trimmer Check
A common problem with older petrol-driven hedge trimmers is getting them to start. They should start with one or two pulls of the cord. Repeatedly having to pull the cord in order to get a petrol hedge trimmer started indicates a badly maintained engine. Other warning signs are excessive smoke and noise.
Buying online
There are many online sources of used hedge trimmers. The disadvantage is that the trimmer can't be checked before it's bought, so it's essential to buy via a trusted source, such as eBay, where the company takes some responsibility for items sold by its 'seller' members, and where the seller's reputation, as measured by previous customer feedback, can be clearly seen.
How to Find a Used Hedge Trimmer on eBay
Finding a used hedge trimmer on eBay is simple. The eBay homepage has a prominently displayed search box into which the user can enter any relevant terms, such as "used hedge trimmer", "second-hand battery trimmer" or any such term that describes whichever type of hedge trimmer is required. The more specific the search term, the more relevant will be the list of available trimmers returned in the search results. eBay also enable anyone to further narrow their field of search by providing filtering check-boxes that tailor the results. These include options to list the trimmers by brand, location, power type, power rating, condition (new or used), buying format (direct sale or by auction), as well as other useful filtering options. One other useful filtering option for those less confident about buying online is the 'Top-rated seller' option. This tailors the results to include hedge trimmers being sold by sellers that have been awarded 'Top-seller rating' by eBay in recognition of their consistently fair and honest selling practices.
Conclusion
Buying a second-hand hedge trimmer makes good economic sense. Most private individuals selling one are only doing so because they want to upgrade to a newer model. They're not looking for profit, just a modest and reasonable return on their original outlay. Retailers, of course, are looking for profit, but they know that they have to keep their prices low enough to compete with private sellers. Either way, it's good news for anyone looking to buy a used hedge trimmer.