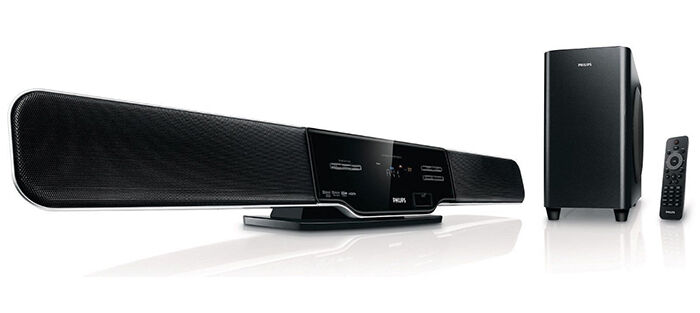 A visit to the cinema can be an exhilarating experience; unfortunately, it can also be an expensive one - particularly for a family. The price of cinema tickets seems to rise every year, and large families can be left with a huge bill when they pay a visit to the local multiplex. Fortunately, there is an alternative, and it comes in the form of a used home theatre system . The range of products on the market is immense, and people with small homes and simple requirements can pick up some excellent deals if they are prepared to shop around a little. However, choosing the best equipment can be a daunting process, as the range of specifications to choose from is staggering. The easiest way to understand the options available is to break a home theatre system into its component parts.
What Are the Different Types of Used Home Theatre System?
The most popular - and often the cheapest - type of used home theatre system is the 5.1 channel set up. It features a total of five different channels represented by their own speaker and a subwoofer. Comprised of two centre speakers, a central speaker and two surround sound speakers, these systems will perform admirably in average homes. For larger rooms, dedicated home theatre rooms, or where more power is required, consumers have the option of buying 6.1 channel and 7.1 channel systems - although not all soundtracks will be compatible with six and seven channel systems.
| | |
| --- | --- |
| System Types | Description |
| | Many used home theatre systems will be packaged with a DVD player , but the latest systems will come with a Blu-ray player - sometimes capable of 3D playback. The cheapest used systems usually have a combined player and receiver; however, separate receivers usually offer the user more functionality and various options to customise the movie experience. |
| Systems without a Player | People who are happy with their existing DVD or Blu-ray player have the option of purchasing a used home theatre system without an integrated player. This is a good option for those who want to maintain the maximum amount of control over both the audio and visual experience. |
| Sound Bars | Those who have limited space or want the simplest system possible should consider buying a sound bar. It includes 5 audio channels in just one unit, and it is ideal for mounting onto walls. |
What Features are Included in Used Home Theatre Systems?
| | |
| --- | --- |
| Feature | Description |
| | Some speaker systems are wireless in order to minimise the amount of cable required. Consumers also have the choice of buying a powered subwoofer for a richer audio experience. |
| Receiver | Great care should be taken to ensure that the used receiver being purchased is capable of processing the required number of channels. Newer models may be able to process all three main types of audio system. Most modern DVDs use the Dolby Digital sound format, but Blu-ray players will need to be compatible with DTD-HD Master Audio. |
| Online Access | A home theatre system with online access is required for many of the features on the latest Blu-ray discs, and it will also allow the user to stream movies from various movie rental or subscription services. |
| Connections | Some used home theatre systems will not include the HDMI connection format - crucial for the best HD pictures possible. Analogue connections will usually only deliver standard definition pictures. A digital audio input player will be needed in order to route digitally produced audio from a cable or satellite receiver, and an optical digital-audio may be present on some older units which will perform the same function. However, HDMI is considered to be the most efficient and effective way of transmitting digital audio and video. |
| Other Connections | Newer home theatre systems include docks for MP3 players, slots for SD cards, and USB slots for additional storage. |
Tips for Buying the Perfect Used Home Theatre Systems
There is no reason why a used system should not provide exactly the same movie experience as a new model, but consumers need to ensure they are buying a system that suits their needs and preferences.
| | |
| --- | --- |
| Feature | Selection Criteria |
| | Consumers should balance their personal preferences with the logistics of their home. Rear speakers will, of course, create the most rounded audio experience. However, they will require significant amounts of cable in order to stretch to the back of a room - unless they are wireless. Those with little experience in setting up a theatre system or with limited space should consider simply connecting two front speakers or a sound bar. |
| The Player | The best movie experience will come from a Blu-ray player that is connected to an HD television via an HDMI cable. However, those with tight budgets can usually integrate existing DVD players to basic used home theatre systems. Used Blu-ray players, however, are continually falling in price. |
| The Connections | Thought should be given to other items of audio-visual equipment and how a home theatre will be incorporated. Is a gaming console, a satellite receiver, and music system also going to be connected to the home theatre? Some systems come with up to 4 HDMI connections - the simplest way to connect multiple devices. |
What Are the Different Types of Speakers?
| | |
| --- | --- |
| Speaker Type | Description |
| | Small and compact, these speakers are among the smallest - ideal for small rooms. |
| Freestanding | This type of speaker either processes multiples channels or serves as a pair of front speakers. |
| Centre-Channel | This speaker is usually designed to be placed directly above or below the TV, and it is probably the most important aspect of any used home theatre system. |
| Surround | While not always essential, these speakers carry ambient sounds to fully immerse users in the movie experience. They tend to be the smallest speakers of all, and they are designed to be wall-mounted or placed on shelves. |
| Three -Piece | Often referred to as 2.1 systems, these speaker sets include two satellite units and a subwoofer. They are relatively cheap and serve only to enhance the audio capabilities of an ordinary TV. |
| Subwoofers | An increasing number of used home theatre systems are now being sold with wireless subwoofers. Consumers should check whether or not the speaker is powered, as large rooms may require powered units in order to deliver bass notes and low frequencies effectively. |
How to Buy Used Home Theatre Systems on eBay
The user-friendly nature of the eBay site makes finding used home theatre systems and accessories a simple and quick process. Getting started is as easy as typing a search term into the text-entry box near the top of the homepage. However, for more accurate results, the category-based search facility should be used. Any search should begin by clicking the All Categories drop-down menu link on the homepage. The user will then be presented with a list of categories to choose from. The Sound & Vision category should be selected, followed by the Search icon. The page will reload, and a list of sub-categories will be visible on the left of the screen. From that list, the category entitled DVD, Blu-ray & Home Cinema should be selected. The page will reload again, and the user can start to browse from thousands of home theatre systems available for sale. However, to limit the choices to only used items, click the check box of used items which can be found under the heading of Condition on the left of the screen.
There are also further chances to reduce the number of results to only those that meet the user's specific criteria. These choices include DVD and Blu-ray players, Home Cinema Receivers and projector screens. Where users wish to browse entire home theatre systems, the Home Cinema Systems link should be clicked which is also located in the left of the screen. The user will then be able to narrow the search further by clicking check-boxes related to the number of channels, brand, or various integrated features.
Conclusion
A used home theatre system that has been cared for by the previous owner should deliver exactly the same movie experience as a new model, but it will usually mean significant cost-savings for the consumer. It is important not to overpower small rooms with powerful equipment, as the sound quality will suffer. It is also vitally important to consider how a system will connect with other devices such as TVs, consoles and music centres, as this will dictate the number and type of connectors needed. Ultimately, which used home theatre system to purchase will depend on the user's preferences. Some systems will deliver extra treble, and others will be better suited to low frequencies. In order to make the right decision, it may be worth hearing and seeing the results of a similar system in person before making an investment.