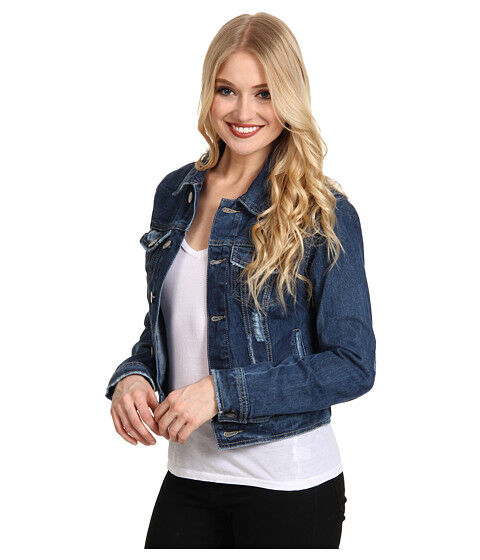 Jackets are an essential part of every woman's wardrobe. They are practical as they provide coverage and keep the wearer warm on chillier days, but they also enhance an outfit. Jackets come in many colours and styles for all tastes and needs. Buying a used jacket is an affordable way of creating a new outfit. In the case of designer labels, a stylish jacket may have been worn infrequently, so can be found in a nearly new condition at an excellent price. Buying used jackets is not only good for the budget, but it benefits the environment by reducing waste. Understanding the styles of used jacket available, which body type they are best suited to and how to care for them helps a buyer to make a successful purchase.
Used jackets can be found in charity shops and vintage shops, but sorting through those jackets to find a stylish gem may take some time. Online auction sites, such as eBay, offer a wide range of used jackets, including models that may not be readily available in bricks and mortar shops.
Styles of Jacket
Jackets are available with many cuts, sleeve lengths, and front fastenings. Sometimes jackets can be mistaken for coats because they fulfil the same task: keeping the wearer warm and fashionable. However, jackets are generally shorter: coats extend over the hips.
Cropped Jackets
Cropped jackets have a short body with the hemline at the waist or higher. The sleeves on the cropped jacket can be short, three quarter length, or long. Collars range from collarless, snap, flared, and round. The jacket is typically made from heavier fabrics, such as leather, silk, tweed, and denim. Cropped jackets are often worn during summer and spring.
A popular cropped jacket is the bolero, which has long sleeves and covers the shoulders, arms, and upper torso, revealing the waist and hips. This design visually slims the waist by reducing the fabric around it. This makes it particularly flattering for the hourglass figure. Bolero jackets are commonly fastened with a zip or buttons, although some have ties. Bolero jackets are usually made of silk, satin, or velvet, as well as casual styles in fur or leather, which create an elegant look and are suitable for dressing up an outfit when going straight from work to a party.
Blazer
The blazer is a jacket that was originally worn by men and then schoolboys, but today is a part of the women's wardrobe. Traditional blazers used to cover the hips and have shoulder pads, but now the styles are more feminine with fitted waists and no shoulder pads. Some blazers have the top closure somewhere around the bust or higher, while other blazers are fastened below the bust, showing off the cleavage. Common blazer fabrics include cashmere, wool, rayon, polyester, cotton, and leather.
Military Jacket
The military jacket has military-inspired features, including over-sized pockets, large buttons, and epaulets, which are ornamental shoulder pieces. The military jacket is suitable for casual wear.
Weather-Resistant Jacket
While some jackets are worn only for styling purposes, others are specifically designed for windy and cold days. These weather-resistant jackets are mainly used for outdoor activities. The parka, or anorak, a waterproof jacket with a hood that is commonly worn in polar regions, is one example. Parkas are usually made of nylon and some also have a lining made of down or microfibre fleece for better insulation. They sometimes have storm flaps, chin straps on the hood, and zip pockets. More feminine parkas are narrow at the waist.
Fleece Jacket
Fleece is a warm and soft fabric that resembles wool in its texture. The breathability and lightness of fleece makes fleece jackets great for the outdoors, at least when it is not raining. As a part of sports clothing, the fleece jacket constitutes the insulation layer and allows sweat to evaporate easily. Fleece jackets are good for winter casual wear.
Leather Jacket
Real leather jackets are valued for their durability, wind resistance, and warmth, if properly insulated. Leather jackets commonly have zips or buttons at the front and some also have a belt that accentuates the waist and creates a slimming effect. A variation on the leather jacket is the smooth and velvety suede jacket. There is also faux leather for those who do not want to wear real leather.
Leather biker jackets are a classic style for women who wish to have the sexy and bold biker look. These jackets may have lots of zips, buckles, and belts. The colour range is wide from the traditional black and brown to fashionable red.
Denim Jacket
Denim is a hard-wearing cotton fabric that is widely used for manufacturing jeans. While denim started out as a part of workmen's attire, it is now in everyone's wardrobe. Denim jackets are perfect for casual day wear, but certain fancier styles can also do well at parties. The classic denim colour is indigo, but modern denim comes in a vast range of colours. Denim jackets typically have two breast pockets as well as slanted pockets at the hips. Traditional denim jackets are made of pure cotton, but newer fabrics can be mixed with lycra for increased stretchability.
Choosing a Used Jacket According to Body Type
When the jacket is chosen according to body type, it helps to hide flaws and enhances the figure. Each body type has certain jacket styles that flatter the figure.
Hourglass shaped figures, with wide hips and shoulders, benefit from fitted waist jackets that emphasise their narrow waist line. Boyish figures look good in double-breasted military jackets that add volume to the slim silhouette. Apple shaped women can define their waist and lengthen the torso with longer belted military-style jackets.
Pear shaped women, who have wide hips and a broad bottom, look best in cropped jackets, graphic prints, and large buttons, which all draw attention to their upper body. The inverted triangle shaped woman, with wide shoulders and narrow hips, should choose dark colours to slim the shoulders and details at the hip area to draw the eye to the lower body.
Caring for Used Jackets
In order to maintain the quality of a jacket, it needs to be cared for properly. This is especially true for used jackets that have endured some wear. Often when a used jacket has been well looked after, it can appear nearly new even though it has been worn. The cleaning instructions for the jacket depend on the material that it is made of. Some materials should only be dry-cleaned, while others can be laundered in a washing machine. The specific instructions should be written on the care label inside the jacket.
Machine Washing Used Jackets
Denim and cotton are some of the fabrics that can be machine washed in warm water. This not only saves energy, but keeps the jacket wearable for longer as the colours do not fade as quickly. Jackets, like all other clothes, should be washed with similar colours.
Wool jackets can be machine washed in cold water, and cashmere jackets can be hand washed in warm water, but check the label before washing. Any kind of wool should not be wrung out or tumble dried. The garment can be dried flat in order to retain its shape. Silk jackets can be hand washed in cold water and a mild detergent can be used.
Care Instructions for Used Leather Jackets
Leather jackets require special care and when it is done properly, they could last for a very long time. After buying a leather jacket, any stains should be wiped off with a damp cloth or sponge. Leather preparations that contain alcohol can also be used, but household chemicals should be avoided. It is advisable to treat the jacket with a leather conditioner that moisturises the surface and keeps it soft. Then, a leather protector should be applied in order to make the jacket weather resistant. Waxes and silicone formulas may clog the pores and should be avoided to keep the leather breathable.The leather should also be moisturised when the jacket has not been worn for some time, otherwise it may dry out. Moreover, the jacket should be kept away from heat for the same reason.
Natural leather needs to breathe, so plastic bags are not suitable for storing the jacket. Breathable garment bags made of natural fibres are a better option. The jacket's shape is retained by storing it on a moulded hanger and avoiding hangers with sharp corners.
Buying Used Jackets on eBay
Once you have decided to buy a used jacket on eBay, first type in your search terms on the main page. To make sure that you are looking at used jackets, you can start your search by including "used" in the keywords, for example, "used bolero jacket", or by choosing the condition "Used" once you get the initial results. Either option presents a range of listings, which you can narrow down further by sorting by price.
The item listing should include all of the necessary information about the used jacket, such as a description, its size, the postage and packaging costs, payment methods, and whether refunds and exchanges are allowed by the seller. Examine any photographs to look for signs of flaws. If you feel that the photographs are not detailed or clear enough, then to contact the seller to see if further information can be provided by using the "Ask a question" link.
Conclusion
The jacket has been a wardrobe staple for years and thanks to its versatility, it always will be, in one design or another. Jackets are available in many styles and colours and some are worn infrequently, so finding a used jacket in excellent condition is more than possible. Popular jacket styles include blazers, boleros, and parkas, while certain materials also stand out, such as denim, fleece, and leather. Women can choose a jacket according to their body type to draw attention to their flattering features.
The material of the jacket determines how to care for it. Every used jacket should have a care label, but as a general guide, some jackets can be machine washed, some hand washed, and others, like leather, need special care. Natural leather is durable, but only when moisturised and cleaned properly. eBay offers an array of used jackets that provide great style for many years to come.