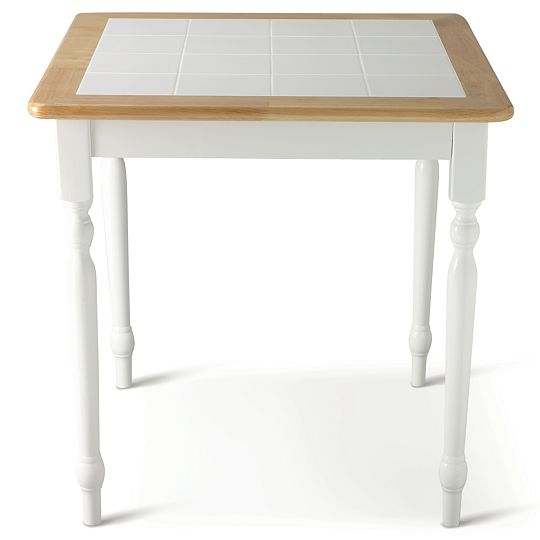 There are many ways to buy a used kitchen table. Given that each table is unique-looking, finding one that matches the current decor in a home is a good idea. It is also a very difficult one. It leaves finding a matching used kitchen table almost up to chance. Someone would have to be giving a kitchen table up in order for it to be purchased by someone else. The positive side of this is that used kitchen tables are not very expensive and it can be fun to find just the perfect one.
Purchasing a good used kitchen table is wonderful for its historic and monetary value. Many of these tables are found in secondhand shops, antique shops, and online at eBay. There are many steps to purchasing the perfect kitchen table, particularly if it matches the existing decor. It is important for a buyer to examine their kitchen, find out what type of table fits in their kitchen, and then find out where they can purchase the table that they have picked.
Types of Kitchen Tables
There are as many types of kitchen tables as there are kitchens. Each kitchen is a bit different from the next, so this fact is not surprising. Many kitchens have specific areas for tables and chairs, whereas others depend upon a kitchen nook and a dining room for eating meals.
The Corner Table
This is a kitchen table that, as its name denotes, sits in a corner surrounded by chairs on one side. This is a favoured table for people with smaller kitchens, or for those who like a cosy place to eat breakfast. Take measurements of the corner before purchasing a table like this. As not all kitchens are the same size, not all corners are the same size. Make sure to bring the measurements along when table shopping so there is no doubt that it fits in the kitchen. If the table is too wide, the chairs look awkward. When choosing a corner table, look for chips and wear along the corner facing the wall, which is where it is most likely going to show damage.
The Small Rectangle
This is another table for a smaller kitchen. Meant to sit along a wall, this table usually accommodates two chairs and has a butcher block-style top. This is often considered an apartment table, because it is small enough that it does not get in the way. Measuring this table is also a good idea, because it ordinarily sits with chairs at opposite ends and it may bump into a door or appliance if it is too large. Given that it is more of an apartment kitchen table, and space is limited, the measurements help to prevent an uncomfortable situation of blocking a doorway or appliance. The small rectangle is of the least expensive kitchen tables. When choosing this style of table, look for wear along all of the edges. If the table is older or unsuitable there may be cracking and chipping at the edges, which shows signs that the table suffered abuse.
The Small Round Table
The small round table is good for both a large kitchen and a smaller apartment-style kitchen. It usually has four chairs, and is more of a family-style kitchen table. These tables have a variety of tops to them, and may have anything from a butcher block top to a glass top, depending upon individual tastes and decor. Since it is slightly bigger than the two tables mentioned previously, there is more of a choice when it comes to materials and size. The size of the kitchen dictates the size of the table. This table tends to show wear around the legs and along the top edges, which is usually due to being dragged or bumped into. The small round table is one of the more popular tables for sale.
The Medium Rectangle
The medium rectangle table is a bigger version of the small rectangle, but instead of being meant to sit along a wall, it can stand on its own. It normally seats four, but pulls out to seat six people. When it pulls out a leaf is put into the centre to accommodate other people. Ordinarily used for company, the leaf is left in place for a larger family. Without the leaf, the table loses value. If purchasing this type of table, it is important to make sure that the leaf is included with the table.
The Medium Circle
Just like the medium rectangle, this table may also have a leaf that makes the table an oblong shape. Again, the leaf is most often used with the presence of additional company. Because this is a circular table, it is ideal for families with small children. There are no sharp edges on which children can be hurt. Many people have circular tables in either their dining room or their kitchen. This table is ordinarily made from wood. The medium circle table and the small circle table are damaged less often than other kitchen tables, due to their round edges, they tend not to scar as easily.
Other Tables
There are many other used tables available, but not many are suited for use in a kitchen. Most kitchens do not accommodate a larger table of any material. Many people say that a table should only take up about two-thirds of a kitchen area. This is not including kitchen bars with stools. Many people with families shy away from anything but wooden tables due to the possible hazards they pose to children.
Where to Look for a Used Kitchen Table
There are many different places to search for a used kitchen table. Many places have used tables that cost less than department stores and even antique shops. Some people find interesting used kitchen furniture at old restaurants, and sometimes it is a matter of being in the right place at the right time.
Antique Shops
Antique shops are the highest-priced outlets for kitchen tables. This is because they are ostensibly old and worth more than an average used kitchen table. They usually have a wide selection, and include the chairs along with them. Antique shops usually have a beautiful selection of older tables in just about every variety. Antique dealers often have these tables varnished and repaired. Unfortunately, with age and high-quality usually comes a high price, which may be discouraging.
Charity Shops
A less expensive place to find used tables are charity shops. Many of these shops are run by organisations, such as animal shelters, to help them raise money. They take in donations of many different household items and resell them at a low price. Used kitchen tables from charity shops are usually a bit banged up but still in very good shape. Many times, chairs are found with the tables at these shops. The chairs are also very reasonably priced. They carry just about any style of table imaginable, but the timing has to be right. They do not always have tables in stock, or they may not have the table that is desired in stock.
Online Shops
Many charities have online outlets as well. They supplement their retail income with income from online auctions and events. It is not unusual to find a number of decent tables at these events. It is a good idea to view the online shop listings with an idea of what one needs for the kitchen, rather than having a specific idea of exactly what he or she desires.
Buying a Used Kitchen Table on eBay
One reliable online source for used kitchen tables is eBay. Navigate to any page of the website, and type "used kitchen tables" into the search box, and click search. This populates a listing of all the kitchen tables for sale on the popular auction website. Then, just browse through the different listings until you find the table you want. You can also try different search terms to narrow your search down if you have a specific table type or colour in mind. This helps narrow the search and get you closer to exactly what you want. When you find what you want, be sure to read the listing, shipping, return, feedback, and rating information very carefully, because they vary by seller. There is also a Top-Rated Seller designation that denotes sellers who have received positive feedback consistently. These are the sellers that have proven themselves to their customers and to eBay.
Conclusion
It is not difficult to find a good used kitchen table. There are many for sale in antique shops, charity shops, and online auctions, such as eBay that carry used kitchen furniture including tables. The trick to purchasing a table is to know how it matches your kitchen decor, and which size to purchase. Many used kitchen tables are great for those just starting out, or who like the mix-and-match look for their homes. If you have always had a desire for a corner booth or a small breakfast nook, then target your search for these types of tables. Many people first decide on a table, purchase it, and then take a look around their kitchen. It is best to make a selection by first taking a look around your kitchen before choosing a used kitchen table. After choosing the type of kitchen table you want you should check in the different places to purchase it.