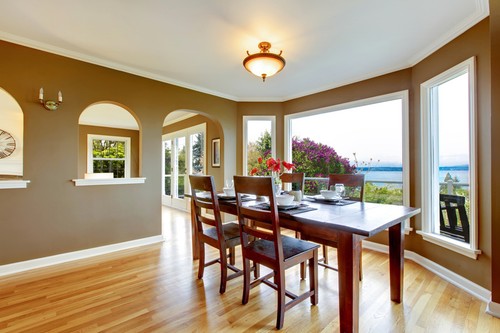 Whether a consumer simply wants to add a fresh look to their kitchen, or her table and chairs is completely worn out and needs to be replaced, a used kitchen table and chairs purchased from eBay is an affordable and convenient alternative to purchasing a brand new set. It is also a lot easier to find exactly what is needed on eBay in just a few clicks, without having to expend time and energy looking in a bunch of stores.
There are used kitchen tables and chairs for every buyer's style, whether it is elegant and streamlined glass tables and leather chairs, or a more antique, shabby chic wooden set. Buying a used kitchen table and matching chairs does not have to be a frustrating experience. It can even actually be fun. A consumer can end up getting a great deal on the perfect kitchen table and chairs that will enhance their kitchen and make eating meals a more enjoyable experience. Purchase the right kitchen set based on the budget, needs, personal taste, and space of the consumer.
What to Consider Before Buying a Used Kitchen Table and Chairs
Before going on eBay to purchase a fabulous used kitchen table and chairs, first the buyer should assess the space where the set will be. How much room is there to place a new table and chairs? Also, used kitchen tables and chairs come as a set, and there will be at least two chairs if not six or even eight chairs. The consumer needs to know how many chairs will fit into the space, and how many chairs are even needed. For buyers that entertain a lot and have a lot of space, a larger table and chairs will look great, but for a very small kitchen, a set with only two or four chairs may be all which is needed. For entertaining purposes, purchase a table that an extra leaf can be added to to make the table larger.
Consider the style of the kitchen and home itself. A vintage dining table and chairs may not look right in a more modern home and kitchen. Purchase a used dining table and chairs to fit in to the style of the home and existing furniture, to create an overall complementary style and look in the home.
Common Styles of Used Kitchen Tables and Chairs
There are a few definitive types of used kitchen tables and chairs that buyers will see frequently. The style which is selected should be chosen based on the buyer's taste and style preference, as well as the budget and how large a set is needed. When selecting a used kitchen table and chairs set, the buyer should ask to see lots of images of the set and make note of any scratches, flaws, or other damage or wear that the furniture may have.
A used kitchen table and chairs is a great choice not only for buyers on a budget, but buyers that want a more distressed or vintage feel to their kitchen table and chairs. It is also a good way to get a customised set that a seller has painted or restored themselves, adding to the overall value and personality of the kitchen table and chairs set.
Shabby Chic/Wooden Tables and Chairs
Probably the most popular style of kitchen tables and chairs is the shabby chic style look. Shabby chic furniture is essentially antique or vintage styled, and can even be distressed to look older. It implies a cosy, old fashioned, and traditional feel and can bring a homey look to any kitchen. A shabby chic table can be round or square, and although most of them are painted white or left natural, there are shabby chic tables and chairs that are painted other colours.
Some shabby chic chairs may have upholstered seats, which can add comfort and elegance. A buyer should select a shabby chic kitchen table and chairs if the home and kitchen are traditionally decorated, old fashioned, filled with antiques, or simply relaxed and elegant. A shabby chic set adds a wonderful vintage look especially when paired with floral, lace, and ruffled tablecloths and placemats.
Modern Kitchen Tables and Chairs
For a more modern home, a modern kitchen table and chairs will fit the bill. Most modern tables are either made of glass, steel, PVC, granite, or melamine. A modern kitchen table and chairs set will be streamlined, with clean lines and simple styling. A modern home and kitchen will be the perfect spot for a set like this. Leather or steel chairs will complement a more modern, trendy table perfectly, and though a set like this may look out of place in an old fashioned home, it will be perfect in a more upscale, hip, kitchen
For consumers that choose a set like this, ensure a used glass table is scratch free, leather chairs have no chairs or rips, and the set comes with the number of chairs that the buyer needs. Some modern chairs may be made of metal and upholstered with fabric, which also adds charm to a simple table and chairs set.
Vintage Kitchen Tables and Chairs
To add a retro vibe to any kitchen, a buyer can purchase a vintage kitchen table and chairs set. This can add a lot of charm to a kitchen, and look very cute. A vintage table and chairs can range anywhere from a 1950s Formica set, to a metal set from the 60s, or a wooden set with Queen Anne styling. The vintage table and chairs selected should reflect the buyer's taste and go with the existing style of the kitchen.
A vintage table and chairs can add a funky, retro look to a home that is already eccentric or maybe filled with antiques. Vintage tables and chairs that have been well taken care of can last a lifetime if made of high quality materials, and they can also be repainted or distressed to add a shabby chic look if desired.
How to Buy a Used Kitchen Table and Chairs on eBay
When you are looking for the perfect used kitchen table and chairs on eBay, simply do a general search for kitchen table and chairs, and then select the used option to see all of the used furniture in that category. Another option is to search using more specific keywords, such as shabby chic table and chairs, to find exactly what you are looking for. Only purchase kitchen tables and chairs from merchants that are Top-Rated Sellers, and look for merchants that have a lot of positive feedback reviews from buyers.
Choose a used kitchen table and chairs that will fit your budget, and look great in the space you have. Do not buy a huge table with six chairs if you only have a small area to put a table in. This will look too crowded and be uncomfortable. Purchase the perfect size table to fit into your kitchen to make it a cosy and comfortable spot to sit and enjoy a meal with family and friends. Enhance the rest of your trendy and upscale home with a modern table and chairs, or create a cute vintage haven with some retro wooden chairs and a matching table painted in a shabby chic style.
When a consumer is buying a used kitchen table set, especially a vintage one, there will likely be small imperfections. These should be noted in the specifications, and can often add to the charm or distressed look of the overall set. Some sets may just have an overall general wear to the appearance, which can happen over time. Communicate with the seller if the consumer has questions about the look of the table and chairs set, and look at lots of images before purchasing to ensure the table and chairs looks good to the consumer.
Conclusion
Deciding to purchase a used kitchen table and chairs may seem like a big, frustrating job, but it does not have to be. Alleviate some of the stress of furniture shopping by doing it on eBay. Get the best prices on used tables and chairs with just a few clicks, and add some style to the kitchen area. On eBay, it is possible for consumers to get something more customised than perhaps is available in a store; a wooden table and chair set which is hand painted and distressed; a vintage set which is lovingly restored back to its former glory, or a lovely set of chairs which is re-upholstered in beautiful new fabric.
Get a table and chairs for the kitchen that not only is affordable and looks fabulous, but is one of a kind, as well. The service that is available on eBay is not available from other retailers, and if there is a local seller who is offering the table and chairs that is desired, perhaps a personal meet up can be arranged to look at the set and pick it up in person. Shopping on eBay does not have to be impersonal; in fact, it can be more customised and personal than shopping in retail outlets.