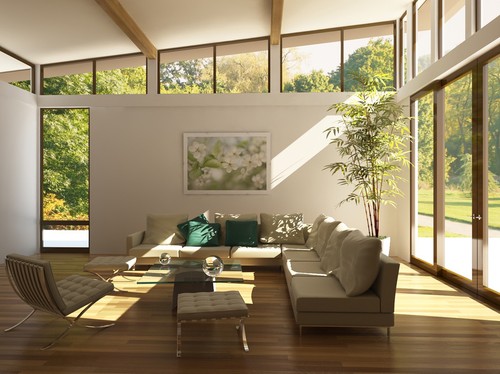 A living room suite is a collection of furniture that's often heavily used and heavily worn. Because it's usually padded and upholstered, it may collect stains or even odours. So, the most appealing used living room furniture sets are generally in especially good condition, or have an innate value that makes them worth repairing and reupholstering. Generally, people seeking used living room suites are either looking for lightly used furniture that's being replaced because of a move or because of redecorating, or an antique living room suite that incorporates craftsmanship and historical detail, and that is worth investing in.
Lightly Worn Living Room Furniture Suites
One option for saving money on living room furniture is to buy a used suite of sofas and chairs that has not been heavily used. This is an especially good strategy when the brand of the furniture is known and it's possible to purchase a cover that will fit, a new set of cushions or, in the case of a futon-style sofa, a new mattress. Lightly used living room suites often become available when the sellers move house, or when they redecorate frequently and sell their old furniture while it's still in good condition. These types of living room furniture suites tend to be less than ten years old and lightly used. Thus, they'll usually be built in styles that are still popular, and they won't look very different from new furniture.
Twentieth Century Living Room Furniture Suites
Some buyers who are looking for used living room suites don't want furniture that looks modern. They want furniture in an older style. For example, some young people are furnishing their post-WWII houses with vintage, 1950s and 1960s furniture. Even furniture from the 1970s and 1980s seems on the verge of becoming 'vintage.' Fortunately, it is possible to find many older style living room furniture suites in good condition, since there are always a few families who maintain separate living rooms for family and guests, or who have always used their living room furniture with covers. Look for a very low price on any living room set from the past 50 or 60 years that is stained or has cushions that sag, and make sure that the quality of the piece makes the investment worth making. It can be expensive and time consuming to replace cushions and to reupholster living room furniture.
Antique Living Room Furniture Suites
Living room suites were already popular before the Second World War, and families of means used upholstered furniture for reading and socialising in previous centuries, as well. Of course, the Victorians liked both furniture and architecture that imitated that of previous eras and faraway lands, and most reasonably priced antique living room furniture available today dates to the early twentieth century or to Victorian times. These relatively recent antiques are usually high quality and solidly built, with hardwood frames and interesting decorative details. They're worth restoring, and a restored historic or Art Deco living room set can be a great addition to either a traditionally styled or a quirky modern home. The wooden arms and legs of many older-style couches and chairs are perfect for pet owners.
Living Room Suite Styles and Periods
This list of historical styles will help in keyword searches, and can also be used as an aid in identifying the style of used furniture. The earlier styles will usually be sold as reproductions and reinterpretations, although some genuine antiques may be available as well.
| | | |
| --- | --- | --- |
| William and Mary, Restoration, Carolean, and Jacobean | 17th century, later reproductions | 17th century sofas and later reproductions and reinterpretations almost always feature a wooden base. Some are benches with cushions to sit on, and others are fully upholstered sofas. They are often two-seaters with raised backrests on each side, resting on six or eight thin, wooden, decoratively shaped legs connected by wooden braces. The matching chairs, likewise, feature braced wooden legs with upholstery above. |
| Queen Anne, Georgian, Regency | 18th and early 19th centuries, later reproductions | Sofas built in an 18th century style also tend to feature an upholstered sitting area resting on four to eight wooden legs. However, the legs are reasonably simple in shape, and they are not visibly braced. The sofa's backrest may be curved, but it will not usually define individual seats. |
| Victorian | mid to late 19th century, later reproductions | Victorian sofas and living room sets tend to be supported on dark stained wooden bases, often with legs or feet at the four corners. They often feature ornately wrought wooden details and fanciful, curvy shapes. Victorian living room furniture suites sometimes include fainting couches and footstools, as well as sofas and chairs. |
| Chesterfield | Beginning mid-19th century | Chesterfield-style living room furniture has been popular since Victorian times. Used living room suites in this style always feature sofa and chair backs studded with decorative buttons. They are often leather, but are sometimes upholstered in fabric. The typical shape of a Chesterfield sofa has changed over the past century and a half, but they are almost always fully upholstered and classic-looking. |
| Art Nouveau | Late 19th and early 20th centuries | Art Nouveau is characterised by sweeping, organic lines and artistic details. Think of a flowing, fairyland look. Like many earlier styles, Art Nouveau living room furniture usually features areas of upholstery on a wooden frame. |
| Edwardian | Early 20th century | Edwardian sofas do not have a single style. They range from a simplified Victorian style to Art Nouveau, Arts and Crafts, Chesterfield, and the first modern-looking, fully upholstered living room sets. |
| Arts and Crafts | Beginning late 19th century | The Arts and Crafts style was a reaction against the industrial revolution and Victorian design. These living room suites tend to be chunky and squared off, with heavy wooden frames. They often feature removable cushions rather than full upholstery. The Arts and Crafts style, also called 'Craftsman Style' and 'Prairie Style' in North America, has continued into the present day as 'Mission Style.' |
| Art Deco | 1920s to 1950s | Art Deco is usually considered the first modern style in architecture and design. Art Deco replaced sentimental and organic forms and ornamentation with a more geometric approach. It was a popular style for living room suites from the 1920s to the 1950s, and there are still many used sets available. Art Deco living room furniture is usually fully upholstered in velvet, and may or may not have a visible wood frame. Rounded arms were common, and the upholstered backs often include recessed seams. |
| Modernism | 1930s to present | In the mid-twentieth century, the modernist design movement took on its final form. Modernist designs are based on simple 'stripped down' forms and the removal of superfluous detail. |
| Scandinavian and Danish Modern | 1930s to present | Scandinavian and Danish modern design emphasises the natural beauty of materials, especially hardwoods. A typical living room suite might feature square cushions on a simply designed wood frame, or a fully upholstered, but not cushy, sofa on wooden legs. |
| Le Corbusier and International Style Modern | 1930s to present | Le Corbusier and International Style modern furniture often features chunky, prismatic shapes and metal legs and/or frames. Chrome and the colour black are often prominently featured. |
| British Mid-Century Design | 1940s to 1950s | British Mid-Century Design combines elements of modernism with more traditional forms and materials. The result is often a simplified, classic look. |
| Mod | 1960s | The 1960s mod look adds a little fun to the very serious modernist design philosophy. Mod living room suites often feature bold colours and shapes. |
| Traditional | 1970s to present | Traditionally styled living room sets are usually fully upholstered and feature a few details borrowed from earlier styles. |
| Contemporary | 1970s to present | Contemporary used living room furniture suites are often modernist in nature, with solid colours, usually black or white, and simple shapes. They may also be optimised for comfort rather than appearance. |
Conclusion
Buying a used living room furniture suite can be a great way to save money on a modern-looking set, or to buy living room furniture in an older style that's no longer being manufactured. Either way, look for used living room suites that are high quality, lightly used, or both.