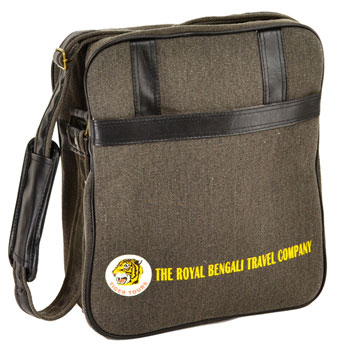 When shopping for a used men's bag, the primary thing to ascertain is what kind of bag is best for the user; that is, what the purpose of the bag is. A woman's bag may be used for many different purposes throughout the day or night; a man's bag tends to be use-specific, tailored towards what he will be doing while using it.
Traditionally, there were many places selling women's handbags and purses, but relatively few stocking bags for men. The advent of the laptop and, subsequently, the tablet computer have changed all that. It is now no longer considered effeminate for a man to be seen on the street or enjoying a coffee with a bag by his side or on the table next to him. Many men have recognised the need to possess a bag designed to carry portable laptops, notebooks, or tablets and prefer something strong and sturdy, yet stylish and chic. Many stores, both real and virtual, now stock an increasing range of bags to suit a man's needs.
Work Bags
This will be a bag that is used regularly and should be well-made, sturdy, and above all, functional. If the user needs to carry a laptop or notebook computer, it should be large enough to carry these, not forgetting the power supply and associated cabling required. This will enable the user to recharge the computer whilst at work, but also consideration should be given for allowing extra room for a mouse, and possible network cabling to enable him to connect to the work's network.
There should also be space enough for papers and documents in a separate compartment or pocket, and there will often be a shoulder strap to leave his hands free to carry other items associated with his work. If a shoulder strap is required, pay careful attention to the quality of the fittings. Breaking a shoulder strap whilst hurrying for a train, for example, often means replacing the computer, as laptops and notebooks are notoriously fragile and will not survive a fall.
When choosing a men's bag for work that will be used for carrying a laptop, often manufacturers will state the size of laptop screen their bags will comfortably fit.
Some manufacturers market rucksacks that are meant for carrying a computer. These are designed in such a way as to camouflage the fact that the owner is carrying a laptop to help prevent opportunist theft.
Work bags can be made of a many different materials, with leather, or faux leather being very popular.
Messenger Bags
Increasingly, messenger bags are becoming a popular way to transport smaller laptops, netbooks, or tablets in a light and unobtrusive manner, but still allow the user to carry such items as power supplies, and cables, with space for just a few documents. If the user is contemplating buying a messenger bag, care should be taken to ensure the bag is large enough for a notebook or netbook, and as with a work bag, the buyer should be careful when selecting a bag to make sure the shoulder strap is sturdy enough for day to day use.
Rucksacks
A rucksack or backpack is often used when camping or hiking, but increasingly they are being used for items such as shopping and the general day-to-day carrying of larger, and more bulky items. If the user is shopping for a rucksack, manufacturers often give their capacity in litres, therefore a 20-litre capacity rucksack is less than half the volume of a 50-litre rucksack. They tend to be made of polyester, nylon, or other modern fabrics for their hard-wearing capabilities.
If the rucksack is to be used for more traditional purposes, for the carrying of carrying camping equipment and clothing, careful consideration should be given not only to the general build quality and durability of a rucksack, but also its comfort for wearing whilst hiking and general outdoor activities. Potential purchasers should be aware of the shoulder strapping and whether it is well padded and fully adjustable. After a long day's hiking, what seemed to be a nuisance of small consequence when setting out may turn out to be a major problem towards the end of the day.
Gym Bags
These are normally used when transporting sporting clothing, and equipment to and from a gym, or place of exercise. They are mostly constructed using man-made materials such as polyester, or nylon, and tend to be quite large when compared with work-type bags, so there is ample room for sporting equipment, footwear, and shower equipment. Often, there are large, zipped pockets at one or both ends, and sometimes a flap on one side. Gym bags can be traditionally hand-held, or a shoulder strap or both, though as with work bags, careful consideration should be given to the strap to make sure it will stand the rigours of rough handling. Also for consideration when buying a gym bag is whether it should be machine-washable. Bags that have had used gym clothing in them for any length of time can build up unpleasant odours, so it is a good idea to make sure they can be safely washed on a cool washing machine setting to prevent odour build up.
Designer Bags
As the name suggests, these are men's bags with a designer label and styling. They are often highly sought-after, and may attract a premium price. Recently, designer men's bags have become collectable, so the potential buyer is looking for them not as a functional everyday bag, but as a collector's item, never to be used.
Ex-military Bags
Ex-military bags are seen as hard-wearing, everyday bags that are often inexpensive, but very functional. They tend to be made of heavy-duty canvas, and are usually camouflage, khaki, or green-coloured. They come in a range of different sizes with specific military uses in mind that the owner then adapts to their own particular use. Ex-military bags can also be styled in a more 'civilian' way with military-style cargo and kit bags used as gym bags, map case bags being used as laptop carriers, and medical bags used as civilian messenger bags.
Tool Bags
These are designed to carry often large, unwieldy or heavy tools to and from a work site. They tend to have many pockets to be used for transporting power tools, and other large items, but typically have many smaller pockets for carrying screws, nails and other small items essential to a workman. They are robust and strong, usually constructed of a man-made material and often have double stitching to protect their seams and corners. Above all, a men's tool bag should be sturdy, and be able to last much long term, heavy usage.
Function vs. Fashion Statement
Whilst there are many functional bags in the marketplace, to some shoppers, the designer label is almost as important as the bag's intended use. When choosing a used men's bag, careful thought should be given as to whether the buyer is seeking purely function, men's fashion, or a mixture of the two.
How to Buy a Used Men's Bag on eBay
Buying a used men's bag on eBay is as easy as typing in your requirements into the search box. There are so many different types, styles, and colours that it might be worth narrowing down your search by using additional keywords as appropriate. For example, you might enter the word 'sports' or 'laptop' to narrow things down a little. Take your time to peruse everything on offer — do not simply pick the first thing you see at the top of a particular listing. Many bargains can often be found much further down the listings for each product, so give yourself plenty of time to see just what is on offer, and at what price. When bidding for auction items, be sure to check when the auction will actually finish, and if necessary, be at the ready at your computer when the auction is about to close. Finally, when bidding in an auction, you should know and stick to your upper limit when bidding. It is very easy to get carried away and pay much more for something than you first intended.
Conclusion
When shopping for a used bag for a man, the first consideration, again, is to determine just what purpose the bag is to serve. From there, features such as size, colour, and the material from which it is constructed should be taken into account. If the bag is to be used for work purposes, and to carry a laptop, notebook, or netbook, it is important to ensure that the bag is of sufficient size to accommodate all the user's items, so measure carefully, including depth. Consideration should also be given to the bag's fixings to make sure that it can easily and comfortably handle the weight of the items being carried, in order to avoid extreme wear and tear. The potential buyer should be aware of designer label bags and the premium prices these bags attract. Ultimately, it comes down to style, that is, whether the bag is intended primarily for carrying articles or to make a fashion statement.