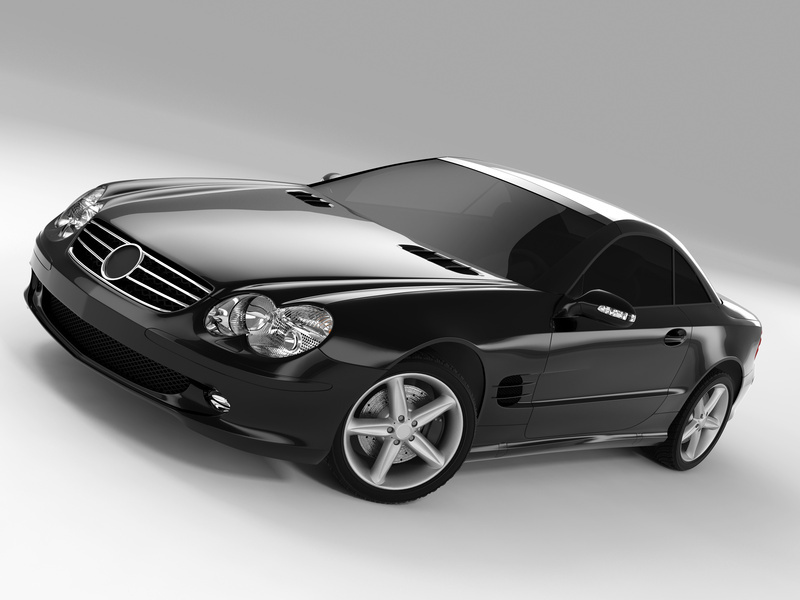 The ongoing popularity of the German car giant, Mercedes-Benz, has ensured a high demand for its vehicles, including secondhand models. A used Mercedes still offers the same degree of comfort and performance as a new model, and to some buyers, the same level of prestige. The used car market is a thriving and competitive industry with its fair share of profit-driven, enthusiastic sales people. Yet, buying a car requires a financial decision that results from planning, research, and an investment of time.
Local car shows can offer a wealth of advice, while getting online gives buyers access to price quotes for used Mercedes, model specifications from the manufacturer's website, and reviews on forums. All this information comes in handy when searching for the ideal used Mercedes. These cars are available from local bricks and mortar used car dealers, but many buyers prefer the ease of purchasing online on sites like eBay. To make the shopping experience enjoyable, consider various factors in order to choose the right used Mercedes for the buyer's needs.
Bitten by the Mercedes Bug
The renowned superiority of German engineering is easy to see in car manufacturer Mercedes-Benz's vehicles. Their performance, build quality, and reliability have garnered brand loyalty from satisfied drivers the world over. With the slogan, "The best or nothing", the brand puts comfort and ride quality above all else, so it is easy to see why their drivers consider these luxury cars as status symbols. Above all, Mercedes cars are fun to drive, and their design aesthetics draws its fair share of covetous looks.
The Case for Buying a Used Mercedes
For clever buyers, purchasing a used Mercedes is extremely cost effective. They still get a premium quality car of their dreams, while saving a huge amount of the price of a new one. Buying a used vehicle is also an environmentally friendly way to reduce landfill, and many green consumers choose to recycle cars for this reason alone.
The used Mercedes market offers plenty of rare and discontinued models, so it is a treasure trove for collectors and vintage car restorers. New cars, on the other hand, while imbued with the allure of first ownership, devalue at an alarming rate in the first few years alone; just driving one off a dealer's forecourt chops 20 percent off its original price. Here's a table to show how a used Mercedes measures up against a new car and what buyers should expect from the deal.
Condition of Car

What Buyers Should Expect

Used

Previous owners

Huge savings

Rare models

Limited variety for exact specifications

Wear and tear

New

First ownership

Expensive

Latest models

Full choice of exact specifications

Immaculate condition
Ultimately, it is a buyer's personal preference and what he or she can afford that determines whether to buy new or used cars. Although, the market leans heavily towards used cars because of the benefits.
Factors to Consider when Buying a Used Mercedes
Buyers should consider a number of factors when looking for a used Mercedes. These include setting a budget, choosing the model, the car's mileage and fuel type, and the degree of wear and tear it has undergone. It is crucial that buyers conduct an inspection of any secondhand car they plan to purchase.
Budget
Setting a practical budget is always the first consideration when purchasing a used Mercedes because it allows buyers to control their finances and to make informed spending decisions. It takes the guesswork out of any purchase because buyers knows at a glance whether they can or cannot afford a particular car. It also helps when looking for the best deals, as it is easier to prioritise the features that are considered necessary that fall within the budget. The price range should include any additional costs, such as appraisals, delivery, insurance, registration, and taxes.
Models of Mercedes
Mercedes-Benz with its longstanding position as a high quality car manufacturer has gone through the alphabet with it wide range of models, from the A-Class supermini and small family car to the 2011 SLS AMG luxury grand tourer with gullwing doors. S means "Special" in the Mercedes world, and the S-Class and the autobahn-friendly SL-Class models are both feats of technical complexity. Not to be outdone, the third generation A-Class five-door hatchback has features like parking assistance and a talkback function with a smartphone. The E-Class comprises the executive models and the C-Class, compact executive cars.
Mileage
Budgets being what they are, sometimes the best way for buyers to afford a Mercedes model priced beyond their budget is to consider choices with a slightly higher mileage because this means a lower price for the same model. Unfortunately, higher mileage could also mean expensive repairs in the future, which defeats the purpose, although this also depends on maintenance and the terrain the car has been driven over. A good idea for cash-strapped buyers is to go for the middle of the road options that offer a balance between cost and a fair car condition. The following table shows the advantages and disadvantages of low and high vehicle mileage.
Mileage

Advantages

Disadvantages

Low

Better car condition

Few repairs

Fair wear and tear

Longer lifespan

Higher price

High

Lower price

Wear and tear could be extensive

Costly repairs

Shorter lifespan
Buyers can see from the table that there are distinct benefits to purchasing a used Mercedes with low mileage. This is because of the likely cost of repairs and buying replacement parts.
Fuel Type
The most common types of fuel for Mercedes-Benz cars in the UK are diesel, petrol, petrol/electricity, and petrol/LPG. Petrol is common, much cheaper than diesel, and burns faster. Diesel is easily accessible, highly durable, and the newfangled cleaner diesel is not the smelly, smoky, noisy pollutant of old; it has better fuel economy that petrol. Hybrid fuels, such as petrol/electricity and petrol/LPG are highly fuel efficient and help to reduce greenhouse gases. Their cost is considerably higher than petrol or diesel because they are relatively new on the market and not as plentiful.
Condition
All secondhand cars have some degree of wear and tear, even if it is only a few cosmetic flaws from normal use. Some conditions though, should give buyers pause for thought when searching for used cars, such as worn brakes or transmission systems, parts failure, heavy rust, and moisture that might indicate some internal damage due to flooding. While a used Mercedes in a bad condition usually has an enticing price tag attached, it is not the bargain deals it appears to be. Maintenance, replacement, and repair of Mercedes car parts is a costly affair, so the better the condition of the car, the less trouble buyers are likely to have in the future.
Pre-Purchase Inspection of a Used Mercedes
Every buyer should arrange for a pre-purchase inspection when buying a used car. It is a small price to pay to get complete confidence in the used Mercedes. An independent mechanic or an authorised dealer can provide an inspection. The exhaustive assessment verifies that the car is as described or advertised, for example, with a matching Vehicle Identification Number (VIN) verified against the logbook, consistent odometer readings, a vehicle service history, and any signs of previous repairs. Of course, much older cars are rarely found in tip-top condition, but buyers should know what to expect when they drive the vehicle. An alternative to the inspection is to choose Certified Pre-Owned Mercedes models, which have gone through stringent certification criteria set by the manufacturer and are considered to be just like new.
Buying a Used Mercedes on eBay
eBay takes the load off purchasing a used car online with the numerous security measures that it has in place so that all buyers can use the site with confidence and peace of mind. Search using the keywords "used Mercedes" and thousands of listings are displayed, which are easy to filter. Alternatively, enter more keywords, such as fuel type, mileage, and model to get more selective results. You can restrict the results to your location or to a price range.
Always ask the seller for clarification if the listing description contains any unknown terms or if you would like more photos of the Mercedes. Read the seller's feedback from previous buyers to get a better idea of his or her reliability. Sellers should be able to provide a service record with ease. Many sellers use eBay's inspection services because the report is posted for all buyers to see. Once buyers have settled on a used Mercedes that defines their dream car, they can pay using PayPal, which eBay recommends for security and speed.
Conclusion
Mercedes cars need no introduction, having been around long enough to establish a stellar reputation for solid automobile construction and reliability. With the growing interest in used cars, many buyers search for used Mercedes to enjoy the same degree of performance of a new vehicle, but in a more cost effective manner. As cars are purchases that can take up a large amount of buyers' savings and last for years, a lot of research, planning and careful thought should go into selecting the right vehicle, including setting up a budget.
In addition, considering factors, such as the car model, fuel type, mileage, and the degree of wear and tear, makes the whole process straightforward. A comprehensive inspection or appraisal of any used car is essential if buyers want not just value for money, but confidence in their purchase. eBay sellers offer a range of used Mercedes for a variety of budgets.