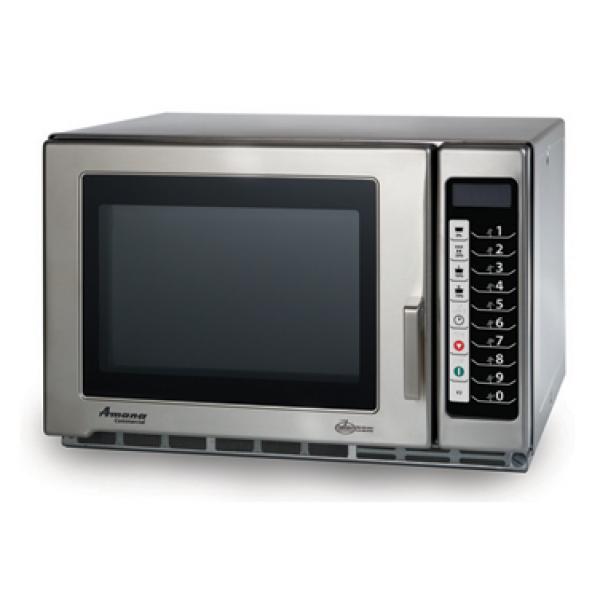 Microwaves are found in almost every kitchen, both domestic and commercial, throughout the UK, and although the effect of heating food and drink products can be achieved via other heating and cooking appliances in the kitchen such as ovens, grills, and kettles, there really is nothing like the convenience of a microwave. As microwaves become much more than simply a heating appliance, with contemporary models offering ways to defrost and bake products too, some newer models can be a little costly compared to the older, more basic appliances. Fortunately, used microwaves are widely available, and can cost just a fraction of the recommended retail price.
Why Buy a Used Microwave?
There are no shortages of used microwaves available, especially online through websites such as eBay which allow individual owners to sell appliances that are still in good working order but are no longer needed. A microwave isn't just an appliance, it's a showpiece, and homeowners are constantly redecorating or upgrading their kitchens, meaning there's an abundance of redundant yet good-quality microwaves looking for a new home. Many used microwaves available online are in almost as good, and sometimes just as good, condition as their newer counterparts, and the beauty is that online sellers frequently offer these small, pre-loved appliances at discounted rates due to previous use and for a quick sale. Sellers could be offering an item just as good as a new item, but for a fraction of the retail price in brick and mortar stores. eBay allows for used microwaves to be listed in terms of distance, so collecting is also an option, thus saving on the high postage costs associated with some other online stores.
Choosing a Used Microwave
Microwaves, even used microwaves, are available in a large variety of forms to meet all requirements in terms of both performance and appearance. Whether looking for a basic appliance that performs simple tasks, or a state of the art appliance that both looks good and performs a range of tasks, there is a used microwave to suit all tastes and preferences.
Used Microwave Types
Consider looking for a specific type of used microwave based upon the current state of the kitchen. Kitchens that are designed in a minimalist or contemporary style may prefer a more hidden, out of the way look, whereas those who prefer to use appliances as display pieces or kitchen status symbols may prefer a more prominent appliance.
| | |
| --- | --- |
| | Often the most popular, most common, and most varied in style, these appliances simply sit on top of the kitchen work surface. Installation is simple, but they do limit usable space. |
| Built In | These appliances have no casing around the back or edges, so they can be slid into a designated slot in a built in style kitchen. The fronts are designed as normal, creating a stylish appearance. |
| Over The Range | More common in the US than the UK, these are similar to built in appliances, but are placed higher up, usually at eye level. They allow for work surfaces to be utilised to their full potential. |
Used Microwave Features
Modern microwaves aren't simply a method for heating food, they're a method of completely cooking food thanks to a range of new features which are available even on used microwaves. As well as performance features, there's also many appearance and usage features to choose from for convenience and ease of use.
| | |
| --- | --- |
| Oven | Microwaves that come with a convection fan rather than an element can be used to bake dishes, creating similar results to an oven. A metal tray is often included, which should only be used in oven mode. |
| Pre-Heat | A pre-heat option is beneficial for convection microwaves. It allows the interior to be heated prior to cooking, much like a conventional oven. This reduces cooking times and ensures food is cooked correctly. |
| | Microwaves heated by a direct element can be used as grills, where one side of the food is exposed to the element at a time. Some appliances have two elements and a rack to cook both sides as once. |
| Defrost | Defrost programmes allow for foods to be safely defrosted much quicker than they would thaw naturally. It's a good kitchen time saver, and allows for products to be stored in a freezer until needed. |
| Pre-Programmed | Some appliances come with 'recipes' which are programmed to use the correct settings and timings to cook specific foods to perfection. Users simply need to input the type and weight of the food. |
| Programmable | This feature allows for owners to programme their own 'recipes' to saving time when cooking frequently prepared dishes. It also reduces the risk of over or under cooking household favourites. |
| Digital Display | A contemporary feature, a digital display is both modern and easy to use. Touchscreen-type buttons are used to make selections and input the desired cooking time. |
| Knob Control | Once a feature of old fashioned microwaves, knobs have come back into style on retro appliances as a sought after design aspect. These are also popular on traditional, farmhouse style appliances. |
| Child Lock | A great benefit to households with small children and toddlers, this ensures the appliance is never unsafely used by little hands. For example, a metal spoon in a microwave could be very dangerous. |
| Small Capacity | Ideal for small kitchens and homes, these appliances are space saving but may not accommodate a full sized dinner plate. They are perhaps more useful in households needing to warm drinks or snacks. |
| Large Capacity | Large microwaves are good for fitting in full sized plates and multiple side plates or bowls, but can take up a lot of kitchen space. They are a good option for larger families. |
Used Microwave Finishes
A used microwave doesn't have to look like an odd afterthought in the kitchen, and even if choosing to invest in the appliance sometime after other appliances were purchased and fitted, a used microwave can still blend effortlessly, seeming like it's been in place all along. Different materials and finishes give different appearances to suit all kitchen decor and design, from traditional farmhouse to contemporary apartment.
| | |
| --- | --- |
| | The most basic, and often most cost effective option. While it does the job, it's perhaps not as visually appealing as other finishes. |
| Coloured Plastic | Coloured plastic adds a bit of personality to the appliance. It's a good choice for themed kitchens, and better value than metallic options. |
| Stainless Steel | A common finish, stainless steel creates a rather industrial yet minimalist look. The casing may be more durable than plastic casings. |
| Coloured Metal | The ultimate in contemporary designs, coloured metal appliances are a modern choice. Reds and purples are especially popular. |
Questions to Ask when Buying a Used Microwave
On eBay especially, sellers are available to answer any questions that may arise about buying a used appliance, although in many cases the item descriptions are detailed enough that all necessary information is included. Buying an item online can be daunting, especially if buying a used item, but asking the right questions could really put the mind at ease. Perhaps the most important question is in regard to any performance issues, as buying a faulty appliance could mean spending more for repairs and replacement parts. Secondly, it's important to know about any existing damage to either the interior or the exterior. Exterior damage rarely causes anything other than a visual problem, although internal damage could be cause for concern. Finally, asking about a seller's location and if a collection would be possible to save on delivery costs associated with such a heavy appliance is a good idea.
Find a Used Microwave on eBay
For those wishing to thoroughly browse everything on offer before making a decision with regard to type, features, or finish, simply typing 'used microwave' into eBay's search box yields a wide range of results. Alternatively, type 'microwave' and then select used condition from the left hand menu on the results page. If looking for a specific form of used microwave, it may be quicker to navigate using the category pages. Start by choosing Home & Garden, followed by Cookware, Dining & Bar. From here, select Small Appliances and then Microwaves. Finally, select Used, Manufacturer refurbished, or Seller refurbished to see a range of pre-loved appliances. Results can be narrowed down using the left hand menu, filtering by capacity, brand, features, finishes, and more.
Conclusion
With online stores like eBay, there really is no need to pay out for a new microwave. A used microwave purchased from the popular website can provide all the features, both internal and external, and quality, of a new model, for just a fraction of the cost. Branded microwaves especially are incredibly durable and long lasting and are a convenient addition to any kitchen environment. What's more, due to limited editions and discontinued products, the variety of the range of used appliances on offer is often greater than the variety of new products which are more likely to be restricted to just the latest models.