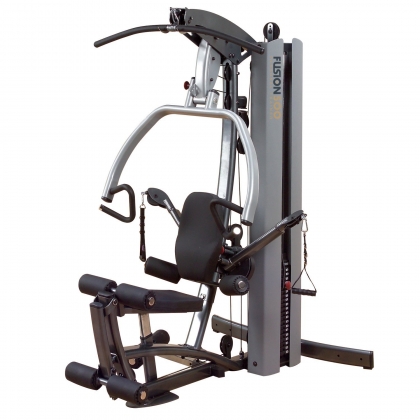 The Multi-Gym is a piece of equipment used in fitness gyms, as well as in the home, as a means of providing a number of exercises for participants to do in order to maintain or gain fitness and strength.
One of the reasons as to their popularity is the fact that despite the fact they are static, they provide a wide variety of exercise options to the owner.
This versatility is vastly appreciated by those who do not wish to purchase these pieces of exercise equipment individually, as this can take up a lot more space than a Multi-Gym.
When buying a Multi-Gym as used, one of best places to go is an auction site like eBay.
There are a number of things that should be factored into the buying process and this guide aims to take those wishing to buy a used Multi-Gym through these considerations.
Types of Multi-Gym Training
The buying of a Multi-Gym can be a complicated process if one is not sure as to which type of training that they wish to do on the Multi-Gym. The best way of buying a Multi-Gym is by knowing beforehand the type of training that is preferred and then buying one according to that. Here are the fundamental training types that can be performed alongside a Multi-Gym:
Weight Loss Training

There are plenty of Multi-Gyms that are available for those who wish to use them as a means of losing weight. If one is looking for a Multi-Gym to help with the loss of unwanted weight, it is better to purchase one that allows for cardiovascular activity, as well as one with weight training exercises. For example, there are Multi-Gyms with

benches

attached. These can be used for sit-ups or for rowing if the bench is movable.

Circuit Training

Circuit training is a form of training that incorporates a multitude of different exercises with small breaks in between. There are Multi-Gyms available that can be used for this type of training on the likes of eBay. Multi-Gyms designed for this purpose often have a variety of different components, including workout equipment for strength training, as well as for cardiovascular and toning equipment.

Bodybuilding Training

There are a number of Multi-Gyms available for those who prefer to concentrate on building muscle and strength. Whilst there are many available with benches, they tend to be static. The

bench

allows for strength and muscle building exercises such as sit-ups, chest presses and arm raises. Multi-Gyms of this nature tend to come with heavier weights to allow for users to build and maintain levels of muscle in the body. Multi-Gyms designed for bodybuilding exercises also tend to be slightly bigger and may take up more space.
Workout Equipment
Another method of buying a used Multi-Gym is by purchasing according to the workout equipment included. For example, one may wish to purchase a Multi-Gym that allows for the user to concentrate on certain parts of the body.
There are 'all in one' gyms available that provide for those who wish to train chest and arms, as well as those that allow for more leg-based training.
However, these are harder to find, especially as used. Here is a list of the main exercises that can be done with a more general-purpose Multi-Gym:
Rowing (if the bench is not static)
Obviously there are Multi-Gyms that allow for more area specific training, but these are the most popular exercises undertaken with a standard Multi-Gym.
Space Requirements
One of the most important buying factors that is commonly forgotten when buying a Multi-Gym is the amount of space that is required for one. Despite the fact that Multi-Gyms are appreciated for being able to incorporate so many pieces of workout equipment onto one frame, they also take up more room than is frequently thought. Here is a checklist to ensure that when buying a used Multi-Gym there is a sufficient and space available:
Measure the Space: It is a good idea to measure out the space that is available for the Multi-Gym. When measuring the space required for a Multi-Gym one should always account for the fact that one will also need room to actually use the equipment. Therefore, it is better to place an additional two or three feet on top of the measurements to be safe.
Check Product Specifications: To measure the space accurately one should check the specifications of the Multi-Gym to make sure that there is sufficient space for a one of that size.
Check Weight: It is worth checking the weight of the Multi-Gym, as they are often heavy. If it possible, one should find out the weight without the weights attached. The weight is important as the space that it is to be used in may be up a set of stairs and special measures will have to be taken to transport it there safely.
If space is an issue, it may be an idea to purchase what is known as a 'compact' Multi-Gym. Compact Multi-Gyms tend to be narrow and can be fitted into smaller spaces. The only disadvantage of Multi-Gyms of this nature tends to be that they have a lesser amount of workout equipment incorporated.
Condition
Despite all the other considerations that need to be thought about when buying a Multi-Gym, the most important one when it comes to buying used is the condition that it is in. The condition of the Multi-Gym can affect the price that should be paid, as well as how well the Multi-Gym performs, and most importantly, how safe the Multi-Gym is to use. Here are some things to look out for when buying a used Multi-Gym, regarding its condition:
Rust

It is especially important to look out for rust on used Multi-Gyms. This is down the fact that most Multi-Gyms' frames are made from metal, as well as the screws and bolts that are used to keep the frame in place. With all the additional weight and load being placed on the frame, the tightness of the bolts and screws is of utmost importance.





Any rust that does exist can weaken the joints, screws and boltholes. Thus, from a safety perspective, it is vital that one looks for signs of rust anywhere on the Multi-Gym before purchasing. Rust will also play a significant role in regards to the price that is to be paid for the Multi-Gym.

Handles

The handles for the equipment are another conditional factor that one should look out for when buying a

used Multi-Gym

. The handles on Multi-Gyms are used are often worn from extensive use. This can be a safety issue, as some pieces of Multi-Gym equipment need to be gripped firmly and a damaged handle may not allow for this.

Feet

The feet are positioned on the bottom of the frame of the Multi-Gym. Whilst they are only small components, they play an important role in the safety of the Multi-Gym user. Firstly, when buying a used Multi-Gym, one should make sure that the feet are included.

This is to ensure that the frame is secure and firmly in position. If one of the feet is missing the frame can become unstable and injury can occur. The feet are also important in preserving the condition of the surface the Multi-Gym is placed on.
Buying a Used Multi-Gym Online
There aren't many places other than auction sites such as eBay that sell Multi-Gyms as used. However, one can take advantage of the online retailers that sell them as new by visiting their websites. This can be done as a means of further understanding the options available, as well as gaining a sense of the standard prices that are paid for certain Multi-Gyms.
One can also visit the various health and fitness blogs and forums that regularly discuss Multi-Gyms and their various advantages. By browsing these, expert tips and advice can be found and put to use when using a site like eBay to purchase a used Multi-Gym.
Buying a Used Multi-Gym on eBay
As previously mentioned, it is only really sites such as eBay that provide the opportunity for those wishing to buy a Multi-Gym to buy one as used. Not only does the site provide this opportunity, it also allows for those potential buyers to have a chance of getting the Multi-Gym at extremely reasonable prices.
This can be achieved by placing a Bid. Furthermore, some sellers offer their products at Buy It Now prices, meaning that the product can be purchased immediately at sensible prices. Occasionally, there is also the chance for buyers to put in a Best Offer in order to bypass other buyers involved in the auction. It is always worth contacting the seller directly to gain a sense of the price that they are expecting.
To see eBay's range of used Multi-Gyms one should visit the Sporting Goods section of the site and choose the Exercise and Fitness link. Then, one should follow that through to the Strength Training section of the site and make use of the Multi-Gyms tab at the side of the page. Finally, one can click the Used filter tab to ensure that listings are exclusively used Multi-Gyms.
Conclusion
Therefore, the best way to buy a used Multi-Gym is to know what is wanted before beginning the search for one. Having a full understanding of all of the options available means that the search can be tailored and specified to suit your personal requirements.
As well as knowing which type and equipment is most appropriate to one's workout requirements, one should also be aware of the spatial requirements needed to own and sufficiently use a Multi-Gym.
Most importantly when buying used, one should be meticulous in finding out the condition of the Multi-Gym. This is from both a financial point of view, as well as a fundamental means of ensuring that safety requirements are upheld whilst using the Multi-Gym.
Finally, remember to read eBay and PayPal's terms and conditions before finalising a transaction via the site.