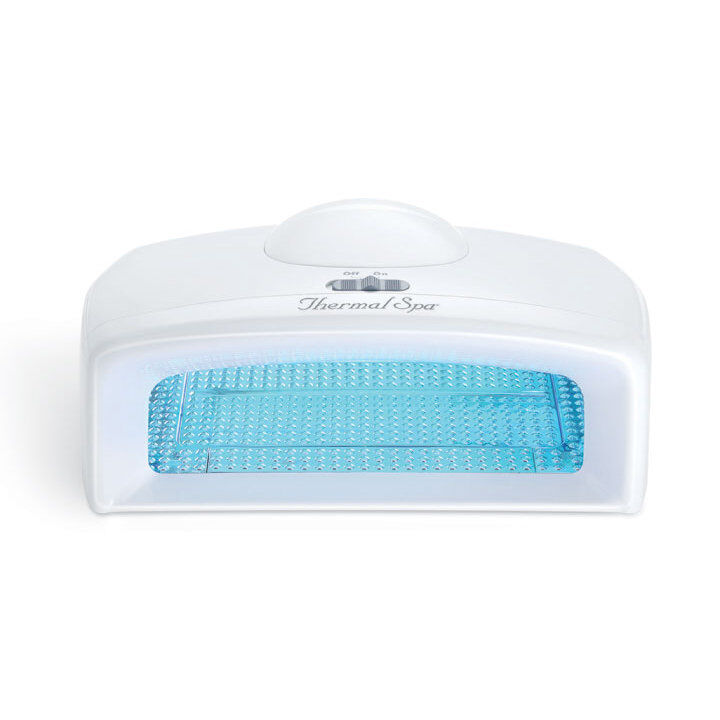 Nail dryers are ideal for busy women who do not have time to wait around for their nail polish to dry, but they are also perfect for salons that need clients' nails to dry quickly to avoid the risk of smudging and smearing, and to speed up appointment times. It is possible to buy nail dryers for both personal use and professional use online and on websites such as eBay, where a wide range of used and new dryers can be found at affordable prices.
There are different brands, models and wattages of nail dryer available, and those shopping online for a dryer should take into consideration budget, power required and whether the dryer is for personal or professional use.
Types of Nail Dryers Available
There are several different types of nail dryer to choose from, and it is a case of deciding which is best for the individual, and whether the dryer will be used at home or in a salon.


| Type of Nail Dryer | Benefits |
| --- | --- |
| Portable Nail Dryer | These nail dryers are normally made of plastic and are ideal for personal use. Usually battery operated, they dry nails with a gentle blast of cold air. It is easy to find a range of portable nail dryers for sale on websites such as eBay, and travel versions are available which are ideal for drying nails on the go. |
| UV Lamp Light Gel Nail Dryers | These nail dryers are best for professional salon use, although they can also be used at home. It is possible to purchase single or double hand UV nail dryers on eBay. Most UV dryers also have options for hot and cold air. |
| LED Nail Dryers | These are the most expensive option although also the most environmentally friendly. LED dryers should last for 50,000 hours or more, which means that bulbs will not need to be replaced. LED cured gel nail polish will normally need to be used with these dryers, and this can be more expensive than regular polish. |
How UV Nail Dryers Work
UV dryers are the most popular type of nail dryers and are most often used in salons or by mobile nail technicians. These dryers cure gel nails and dry nail polish by using UV light (black light), which works to dry nails quickly and also kills bacteria. UV light also helps to dry and set gel nails, which would otherwise take a very long time to harden, costing nail salons time and money. In addition, UV nail dryers can be used with Shellac nail polish,, which is increasingly popular in salons.
The Benefits of Using a Nail Dryer
There are many benefits to using a nail dryer whether at home or in a salon. Some of these benefits include:
More efficient for salon use – a nail salon can see many more clients if appointments are quicker.
The ability to dry Shellac nail polish and set gel nails using a UV dryer.
There is less risk of nails being smudged and spoiled – this is great for salons as it means impatient clients will not ruin their nails.
Ability to apply several layers of polish quicker as each coat dries quickly under the nail dryer.
Should you Buy a Used or New Nail Dryer?
Whether or not to buy a used or new nail dryer is a personal choice and will depend on available budget and the type of dryer required. Whilst personal nail dryers can often be found for very affordable prices on websites such as eBay, professional UV dryers and LED dryers often cost much more.
By purchasing a used professional UV dryer,, it is possible to find a higher wattage model at a lower price, and this is an ideal choice for nail technicians in training or people starting their own salon, as it will help to keep costs down. By purchasing a used dryer, two handed dryers can be found for the same price as a single hand dryer, and this leaves the purchaser more money to spend on nail polish and other accessories.
Buying a Used Nail Dryer
By investing in a used UV dryer, nail salons can ensure that their customers' nails are dried quickly and efficiently. Most UV dryers have additional settings for hot and cool air as well as UV rays. UV nail dryers are ideal for curing gel nails and drying shellac nail polish, particularly dryers with a higher wattage.
There are several popular brands of nail dryer which are used by professional salons and many of these can be found on eBay – these include:
Nail Doctor Dryers
Mastex Professional Dryers
Automatic Gel UV Light Nail Dryers
Belson Spa UV Nail Dryers
USpice UV Nail Dryers
New UV dryers can be very expensive, particularly if purchasing two handed versions, and many salons just starting out invest in used equipment, which can be found online. eBay in particular has a great range of used and nearly new nail dryers for affordable prices.
Individuals purchasing a nail dryer for use at home can also benefit from purchasing a used nail dryer, as they may be able to afford a higher wattage used model on eBay, than they could afford if buying new, meaning that nails will dry faster.
Choosing the Correct Wattage of Used Nail Dryer
There are a number of different wattage (power) options to choose from when selecting a nail dryer – here are the most common options:
9 watts – usually used in personal, cool air nail dryers for home or travel use; these can be easily found for sale on websites such as eBay.
24 watts – not commonly found but again usually used for personal dryers.
36 watts – common in salons, this wattage allows for curing of gel nails and the application of Shellac nail polish.
54 watts – the highest commonly found wattage – used in professional UV nail dryers in salons.
Many salons will need to use a 36 or 54 watt dryer, as gel and artificial nails - such as Gelish nails - will not dry without the extra power provided by a higher powered unit. A 9 watt unit is usually used at home for drying of regular nail polish, and will not work to cure gel nails or Shellac polish. A 36 or 54 watt nail dryer from websites such as eBay will also allow you to dry Shellac nail polish, which is very popular in nail salons today.
How to Choose the Perfect Used Nail Dryer
When choosing the perfect used nail dryer, the following factors need to be taken into consideration:
| Factor | Why? |
| --- | --- |
| Wattage | Salons wishing to cure gel nails and used Shellac nail polish will require a nail dryer which has 36 watts or more of power. Those drying nails at home can get away with a more affordable 9 watt dryer. |
| Single or double handed | Double handed nail dryers will allow both sets of nails to be dried simultaneously, which could mean salons becoming more efficient in terms of the number of customers they see. Single handed models will only dry one hand at a time, but are ideal for smaller salons or personal use and can be found online – eBay has a wide selection available. |
| UV, LED or cool air dryer | Salons will probably want to opt for a UV or LED dryer, as these will cure gel nails and Shellac nail polish, whereas individuals looking for a dryer to use at home can opt for a cool air dryer. |
| Size and style | Mobile nail technicians will need their nail dryer to be portable so that it is easy to carry to and from appointments. Those looking for a portable nail dryer to use whilst travelling will need to consider size and ease of use abroad (opt for battery powered to avoid having to travel with adapters and plugs). |
Conclusion
Nail dryers are a great way to dry nail polish and cure gel nails quickly. They are perfect for busy women or impatient customers who may smudge or smear their nail polish when having a manicure. Salons invest in nail dryers in order to provide a more efficient service to their clients, and many women like to use nail dryers at home to speed up the time they would otherwise spend waiting for their nails to dry naturally.
When shopping for nail dryers, used dryers can often be found at a much more affordable price, and used UV dryers in particular are often reasonably priced, making them accessible for everyone to use. eBay has a wide selection of nail dryers for both personal and professional use.