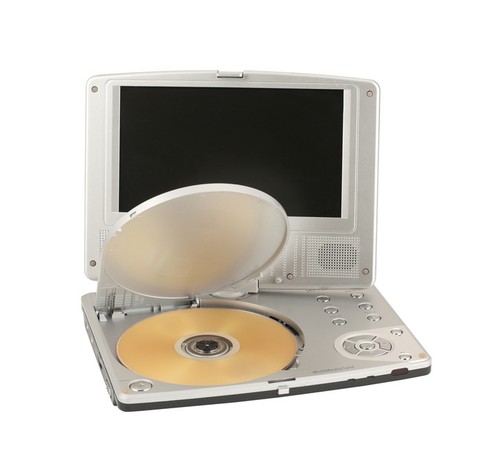 There are many reasons for purchasing a used portable DVD player.. Some buyers may be on a low budget, others may have a history of breaking portable players, or are purchasing them for children who might not take proper care of new and more expensive equipment. Regardless of the motivation, purchasing second-hand equipment can help one save money, especially when they get a good deal on a quality brand with little use. It can also be a great investment to purchase a cheap used DVD player for going on vacation, so users do not have to worry about losing an expensive piece of equipment.
Great places to find used portable DVD players include pawn shops, yard sales and garage sales, second hand and charity stores, and online stores such as eBay,, which frequently features used merchandise. Unfortunately, purchasing used electronics always has the risk of something going wrong with the equipment, which is why it is a great idea to learn how to properly purchase used portable DVD players before starting shopping.
Different Models of Portable DVD Players
The term portable DVD player is used to mean any type of DVD player intended for travel, whether for use in an auto, music dock, or even as a portable game station with a DVD player. These are commonly called PDPs (Portable DVD Players) and can be purchased new and used. For the purpose of explaining how to purchase a used PDP, the models here are not focused on the newest technologies. It should be noted for this purpose that, while many brand new portable DVD players feature in-device game options, many older ones may be connected via an AV port to a game station.
Car Portable DVD Player
One of the most common types of portable DVD players is the one to be used in the car. This is especially popular with parents who want to entertain their children while driving, but do not have a built-in DVD player in the auto. Automobile portable DVD players usually feature brackets or come with dashboard or overhead clips so that the DVD player can be viewed from the backseat. Car portable DVD players most likely run on battery power, but have the option to be plugged into a cigarette lighter for longer trips.
Folding Portable DVD Player
The folding portable DVD player often resembles a laptop or netbook and can range from 18 to 30 centimetres in size, although 18 centimetres is the most common. The folding portable DVD player allows the screen to be protected when it is not in use. This is great for transportation in a backpack or bag, and is the easiest option for naturally watching a movie from a seated position. The laptop-type design can simply and comfortably be seated in the lap, making it ideal for a person who wants to watch DVDs while travelling or in a public place.
Tablet DVD Player
Tablet DVD players are most often actually simply swivel-screen folding DVD players which can be sat on the lap like a laptop computer, or swivelled into a tablet-type design to be either mounted and watched in a car or handheld. In either case, this is a very modern design and is not present in older used PDPs. Some tablet DVD players are nothing more than a tablet with an LCD or LED screen, and can be easily held in the hands or mounted as desired.
Built-In Options of DVD Players
Most portable DVD players come with a variety of built-in options including the ability to play different formats of video, different plugs and portals, and more. Many PDPs can actually play music and display photos, which is why some of them feature SD card slots. Others can be used to play games, such as those with AV outputs to be connected to a game console, or those with built-in game emulators to play popular portable games. Some also support game apps, which means that children and adults can play popular apps between movies.
| PDP Features | Use |
| --- | --- |
| File Support | internal support of DVD; may or may not include MPEG, DivX, JPEG, PNG |
| SD/USB Port | slots for SD cards; USB drives for playing additional data such as photos or MPEG films |
| AV input | audio/video input; can be used for connecting a larger screen/game station/computer |
| Dock/Audio In | for connecting an iPod or MP3 player |
Other options of most DVD players include different types of DVD drives. Most commonly, portable DVD players feature slot inserts where the DVD can be pushed in, but they can also feature tray DVD players where the tray ejects and the DVD is inserted, and hinged styles that must be opened from the top. The slot insert version is the most durable, so usually it is the best option for anyone purchasing a used portable DVD player. However, other options are still useful, and very common.
Considerations When Buying a Used Portable DVD Player
Things to consider before buying a used portable DVD player include whether it is used by kids, how long the battery life has to be, how long it is expected to last, and where it is most commonly used. Also, anyone with more than one child might want to consider purchasing a multi-screen PDP. Some also prefer portable DVD players that allow users to play games, view photos, and even watch films via USB or SD card as well, such as from a camcorder or camera.
Some portable DVD players are made exclusively for children, which is an excellent idea for parents who do not trust their children with a more expensive device. Usually a kid's PDP features colourful plastic, a thicker bezel (outer edge) to protect the screen, and while offering lower-quality resolution than other portable DVD players, it is likely to be more difficult to break or damage during rough play. Some portable DVD players can also be connected to the back of seats instead of to the dashboard. However, portable DVD players with dashboard connections are most convenient when equipped with a remote control.
What Do 'Used' Terms Mean?
There are a variety of terms often associated with used devices online so anyone purchasing their used portable DVD player on eBay or other online store selling used electronics should learn what they mean. Among those are 'refurbished&', 'NWOT', 'mint', and more. In general, refurbished means any model that has been fixed or had parts replaced, usually by a company that professionally purchases damaged electronics and returns them to working order to resell them. While these models normally work as they would new, they do not come with a warranty, and have had parts replaced, so they are not in original factory condition. The terms 'mint', 'like new', and 'good as new' all mean that the device is in near factory condition. It is also important to watch for terms such as 'faulty', 'damaged', and 'for parts', as all of them mean that the device is being sold in damaged condition with expectation that the buyer either knows how to fix it, or intends to scrap it for parts.
Purchasing a Used Portable DVD Player on eBay
Anyone who wants to buy for a used portable DVD player can look on eBay to easily find a great deal of affordable second-hand options. eBay sells a variety of second hand electronics, and among those are hundreds of options for portable DVD players including used, refurbished,, like new, and damaged options. Generally sellers post used PDPs with a description detailing any damage, and photos, along with any specifications about the device. It is important for you to pay attention to these specifications, because they can detail anything that is wrong with the player, as well as battery life, screen resolution, and device capabilities. You might also choose to contact the seller to ask about anything that is not listed in the item's description. Knowing the age of the device, why it is being sold, and what it is capable of are very important when purchasing second hand portable DVD players, just as with other used electronic equipment.
Conclusion
Portable DVD players, commonly called PDPs, can be purchased in used condition from a variety of sources including second-hand shops and eBay. Reasons for purchasing a used model can range from budget to simply searching for an inexpensive model in case of damage or loss. Portable DVD players can be purchased in a range of designs, but most notably, those made for automobile use, those with a folding screen that resemble a netbook or laptop, and those with a swivel screen, or a simple tablet type structure.
Choosing a model should be based on the product condition, price, specifications, and age. Anyone purchasing a used PDP in person can test it out before purchase, but in online stores, it is important to read the specifications and learn about the device before making a commitment. Finally, it is important to consider what the portable DVD player is used for before making a purchase. Battery life, weight, and protective features are all big issues and are some of the most important factors to consider when buying a used portable DVD player.