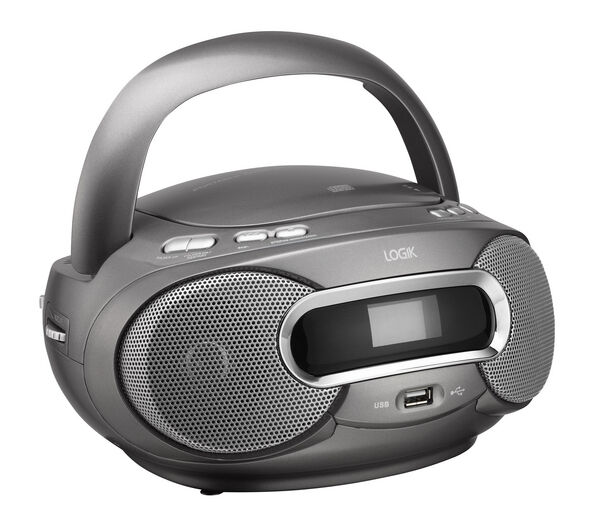 Used portable stereos are a great choice for those who want an audio device that they can take with them when they are out and about. Portable stereos are usually small and have handles so that they can be carried easily. These devices have all of the functionality required to play music, including a CD player, radio, and at least two speakers. Many also include connections for a MP3 player, allowing listeners to play music and charge their device simultaneously. Other portable stereos may have a clock on its display or a speaker for low frequency, or bass, sounds. Older used portable stereo models may have a cassette deck with a play and record function. Portable stereos run on battery power. However, many can be plugged in when convenient.
Used portable stereos are available in an array of sizes and weights. When purchasing a used portable stereo, buyers should be aware of what to look for in a used device and familiarise themselves with the various features it has to offer. Used portable stereos can be bought from charity shops and car boot sales, as well as online at retailers, such as eBay.
Factors to Consider When Buying a Used Portable Stereo
There are many benefits to buying a used portable stereo. However, there are certain aspects that a buyer should keep in mind to ensure that the used device is in proper working condition.
Condition of a Used Portable Stereo
The condition of a used portable stereo should always be checked for damage. Cosmetic issues, such as scratches or dents, may undermine the appearance of the device, but as long as the used portable stereo still works, buyers should still consider purchasing it. Buyers should weigh the disadvantages of any chips, cracks, and dents. While a few scratches may not pose a problem, they may affect the price that a buyer is willing to pay for a used item. Look and listen for anything that seems suspicious. If the portable stereo makes any strange rattling noises or has a funny chemical smell while running, this can be an indication that the device is not in a good working condition.
Check the Inputs of a Used Portable Stereo
Buyers should check all plugs, sockets, and connection ports. If there are any parts that no longer work, buyers should consider the cost of replacement. It is also a good idea to make sure that the device is still capable of performing all of its functions. Try burning all types of media discs that the portable stereo should support including, CD-R, CD-RW, DVD-R, and DVD+R DL.
Check the Battery Life of a Used Portable Stereo
Buyers should check the battery life of a used portable stereo before purchasing. If the battery life is not very long, then this can pose a problem, especially if the portable stereo will be operated where there are no outlets to plug in the device. The seller should be able to advise on the battery life.
Safety of a Used Portable Stereo
It is always important to consider safety when purchasing any used electronic device. A major cause of electrical accidents are power cords or devices that have faults. Buyers should check the condition of the cable for any worn casing or exposed, frayed wires.
Price of a Used Portable Stereo
Buyers should compare the cost of a new portable stereo with a used device that has the same features. Used devices should always be substantially lower in cost. Although some problems may not hinder the performance of the portable stereo, any wear and tear that makes it less than mint condition should result in a reduction of the price.
Terminology for a Used Portable Stereo
When buying a used product, buyers should read the item description for specific words such as "refurbished" or "reconditioned". While still considered used, refurbished products have often been sent back to the manufacturer for a cosmetic reason and fixed accordingly to a high standard. Conversely, a reconditioned device has been used and repaired, usually by the company that sells the product rather than the manufacturer.
Features of a Used Portable Stereo
Portable stereos come equipped with an array of features. Technology continues to change and advance over time, so buyers should consider the features that older models offer in comparison to those that can be found in newer models.
Sound for a Used Portable Stereo
Buyers should consider the sound quality when purchasing a used portable stereo. There are many factors that affect sound such as the speaker's drivers, the audio source, the conditions in which the buyer is listening, and the total energy that the amplifier is capable of producing: the higher this figure, the louder the sound. Speaker size should also be taken into account with larger speakers producing more output.
Power for a Used Portable Stereo
Most portable stereos are powered by batteries. Sometimes the device can also be plugged into a wall socket when convenient to avoid draining the batteries. It is always a good idea to carry spare batteries when away from a power source.
Functions of a Used Portable Stereo
In addition to the standard features, portable stereos often have various functions. Buyers should familiarise themselves with common stereo terminology to determine an appropriate model for their requirements.
Portable Stereo Functions

Description

AM/FM preset buttons

Pre-programmed radio stations accessed with the touch of a single button

Bass boost

Improves low frequency sounds

Creates a fuller sound

CD synchro recording

Allows recording from a CD onto a cassette or MiniDisc

Digital filter

Reduces noise distortion

Creates sound that more closely resembles the original source

Graphic equaliser (EQ)

Adjusts the characteristics of the sound to match the style of music

Common EQ settings include rock, pop, classical, jazz, vocal, and disco

Two types: automatic preset and manual

Guitar amp input

Allows a guitar to be plugged in

Microphone input

Allows use of a microphone

May include volume controls

Karaoke

Enhances the singing voice with an echoing effect

Record timer

Allows the recording of music when away from the device

Automatically turns on stereo, serving as an alarm clock

Sleep timer

Turns stereo off at a set time

Saves batteries

Track programming

Programmes a sequence of songs on a CD for playback

Allows 15 to 36 tracks to be programmed
Buyers looking for a used portable stereo that doubles as an alarm clock should consider a device that features a record timer. Those who have frequent parties may benefit from a used portable stereo that has karaoke functionality.
How to Buy a Used Portable Stereo on eBay
There are a wide array of used portable stereos for sale on eBay. From the eBay homepage, buyers can search for a portable stereo and then narrow down the results to used models using the eBay filters. Buyers can then filter by price or seller location. The filter system allows buyers to successfully narrow down options without having to sift through the large amount of portable stereos that eBay has to offer.
Buyers should examine the condition of the used portable stereo carefully before making a purchase. If any questions are left unanswered after reading the item description then buyers are free to contact the seller using eBay's "Ask a question" link. Buyers should never hesitate to ask a seller any additional questions they have, especially as it may not be possible to test the used portable stereo before placing a bid. If the seller is local, then a buyer can ask about the possibility of viewing the stereo before completing the transaction. This allows buyers peace of mind that the portable stereo is as described. If the seller is not nearby, then a buyer should check the postage and packaging costs. The used portable stereo may be heavy, so delivery costs may add a significant amount to the total price. It is also a good decision to get postal insurance to protect the stereo in the event that it suffers damage in transit.
Feedback Ratings
It is always a good idea to check the seller's feedback. This helps buyers to determine whether the seller is reputable. Buyers with consistent positive feedback ratings are recognised by the eBay community for their good products and high levels of customer service. Many also dispatch items quickly.
Conclusion
Many buyers need to do a bit of research before purchasing a used portable stereo. Buying used items is not only financially savvy, but also environmentally friendly. In addition, many portable stereos can be found in like new conditions at a fraction of the cost of a new device. When searching for a used portable stereo, buyers should understand the basic terminology used to describe the functionality and examine the device for any signs of damage. If buying online, then examine photos carefully and ask the seller lots of questions. All parts should be in proper working condition and the cables should not be compromised. In addition, buyers should consider the features that the portable stereo has. Buyers hoping to connect their MP3 player to a portable stereo should be aware that older models do not have the necessary connections. Conduct an adequate comparison between new and used portable stereos to ensure that the asking price is fair. Buyers should set realistic expectations about used portable stereos and be willing to accept minor flaws. A wide range of used portable stereos are available on eBay.