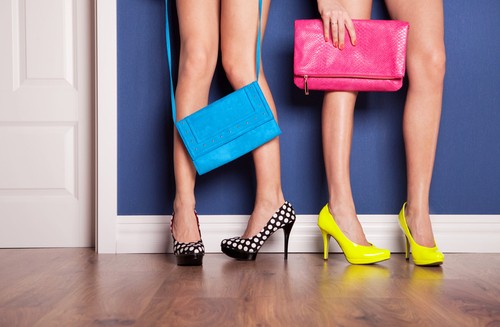 A purse is a must-have item for most women. Purses function to carry all of a woman's essential belongings, since pockets are often not quite large enough. At the same time, purses serve as an important fashion accessory and are carried to complete an outfit. Women can find purses in all shapes, sizes, and colours to meet a wide range of function and style needs. Depending on the brand and quality of the purse, the price tag can often be quite high. Shopping for a used purse is one way to bring that price on the tag down so that more women can afford the styles that they love.
Shopping for a used purse is a slightly different process than shopping for a new one. Shoppers must start by determining the function of the purse so that they can choose type of bag that meets their needs. Once the type or style has been identified, the shopper can begin evaluating different options to suit her personal taste. In addition to the bag's appearance, women should be sure to examine the condition of the bag and review the price. eBay is an online marketplace where shoppers can locate a large inventory of used purses in all shapes and sizes.
Determine the Function of the Purse
Before selecting any other options for a purse, shoppers have to determine what they will be using the purse for. A woman's purse needs change depending on whether or not she needs something to carry for special occasions or something she needs to carry on a daily basis. Purses carried on occasion don't need to be as large as bags that are used every day because it is likely that fewer items have to be carried. Women could get away with a small clutch that is just large enough to carry some cash and identification. Purses that women carry every day have to be large enough to hold her wallet, keys, and any other items she likes to have on her person while she is out and about. Additionally, these purses need to be durable enough to withstand the wear and tear of being carried around everywhere. After the woman has identified her needs, she'll be able narrow down the type of purse that works best for her.
Choose the Purse Style
Once a woman has determined what she needs a purse for, she can begin checking out the different styles. Some styles are versatile enough to use for any occasion, and others are more limited in their functions. The various bag styles differ in the shapes of the main body of the purse, as well has the type of handles or straps that they have. Women who are looking for purses to use on a daily basis might want to consider large bags with shoulder straps that are easy to carry. When looking for a purse for a specific purpose women can focus more on the appearance than the convenience or function of the bag since it will be used for a shorter period of time.
Hobo
A hobo purse is a large and versatile bag that works for just about an occasion or purpose. These oversized bags can carry anything and everything that a woman needs to get her through the day. Because of the crescent shape with the large shoulder strap, hobo bags are not only visually appealing but also easy and comfortable to carry. Additionally, they maintain their attractive appearance no matter how many items are inside. Some bags may lose their shape when they are overfilled and look unattractive, but hobo bags are stylish no matter how many or few items are inside.
Hobo purses are known for having a casual yet classy look. They are available in multiple colours, sizes, and materials, so they are capable of dressing up any casual outfit without seeming out of place. Hobo bags made from leather tend to wear well and last for a long time, even when used heavily.
Satchel
A satchel is a type of purse that has a simple and sophisticated design. They are typically made from leather and are rectangular or square in shape. More casual designs are made from canvas or a heavy fabric and come in many colours. Because of the resemblance to a briefcase, women can carry a satchel type purse to work for a professional look. Satchels often have a long shoulder strap that can be worn on one shoulder or across the body.
Baguette
A baguette purse is small and gets its name because of its resemblance to a small loaf of bread. These bags are small, so they are not ideal for women who have a lot of items to carry. Baguettes are usually just the right size to carry a wallet, mobile phone, keys, and a few other small items. These purses are equipped with hand straps rather than shoulder straps, so women should only consider this type of bag if they don't need to have both hands free.
Clutch
A clutch is a really small purse that doesn't have any handles or straps. These small bags are only large enough to carry a few essential items, so most women won't find them convenient for everyday use. They are available in a wide range of colours and shapes, so women should not have a problem finding the perfect clutch to match a cocktail dress for a night out on the town.
Tote
A tote is the most versatile type of purse available, and it is also one of the most popular bags. With so many different sizes and styles available, a tote bag can be carried with any outfit and for any occasion. Totes have roomy interiors so they can easily carry quite a few items, both large and small. Totes have small handles or straps so that they can be carried easily in one hand. Some may have handles that are long enough to throw over a shoulder.
Evaluate Other Purse Options
In addition to the style, there are several other characteristics and features that women should consider when shopping for a used purse. All of the styles mentioned above are available in multiple brands, colours, materials, and have different methods for carrying them. Evaluating these options can help shoppers find a purse that is attractive and matches a woman's own personal style.
Brand of the Purse
Many well-known designers produce some of the finest purses on the market. Unfortunately, these designer bags come with price tags of hundreds or even thousands of pounds. Although many women would love to call one of these bags their own, the price tags make them unattainable for most. By shopping for a used purse, a woman can carry a Louis Vuitton or Chanel bag for a fraction of the price. These designer purses are usually built with the finest materials and handle wear and tear well. Since these purses are crafted so well, they can last for several years, even when purchased used.
Colour of the Purse
When it comes to accessories for an outfit, it is important that the colour of the purse matches the rest of the outfit so that it all ties together. When shopping for an everyday bag, women should stick to plain designs and solid colours because these will match just about any outfit. Otherwise, women can shop for purses with colours that match the particular outfit they'll be carrying it with.
The Purse Material
The material that a handbag is made from not only affects its appearance, but also how durable it is. Leather is perhaps one of the most popular materials used to make purses. In addition to having a clean and classy look, leather wears well and maintains its appearance, even with heavy use over a long period of time. In addition to leather, purses can be made from synthetic materials, canvas, and other fabrics. How well they wear depends on the quality of the materials used.
Method for Carrying
The method in which a purse is carried determines how convenient it will be to use. Shoppers can choose between hand straps, shoulder straps, or both. Some straps are long enough for women to carry the purse across the body for added convenience and security. Women are also able to purchase purses that have adjustable straps to make them shorter or longer as needed.
Factors to Consider When Buying a Used Purse
Shopping for a used purse is quite a bit trickier than shopping for a new one. Aside from the style and appearance of the purse, a shopper has to examine the condition of the bag and determine whether or not the price is fair. Because the purse has been carried by another person before, it won't be in perfect condition. Both the condition and the price should be evaluated simultaneously to determine if it is a good investment or not.
Condition of the Purse
The condition of a used purse has to be examined with care. Bags that are heavily worn might not have as much life left in them as those that show little signs of wear and tear. Shoppers should be sure to check the seams and the points where the straps connect to the body of the bag. If there are any tears or loose stitches, then these bags are likely to break with excessive movement and stress.
A used purse should also be examined for spots and stains. Purses made from cloth can sometimes be cleaned either by hand or in the washing machine, but depending on the fabric, the colour might fade. Leather is harder to clean, and depending on the extent of the damage, may not even be salvageable. The interior of the bag should be checked for stains as well. It is not uncommon for a ballpoint pen or liquid makeup to spill inside the purse and damage its liner.
The Price of the Purse
When evaluating a used purse, it is a good idea for shoppers to research the retail price of the bag when it was brand new. This gives the shopper a starting point to compare prices for used bags. Unless the purse is in excellent condition, it should be priced well below retail. When examining the condition of the purse, the price should reflect the amount of damage and wear that it shows. The more worn the purse is, the lower the price should be. Knowing how much a purse was worth when it was new should give the shopper a good idea of what it is worth in its used condition. This holds true for any purse regardless of brand, and this way helps a woman avoid paying too much for a bag simply because of its designer label.
Shopping for a Used Purse
You can find used purses at local thrift shops, garage sales, and from private sellers who are getting rid of their personal collection. Shopping in person gives you the opportunity to examine the purse firsthand and evaluate its condition accurately. The drawback to shopping locally is that your selection is greatly limited. Shopping online gives you a wider selection of purses to choose from, but does not allow you to examine the bag in person. Instead you must rely on photographs and a description from the seller. eBay is an online marketplace that offers a huge selection of items and makes it easy to search, compare, and buy used purses without leaving home.
Finding a Used Purse on eBay
Finding a used purse on eBay is simple. You can search for a specific type or brand by entering keywords into the search bar and conducting a simple search. The Advanced Search function allows you to perform a more refined search for the purse that you are looking for. If you're looking for a clutch purse, you would type "clutch purse" into the search bar. On the results page, you would select "Used", so as to limit the listing to only those for used clutch purses. To reduce the amount of listings shown, select options such as style, colour, or price range to only show the items that meet your search criteria.
Conclusion
Purses are functional, fashionable, and an important part of any woman's wardrobe. Many women carry purses on a daily basis to keep their personal items with them at all times. For special occasions, a woman might have a smaller and more stylish purse to go along with the outfit she is wearing. Oftentimes, women find the need to own several purses. New purses can be expensive, which can make it difficult for women to obtain the bags that they love. Buying used purses is an easy way for women to save money on this important item. Shopping for a new purse is very similar to shopping for a used one, but a little bit more time and research is needed when shopping for used items.
Prior to shopping for a used purse, women should take the time to evaluate what they need the purse for so that they can determine which type of purse they'll need. From here shoppers can begin searching for a bag with the design and appearance they like. Shopping for used items differs from shopping for new items because the condition and the price of the items have to be evaluated to determine if they are worth the investment. eBay is a site where shoppers can find a large selection of used purses and easily compare prices to find the perfect purse for any occasion.