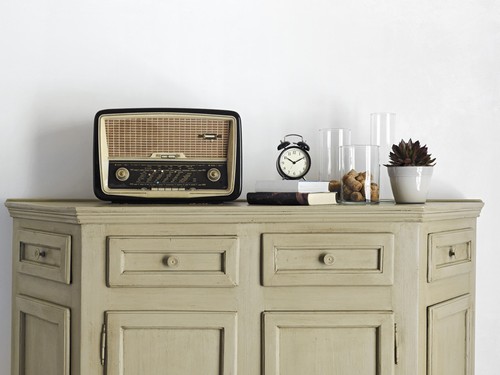 Buying a used sideboard is an excellent way to save money on quality furniture. Sideboards have been used in kitchens and dining rooms for centuries, but are used throughout the house today. Their original purpose was for storing plates, cutlery, serving accessories, glassware, and table linen, but contemporary uses include storage and display from the hallway to the conservatory. Sideboards come in varying heights, but are mostly waist high, making them ideal for displaying ornaments and photographs. These units are available in a range of materials, from traditional solid wood to contemporary plastic and metal.
Several features and characteristics should be taken into account when buying a used sideboard. The sideboard's purpose, material, and finish should be considered. The size of the sideboard and the space that it has available for storage need to suit the requirements of the buyer: the used sideboard should offer the optimum amount of storage space without being overly bulky. Additional features can add to the sideboard's usefulness and the item's condition should be checked before buying it. Used sideboards are available at auctions, from secondhand and charity shops, and from sites like eBay.
Used Sideboards for the Kitchen or Dining Room
The traditional function of a sideboard is to provide storage and a buffet-style food serving area in the kitchen or dining room. If the used sideboard should serve a more traditional role, choose a piece with a top at a convenient height. To determine the exact height required, measure the height of kitchen worktops and choose the height of the sideboard accordingly. The top of the sideboard should also be strong enough to deal with food and liquid spills. Polyurethaned wood is generally durable enough to handle the occasional spill, but is not heat resistant. Protect polished or delicate surfaces with heat resistant mats or serving trays, or opt for a laminate, glass, or tiled top. In addition, some used sideboards have built-in backing pieces to protect the wall behind the unit from splashes.
Used Sideboards for Storage and Display
Sideboards are no longer used only in food serving areas and a used sideboard can be placed in any room in the house. A sideboard's height makes it perfect for displaying ornaments and photographs. A used sideboard in the hallway acts as a clutter collector and telephone station, while a unit in the living room can be used to store entertainment equipment and to display ornaments. Use a sideboard to store linen in the bathroom or bedroom, and in the conservatory to display potted plants and to store the equipment needed to care for them. Choose a decorative used sideboard, for example a carved oak item, as an accent piece in any room. Consider opting for a sideboard with glass doors and integrated backlighting to display items in the cabinets, but bear in mind that glass doors are not child-friendly and should be avoided in homes with young children.
Materials for Used Sideboards
Used sideboards come in a range of materials to complement any home. They are available from antique style solid wood to modern plastic laminate.
Wooden Used Sideboards
Solid wood used sideboards can be seen as investments for the generations to come and make excellent heirlooms. Although most contemporary wooden sideboards are manufactured using veneered chipboard, high end wood sideboards are still available in solid woods like oak and teak. Buying used often translates to discounts and, in the case of solid wood furniture, could be worthwhile even if the item needs to be refinished.
Metal and Plastic Used Sideboards
Wooden furniture tends to give a room a cosy, rustic, and traditional feel, while chrome, stainless steel, metal, and plastic veneers create a more contemporary look.
Styling a Used Sideboard
The used sideboard should match or complement the existing room decor and furniture. Pay close attention to details such as the colour, carvings, type of material used and the finish before choosing a piece. A chrome sideboard looks out of place in a room full of wood furniture, and the addition of an overly ornate item to a room rich in patterns and texture generally creates a chaotic look. If a pattern is chosen, ensure that it matches existing designs in the curtains, carpet, or furniture of the room. Solid colours and plain designs are easier to match to specific decor.
Consider investing in a used dining room set to match the sideboard to the table, or buying wood or laminated items made from the same wood or in the same shades. The used sideboard should be placed away from heat sources, such as direct sunlight or radiators, to prevent buckling, warping, discolouration, or the veneer from lifting.
Additional features can make a used sideboard more convenient to use. Some come with built-in lighting that switch on only when cabinet doors are open. This type of lighting can be installed easily at home and buyers should not be deterred if the lighting was installed by the seller or after it was made. Wine lovers should keep an eye out for used sideboards with built-in wine racks.
Sizing a Used Sideboard
The used sideboard chosen should fit into the space allocated to it. Measure the height, breadth, and depth of the space to determine the sideboard's ideal dimensions. Remember to take into account that drawers need space to slide out and hinged cabinet doors need room to open fully. If space is at a premium, choose an open shelved sideboard or one with sliding doors.
Choose a used sideboard that is in proportion to the furniture surrounding it. If it is significantly bulkier than other pieces it will loom over them, while a sideboard that is too small seems insignificant, making it lose some of its decorative impact.
Storage Space for a Used Sideboard
The primary function of a sideboard is storage. Used sideboards come with varying numbers of drawers, shelves, and cabinets in a range of sizes. The depth and height of shelves should be such that the largest items to be stored can be accommodated easily. Measure the dimension of large items and use this as a guide to decide on the dimensions of the used sideboard's shelves, cabinets, and drawers. If the sideboard will be used in the kitchen or dining room, remember to measure serving dishes and utensils, not only dinner plates. Some sideboards feature baize-lined drawers for storing silverware. Look for this feature to avoid damage or scratches to silverware.
How to Evaluate a Used Sideboard
Before buying a used sideboard, take the time to research the price of new pieces to ensure that bargains really are bargains. The beauty of buying used items lies in paying less for a high quality item. However, it is important to know when an item really has been discounted and the only way of knowing this is by doing thorough research about market values.
The used sideboard should be in good condition, with a minimum of damage. Check the top for burns, scratches, and watermarks. If the used sideboard is veneered or laminated, ensure that the veneer or laminate has not come loose. The expectations of buyers should be reasonable: used items often have scratches or marks from normal use, but the item should be in a usable condition. Cabinets should close properly and drawers should slide in and out smoothly.
When buying solid wood furniture, the absence of damage is not as important as when buying furniture made from manufactured materials. Provided marks are not too deep they can be sanded off and the used sideboard can be refinished, either professionally or as a DIY project. If the sideboard is very old, consider leaving it as is, as the patina that comes with age gives it character and a beauty of its own.
Buying a Used Sideboard on eBay
Buying on eBay is simple if you know how to search for the perfect item. To find what you are looking for, type a key phrase, such as "used oak sideboard", into the search field, which can be found on every page. Choose the most appropriate category and characteristics to narrow your search results. When buying larger items like furniture, look for local sellers to save on delivery fees.
Before You Buy on eBay
Evaluate the item and the seller before committing to a purchase. All the information that you need to learn about both can be found on the item listing page, which can be accessed by clicking on a particular listing. Click on the number next to the seller's username to see his or her feedback from other buyers. You can contact the seller with any questions about the listing by using the "Ask a question" link.
Conclusion
Buying a used sideboard is a great way to save money on furniture. Sideboards are no longer used only in the kitchen or dining room, but can be found in any room in modern homes. A used sideboard intended for food service should be robust enough to handle occasional splashes, with a top that is high enough to allow comfortable use. Display and storage sideboards can be more delicate, and backlighting and glass doors should be considered to showcase the contents of cabinets.
Used sideboards are available in a range of materials and finishes. The sideboard should match or complement the room's current theme and furniture, and should not be significantly larger or smaller than other pieces. Measure the area set aside for the sideboard, recording the height, depth, and width of the space, to find the desired dimensions for the item. Bear in mind that cabinet doors and drawers need room to open and opt for a space saving design if space is restricted. Measure the largest item that will be stored in the sideboard to calculate the required depth and height of shelves and drawers.
Before buying a used sideboard, carefully look at its condition. While some wear and tear is to be expected, the sideboard should be in usable condition, without deep gouges, burn marks, or peeling laminate or veneer. Remember that solid wood items can be restored and a beautiful, if somewhat damaged, used solid wood sideboard could be returned to its original glory with sandpaper, elbow grease, and varnish. eBay sellers offer a range of used sideboards, from vintage to contemporary.