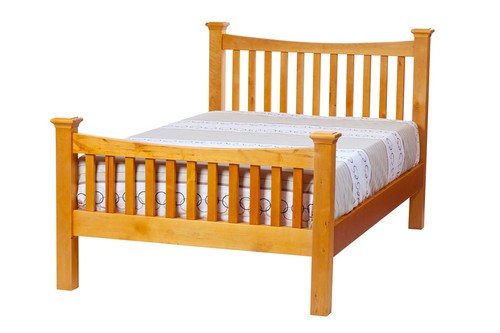 Few things are more important to continued quality of life than a good night's sleep, and that is impossible without a decent bed and mattress. It is, therefore, vital to ensure that any such purchase is of an excellent standard and is good value for money.
Buying a Single Bed Frame
The first thing to understand when purchasing a bed are the different descriptions which are used to point to the different sizes of frames available. If a single bed is what is required, this will generally mean that the dimensions of the frame are either 39" wide and 75" long, or 36" wide and 75" long. The reasons for this difference are that slightly different dimensions have historically been used in the United Kingdom and Europe, when compared to the USA. A 'twin' bed in the USA is more commonly known in the United Kingdom as a 'single' bed, despite possessing much the same attributes. This is simply a difference in language, originating from the usual practice in the USA of 'singlening' this smaller size of bed to form a larger piece of furniture. Whilst the dimensions of single bed frames are similar for all products, the additional features provided may not be. Some single bed frames come with head board, footboard and even side rails, whilst others are simply a frame into which one inserts a suitable mattress. If a frame does not include a headboard or footboard, these can often be purchased separately on eBay if desired. Many bed frames will also have storage incorporated into the frame, in the form of compartments which can be rolled out from beneath the mattress. The most important additional feature to note is the foundation for a single bed mattress, as this can take a number of different forms. Bed frames designed in the USA tend to incorporate a boxspring, which provides a cushioned foundation for the mattress along with extra flexibility and additional height. In contrast, European beds tend to be designed with flexible wooden or plastic slats, upon which the mattress rests.
Types of Single Bed Mattress
Mattresses come in a number of different types, but the two most common are the innerspring and foam mattresses. The former consists of a bundle of coiled springs, covered by padding and an outer layer. The latter does away with springs altogether, relying instead on high-density foam to provide a comfortable firmness to the mattress. Air and water mattresses are both also available, but tend to be used for specific purposes, rather than sold for general single bed use. Choosing between these different types of mattresses is really a matter of personal preference. A high-quality innerspring mattress will contribute more to a quality night of sleep than a low quality foam mattress, and vice versa. Whilst an increasing number of consumers are now purchasing 'memory foam' mattresses due to the capacity of such a product to mould itself to one's personal sleeping habits, others find that such a mattress can make it hard to move around on the bed and can even lead to feelings of claustrophobia. Mattresses also come in different depths, and this is something of which any purchaser will need to be aware. Bunk bed mattresses, which are often the same size as single bed mattresses, tend to only be 6 to 7 inches deep, whilst single bed mattresses vary from 7 to as much as 13 inches in depth. This can make a significant difference to both the firmness and comfort of the mattress, and it is wise to make a positive decision on which depth suits the purpose of the purchaser.
Buying an Appropriate Mattress
Whichever type of mattress is eventually chosen, the process of buying it must be undertaken with care. More time will be spent using the mattress than any other piece of furniture that is owned, and so it is worth making the effort to complete a suitable purchase. Firstly, any allergies which may be suffered by those living in the household should be considered, as some mattresses can contain materials which can trigger these. Latex foam mattresses are often purchased if this is an issue, as they are less likely to harbour dust mites. The biggest factor when choosing between mattresses is the firmness that a specific product provides. Again, this is a matter of personal choice, with some people preferring a soft mattress and others finding it easier to sleep on a firm surface. If a bed is to be shared and the partners involved have different preferences in this regard, one solution can be to purchase two single beds and place them together, with a different consistency of mattress for each one. Of course, when buying online it is difficult to test the firmness of various kinds of mattress. The eBay item listings help to solve this to some extent by including firmness of mattress as one of the filtering options which can be used to find appropriate purchases, but it can also be helpful to read online reviews of the make of mattress in question. If a particular consistency of mattress is desired, then some makes will be more suitable than others, and this can be discerned from a few minutes of research.
Cleaning Used Mattresses
It is perfectly sensible to save money by investing in a used bed frame and mattress set, but only if health precautions are taken. These begin during the purchasing process. First, the item description and photographs provided should be carefully checked to ensure that there are no unsightly stains or serious damage on the mattress. Secondly, the opportunity to use the eBay interface to ask questions of the seller should be taken. If there are any queries about the state of the mattress, it is best to ask them before any money has been spent. Once the mattress has been delivered, several simple steps can be taken to ensure that it is quickly as good as new. Firstly, baking soda should be sprinkled onto the surface of the mattress, and left to lie for several hours before being carefully vacuumed away. Secondly, the mattress should be wiped down gently with a cloth soaked in warm, soapy water. Do not allow the mattress to soak or retain water, however, as this will simply create mildew and similar issues. After this, put the mattress out into daylight for several hours, ensuring that both sides are exposed to the sun. This will not only dry the mattress out before use, but will also help to kill germs and air out the material before it is slept on.
How to Buy a Used Single Bed with a Mattress on eBay
Finding a wide range of single beds and mattresses on eBay is a simple process. From the home page of the website, an appropriate purchase can be located in several different ways. The first is to visit the Home & Garden menu on the left hand side of the home page, and then to visit the Beds & Mattresses category via the Furniture & Living menu. From there, it is possible to go to the specific listings for Beds with Mattresses and browse through the many options presented. A tick box menu is provided on the left hand menu to enable the available choices to be narrowed down further. The search box at the top of each main page can also be used to search for keyphrases, generating a list of the most suitable options, such as for a new condition. For example, anyone particularly interested in memory foam mattresses for single beds could easily type in 'memory foam mattress', and find what they were looking for.
Conclusion
The comprehensive item listings on eBay make it easy to find a used single bed frame and matching mattress which suit any specific need. Of course, it is important that the purchase is made with an awareness of the different frame features which may be required, and that the mattress is made of the material which best suits the buyer's sleeping preferences. As long as these conditions are met, there is no reason that a great deal can't be found.