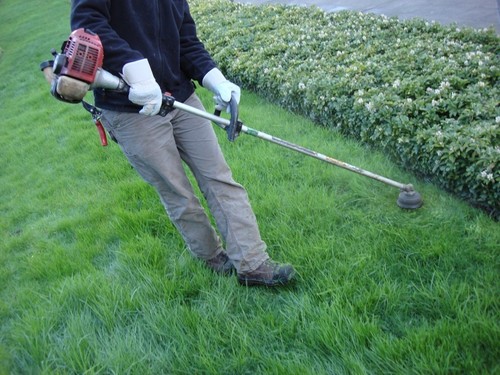 Strimmers have come to encompass a whole range of devices used for trimming, strimming, and shaping greenery. Strictly speaking a strimmer is a lightweight handheld device which spins a cord at fast speeds to cut greenery. The term strimmer is also used when talking about grass trimmers and brushcutters, the latter of which is a much more heavy duty instrument. While all can achieve a similar desired effect, look out extra features that are not needed. Strimmers are simply mechanical, but the range of options across all brands and models make it necessary to know a little about the product before investing. The vast number of possibilities when buying a strimmer can easily be explored on eBay. Given the number of search options available, finding the most suitable model will be made easy.
About Strimmers
Strimmers can operate under electrical power, battery power or through a small petrol engine normally of 18 – 22cc. They are designed to be used by a standing person on low growing weeds, grass, and shrub. One of their most popular uses is in shaping the edges of lawns and driveways, as they possess the intricacy and accuracy that lawnmowers cannot achieve with their mass area cutting. The strimmer was first seen in the United States in the early 1970s. It occurred to Houston entrepreneur George Ballas while watching the cleaning brushes of a drive through car wash. He saw the potential for a string trimmer which would use revolving wire or string to chop weeds. His first design was called the Weed Eater and this slowly took on other names and forms over the years.
Choosing a Used Strimmer
Strimmers have come a long way in the last 40 years to share similar traits and designed which have proved most successful, but there are still vast differences between the models. It's worth looking into the pros and cons of each feature, including the handle shape, engine, power, weight etc.
Power Source for Used Strimmer
| | |
| --- | --- |
| Mains Electric | Mains electric is one of the most popular choices for buying a used strimmer. The convenience of being able to play and go is a good option for most domestic use, as it is likely that the tool will be used within the cord's length of the house. These are the simplest of the three choices and as such are normally the least expensive. The higher the voltage or wattage, the tougher jobs an electric strimmer can tackle. |
| Battery Powered | Battery power is great for those who worry about slicing through the cord of a mains electric powered strimmer. The danger of an electric shock can encourage people to go for battery power, along with the ability to use the strimmer in any location without having to worry about access to mains power. The downside is that the operating time is limited to the charge capacity of the battery, which is normally only around 30 minutes. Many people will have to invest in a second battery for larger jobs, even then to get a full charge a battery may have to be charged for up to 7 hours. |
| Petrol Engine | Petrol engine used strimmers are a favourite amongst professional gardeners and those who need a little more power. Electrically and battery powered strimmers will have their limits on what they can slice through, while the petrol engine will provide much more strength behind the spinning cord. Petrol strimmers can be used for small branches and thicker stalks, but are much heavier and bulkier. They are also more expensive, require the storage of fuel and can be loud and smokey. |
Handle and Shaft of a Used Strimmer
The handle can be very important to those who use strimmers on a regular basis, or for an extended period of time. The shape of the handle not only denotes the amount of comfort during operation, but also the type of job that can be achieved with the strimmer. The shaft of a strimmer determines which type of work it will work best with. Strictly speaking, both curved and straight shafts can achieve the same ends, but with considerably more effort towards the job they're not catered for. It is always worthwhile to make full use of eBay's ask the Seller a questions feature when it comes down to the handle and shaft of a used strimmer. As they may be able to share personal experience regarding the model for sale, deciding on buying a certain type or not will be made much easier.
| | |
| --- | --- |
| Bicycle Handle | The bullhorn, bicycle or 'J' handle will feel very familiar and ergonomic, and normally features a trigger to operate the strimmer where the fingers will rest. The handle is curved in a gentle right angle to allow to alleviate the stress on the lower arm while operating the strimmer. |
| Loop Handle | The loop or 'D' handle shape offers a little more freedom, while being a little more dangerous. The bicycle handle normally comes with a shoulder strap to increase weight distribution, while the loop handle normally requires a two handed operation. Loop handles allow better leverage on steep banks while bicycle handles have become firm favourites because of the 'scythe' action they lend themselves too. |
| Curved Shaft | Curved shafts are better for operation at close range when the greenery is near the operator's feet, as they allow for strimming at short range without much leverage or movement of the body. |
| Straight Shaft | Straight shafts are much more suitable for spots a little further away that are often hard to reach. They offer the ability to reach into dense areas, underneath objects and above the operator. Straight shaft strimmers are normally a little heavier than curved shafts and are more expensive. |
The length of the shaft will determine the comfort level when using the strimmer; it must correlate to the nature position and length of the body. Extendable shafts solve this problem with being telescopic to fit the operator's shape and size.
Type of Cord on Used Strimmer
The cord or string is the most important function of the strimmer, as it represents the blade/cutting device. The cord is almost universally made from nylon, but those requiring a little more power can buy a more expensive metal bladed strimmer. Metal blades are almost always featured in the straight shafted models which are necessary to handle the increased torque and as such, are more expensive. Nylon wire is far cheaper, lighter, easier to store and can tackle most jobs that strimmers are used for. Whilst metal blades may take a long time to lose their sharpness, nylon cords can snap if they come into contact with a substance too thick to slice through. Most strimmers offer a quick release function to replace a broken nylon wire, in which a new cord is inserted and the clamp to grip it retightened. Some strimmers have an interior spool which will feed nylon wire through when it has been snapped off and only the spool will have to be replaced when it has run out, rather than placing individual short sections of nylon. "Bump feed" strimmers contain an interior spool and feed through automatically when the head of the strimmer is "bumped" upon the ground, rather than requiring user input to manually draw the nylon out. Double cords are available on strimmers to increase performance and cutting swathe, allowing faster and more efficient large scale strimming. Some strimmers also come with a rotating head which can pivot on a 180 degree axis, allowing easier access to hard-to-reach places and the ability to strim right angles on manicured lawns.
Buying a Used Strimmer
There are a few things that should be checked when buying a used strimmer. Endeavour to find out the exact measurements and weight of the strimmer can prevent the development of back problems that can occur. Strimmers are known for their mechanical robustness, but ask the right questions about the condition of the moving parts, check that it has been oiled frequently and rust free. Enquire to where the strimmer is stored overnight and only buy if confident that it can achieve the desired effect.
Find a Used Strimmer on eBay
Buying a used strimmer on eBay is a straightforward process from the home page. In the navigation bar on the left first, click All Categories and within the opened directory, navigate to Garden & Patio and then to Power Tools & Equipment and Strimmers. The item can often be found erroneously in the Lawnmowers section too, so it's worth checking. Once in the right category, entering a specific brand or model in the top search bar will bring results matching the query. The filters on the left allow flicking between Brands, Power Source, Condition, Price, Power, Type and Engine Size. Be sure to flick the Used category under Condition.
Conclusion
Strimmers are must-have companions to any respectable garden shed. They represent a flexibility and attention to detail that lawnmowers aren't able to offer when tending to a lawn. Different types and styles of strimmers are needed, depending upon what is to be achieved with them and the environment in which they will be used. It is important to use a strimmer with the correct weight and shape to avoid any discomfort during use. Finding the right strimmer can mean the difference between a well-tended garden and an immaculate one.