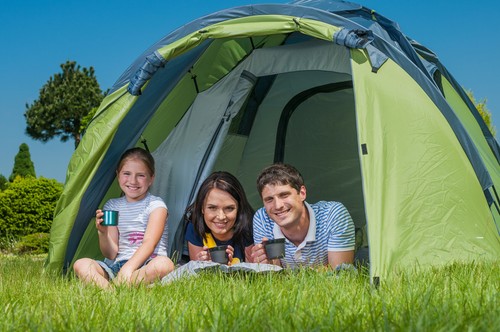 Camping is a great tradition. For centuries people have lived at one with nature and fashioned their own shelters to protect them from the elements. However you do not need to be a nomad in order to enjoy living with nature. There is a wide array of tents to buy on eBay that can allow you to enjoy the beauty of nature and enjoy it in relative comfort. Knowing how to buy a used tent on eBay also means you can do so at a relatively affordable price.
The right tent
When comparing your options on eBay you need to think carefully about the type of tent you want. Some people may want something simple that they can take with them in their vehicles if they fancy an impromptu campout or even something that they can use as a shelter in emergencies such as if they get snowed in at the roadside.
Alternatively you may be sharing with a family or a group of friends at a festival. Some people may even use tents as a way of sheltering people or food during outdoor events and so may need something a bit larger than the standard two person option.
When choosing a tent it is recommended to go for one that is a size larger than how they are described in the product specifications. For example if you are buying a tent for two people it is generally suggested that you buy a three person tent as this will give people more room and feel more comfortable than being in a smaller and more cramped space that just about fits two people.
With the size of the tent you also need to remember the area that it will cover. Larger tents will need more ground in order to set them down. Make sure they are well away from any overhanging branches and that there is room to easily make your way in and out of the tent.
Seasons
You also need to think about the time you are going camping. If you want to go in the summer and you are sure that the weather will be nice and sunny then a lightweight option is ideal to suit the hotter climate. This means that it is lighter and so you will not be sweating too much when you carry it around.
If you want a more versatile option then you ought to consider getting a three season tent on eBay. As the name suggests this covers a wider array of potential conditions. This type of tent is recommended for people who go camping a lot and need something that can cope with a lot of use and harsher conditions.
Convenience
If you are someone who takes a long time to read instruction manuals and find that your efforts rarely match the pictures then you need a tent that is relatively simple to set up. This is especially important if you are not an experienced camper as you do not want to spend a long time setting up if a thunderstorm is brewing overhead.
Materials
Tents are made from a number of different materials. The type of material they are made from will affect how much they are able to resist harsh conditions but equally how easy they are to set up and how easy they are to carry.
| | | |
| --- | --- | --- |
| Tent Material | Advantages | Disadvantages |
| Canvas or cotton | Waterproof | Can become heavy after they have absorbed water |
| | Waterproof | Can deteriorate in sunlight |
| | Waterproof | Can deteriorate in sunlight |
One thing to look for in a product description is rip stop material. This means that the material is less likely to be ripped. As well as meaning it is less likely to tear while you are transporting it there is also the benefit that it should make it harder for any creatures to rip through your tent and reduce the risk of disturbances and attacks.
Zips
A lot of tents not only have zips on the front door section but tents with windows will often have zips on the window section as well. This not only makes the tent more waterproof but also provides an extra bit of protection from creatures trying to get in.
There are a number of factors to consider in order to ensure that a zip is fully functional.
ñ It moves easily and does not get stuck
ñ Non rusting
ñ Nylon water proofed, preferably with a silicon or polyurethane coating
Ventilation
One aspect you may not have considered is how well ventilated the tent is. If a tent is not properly ventilated it can be very damp and this can prove very uncomfortable. The positioning of the ventilation is also something that needs to be checked to ensure the right areas are ventilated. This is something that will usually be mentioned in product reviews and feedback which is why it is a good idea to carefully check these before choosing the kind of tent you want to buy.
Storage
A lot of tents available on eBay also come with storage pockets. These are useful as they make it easier to carry items with you and also ensure that key items do not get lost. The positioning of storage pockets is important as you need to make sure that the items you need are easily accessible.
Doors
A common complaint with people using tents is that they need to climb over each other in order to get out. If one of you is a heavy sleeper and the other is an early riser this can cause conflict. Therefore it is recommended that you look for a tent with multiple doors to make it easier to come and go as you please.
Floors
Ideally you want a tent with its own surface. This prevents you from sleeping on the ground and getting cold. The material ought to be durable. A good example of durable tent flooring is polyester.
Packing up
It can be easy to forget that tents also need to be packed up when you have finished using them. If you are hiking then you will need to take your tent with you. Often if you have other items this can place a lot of strain on your body. Therefore you have to find a balance between a tent that is lightweight but can also withstand harsher conditions.
Larger tents can often prove more difficult to put away. If you are buying a tent for your family then it is worth looking for ones that are more user friendly as it can be frustrating when you need to leave a campsite and you are having problems pulling the tent down and getting it to fit in your car. While this may be easier with more people it can prove difficult if everyone is similarly inexperienced at packing away tents.
If you have time you should fit the tent and practise putting it together and taking it down before you travel somewhere. This will allow you to be more confident and make it easier to put a tent together in a more stressful situation. There are also videos online that can help with this.
Additional accessories
One thing to look out for when comparing the various tents available is any additional accessories that the eBay seller may also be selling or could include in the price of the tent. You may wish to contact the seller directly to see if you could negotiate their inclusion in the price of the tent. Additional accessories may include
ñ Cooking equipment such as stoves
ñ Sleeping bags
ñ Additional covers
ñ Additional entrance to the tent
ñ Supplies
ñ First aid kit
Buying on eBay
There are a lot of different options when you want to purchase a tent on eBay. When you are looking at the various product descriptions there are a number of things you need to remember to think about.
ñ How often the tent will be used
ñ How many people will use it
ñ The quality of the material
ñ The ease of use
ñ How easy it is to pack away
ñ Whether it will be stationary or you will be carrying it with you while hiking
These considerations will make it easier when you are comparing the various products and reading feedback on eBay reviews. A broad range of views from people in a similar situation to yourself will make it easier for you to narrow down the options and find tents that are suited to your individual circumstances. Customer feedback can also help to ensure that you buy from reliable sellers that send products to you promptly. As well as ratings it is advisable to look at specific comments to see if a seller is reliable as well as making sure you are buying an appropriate product.
Conclusion
In short knowing how to buy a used tent on eBay is as much about being aware of what you need to use your tent for and what is most appropriate for those needs. Researching this in the right way and talking with people selling the products ought to allow you to find the one that is appropriate for your camping needs.