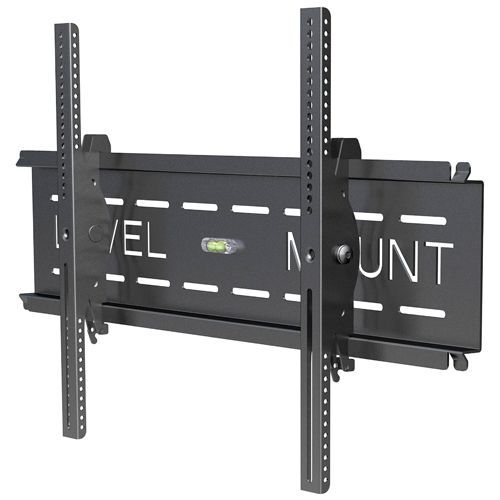 Mounting a television on the wall is a great way to free up space and also means that larger televisions do not have to dominate smaller rooms. Tilting wall brackets are one type of wall mount and permit a degree of vertical movement. They typically have a horizontal section with two adjustable brackets that fit to the television. Other types of wall mount include fixed mounts, tilt and swivel mounts, and articulating or cantilevered mounts. Fixed mounts do not permit any movement. Tilt and swivel mounts allow both vertical and sideways movement. Cantilevered mounts allow a wide range of movement, including tilting, rotation and extension, though the degree of movement depends upon the particular model.
Choosing a Used Tilting Wall Bracket
Before purchasing a wall bracket for a television, decide where it will be fixed and measure up the space to make sure it will fit. Product specifications should give all the necessary details, and the wall mount needs to be compatible with the size and weight of the television.
Room Layout and Television Positioning
When deciding where to position the television, consider the room layout and the seating arrangement. Seating and furniture can be rearranged if necessary to accommodate a television, but fixed features such as fireplaces cannot be moved. Is there just one seating position, or several? This may be the case if, for example, the dining table and sofa are in the same room. If the seating is very spread out, it may be better to consider a tilt and swivel bracket which can be swivelled sideways as well as tilted vertically. Otherwise the viewing angle may be too great, and the picture will not be as clear. This applies especially to LCD televisions, though plasma televisions are slightly more forgiving. The height of the television also needs to be decided upon. Tilted mounts have the advantage over fixed brackets that they can be angled slightly towards the viewer, enabling them to be positioned at a higher point on the wall. This enables them to be positioned over features such as fireplaces and over other items of furniture. However, if the television is to be watched from the floor, for example for children, it should not be placed too high. Lying on the sofa can also make a difference to the optimum height, as can, for example, using it for interactive fitness games which require the user to be standing. Again, tilting television brackets are ideal here as they allow flexibility and therefore different optimum angles. Other factors to consider include the size of the room and distance from the television. A good distance for viewing most televisions can be calculated by the size of the screen multiplied one and a half times. So, for example, a 52 inch television screen is best viewed from 78 inches, or almost two metres, away. Viewing in high definition (HD) changes this slightly, as the television can be viewed without losing clarity from further away. Recommendations vary, but for the same size screen, it can be viewed up to about five metres. These distances are also dependent upon viewing angle, however. There needs to be room around the television for the cables to be neatly arranged and for equipment such as surround sound speakers, DVD players, gaming consoles and similar devices.
Size of Bracket
Most manufacturers of television brackets state a range of television sizes that the bracket is suitable for. These are typically about 25 inches to 42 inches, 32 inches to 50 inches, 42 inches to 60 inches or similar ranges. If wall space is limited a smaller bracket may be preferable, so long as it is suitable for the television size; likewise, if the television falls at the higher end of the range, it may be better to choose a smaller bracket so that it doesn't stick out the sides of the television.
Features of Tilting Wall Brackets
Tilting wall brackets vary in the amount they can tilt, so check this before purchase. It tends to be about 15 degrees in either direction, allowing the television to be tilted both downwards and upwards towards the viewer. Upwards, or negative, tilt is less important than downwards, or positive, tilt. 15 degrees is generally quite sufficient to be able to angle the television correctly. Tilting within a few degrees is usually enough for blurring and ghost images to be eliminated. Tilting is controlled in various ways, usually by knobs or levers. Free tilt or angle free tilt models are usually easier to adjust but are typically more expensive. Other features to look out for include the quality of construction and robust design as well as easy cable arrangement. Some mounts are described as low profile, which allow the television to sit more flush to the wall. These can look more stylish than brackets with a more raised profile. They can, however, also be more problematic to install, particularly with regards to cable access. Some mounts have anti-theft security fasteners. Spirit levels are a handy feature to make sure the mount is level when installing. Tilting wall brackets may be either VESA (Video Electronics Standard Association) compatible or universal. VESA brackets have a standard screw position which corresponds to that on the back of televisions. It is important to select a mount that is the same VESA size as that of the television if going for a VESA mount. Universal mounts, on the other hand, have multiple holes and permit a wide amount of adjustment, making them suitable for most televisions within a certain size range. Simply measure the distance between the screw holes on the back of the television (both vertical and horizontal) and ensure they are smaller than the maximum distance on the bracket. Some brackets are both VESA and universal.
Installing a Tilting Wall Bracket
Most tilting wall mounts can be fixed into both brickwork and stud walls, but if it is a non-typical installation, check that the mount has multiple fixing points on the back plate to give some flexibility.
Considerations When Buying a Used Tilting Wall Bracket
Tilting wall brackets are not typically an expensive purchase, and it is quite possible to purchase reasonably priced brackets new. It may, however, be possible to find a better quality used bracket for the same price as a cheaper but lower quality new bracket. If purchasing a used bracket, ensure that all the necessary fixtures and fittings are included and confirm that the product is suitable for the television. Disadvantages of buying used brackets are that the installation instructions may have been discarded and also they will not come with a warranty.
Find a Used Tilting Wall Bracket on eBay
Used tilting wall brackets can be found along with other wall brackets on eBay. There are two simple ways to locate products. The first is to navigate from the eBay homepage using the left hand side tabs, first opening the Electronics & Technology tab and clicking on the link for Sound & Vision. From here, scroll down and select All Categories, clicking on the link for TV Wall Mounts & Mounts from the menu that appears. On the tabs to the left, scroll down to Style/Adjustment and select Tilting, then scroll to Condition and select Used. The listings that appear can be browsed or refined further as required. Alternately, used tilting wall brackets can be searched for directly by using the search facility at the top of the eBay homepage. Simply type in "used tilting wall bracket" or similar terms to bring up listings.
Conclusion
Tilting wall brackets allow televisions to be wall mounted and then tilted vertically towards the viewer. This enables them to be positioned higher than usual. When purchasing a tilting wall bracket, check that it is suitable for the television's screen size and weight. Brackets may be VESA compatible, in which case the size needs to correspond to that of the television, or universal, in which case the maximum distance between screw holes cannot exceed those on the television. Buying a used tilting wall bracket has disadvantages but also advantages with regards to cost.