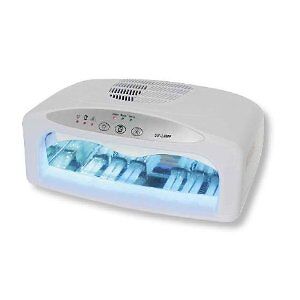 Nail polish and gel nails can often take a long time to dry, which means perfectly polished results are at risk of smearing and smudging whilst clients are left waiting around for their wet nails to dry. When applying several coats of polish, time can be wasted waiting as nails dry, and this means that salons can fit fewer appointments into their working day. To get around this problem, most professional beauty and nail salons use a UV or LED nail dryer to speed up the drying process and to cure gel nails and Shellac nail polish..
UV nail dryers are available to buy on websites such as eBay, where new or used nail dryers can be found for very reasonable prices, making them an affordable option for home as well as professional use. Freelance nail technicians or those who are training to be nail technicians can make great savings by shopping for a used UV nail dryer online. When training a large investment is often needed in nail kits and equipment so students can save money by hunting for used UV nail dryers on eBay.
What is a UV Nail Dryer?
UV nail dryers are used in professional nail salons or by mobile nail technicians and are available to buy online on websites such as eBay. These nail dryers utilise UV (black light) technology to dry nails quickly and efficiently, and usually also have settings available for hot and cold air. UV light is useful for setting gel and artificial nails as well as Shellac nail polish, which is increasingly popular in salons.
UV nail dryers usually come in a range of power options or wattages from 9W (watts) dryers through to 54W models, which are ideal for professional use. The higher the wattge, the more powerful the unit. It is thought that using a UV dryer actually hardens the polish or artificial nail, making nails less prone to chipping, so a manicure will last longer.
Why Choose a Nail Dryer
There are a number of benefits to choosing a nail dryer over allowing nails to dry naturally:
Nail dryers work quickly and efficiently to dry nail polish, reducing waiting time and the risk of smudging or smearing polish and can harden the finish of nails, meaning manicures are longer lasting.
For people in a rush, nail polish can be applied and dried quickly, allowing multiple coats to be built up.
Nail dryers are ideal for those busy people who do not have time to sit around waiting for nails to dry or for younger children, who can often be impatient.
The Benefits of UV Nail Dryers
UV dryers are ideal for professional and salon use and have a number of benefits over using a small, portable nail dryer:
UV nail dryers come in a variety of power levels (wattages) from 9W to 54W – the higher the output, the faster the nails will dry.
36W and 54W UV nail dryers can be used for gel nail systems and Shellac nail polish, popular in many salons.
UV nail dryers are fast and efficient, and by shopping online on websites such as eBay, they can be found at an affordable price, especially if buying a used unit.
Because UV dryers work quickly, it is easy for nail technicians to apply multiple coats of polish. Single or double hand options are available depending on the number of appointments the salon has each day.
Quicker drying nails means nail technicians can see more customers, which leads to more profit for the salon.
UV nail lamps can also be used for pedicures, making them a versatile product.
Buying a Used UV Nail Dryer Online
Searching for used UV gel nail lamps online on websites such as eBay is easy. Used lamps are ideal for freelance nail technicians or students, who perhaps do not have as much money to invest as professional salons, or for salons that are looking to keep their overheads as low as possible.
Used UV nail dryers in excellent condition can be found by searching online, so it is easy to find a used dryer for an affordable price. By saving money on purchasing a used dryer, salons will have more cash to invest in the nail products that they sell to customers, representing a better ROI overall.
Used UV nail dryers are also a great choice for individuals who do their own manicures at home. Buying a new professional nail dryer can often be too expensive for individuals to afford, so investing in a used model is the best option. Many salons will sell their used UV nail lamps online when upgrading to a more powerful model, and this is the best way to find professional, high quality nail dryers at a great price.
How to Choose the Perfect Used UV Nail Dryer
When selecting the perfect used UV nail dryer,, salons need to take into account how many clients they will see on an average day, as well as thinking about the types of nails and polishes they apply. Salons that use Gelish and Shellac polish would do well to invest extra money in a high wattage dryer. Shellac polish requires a minimum of 36 watts to dry, and spending extra money on a 54 watt dryer will ensure a salon's service is quick and efficient.
When choosing a used nail dryer online, websites such as eBay allow the consumer to select from a range of options, including wattage, design, brand and how many hands can be inserted into the dryer. A two hand dryer is ideal for large salons seeing dozens of clients a day, as both sets of nails can be dried at once, whereas a single hand model is perfect for smaller businesses. Individuals and professionals purchasing a used nail dryer should always check the product description thoroughly, as any defects or damage to the dryer will be detailed here.
Choosing the Correct Wattage of UV Nail Dryer
| Watts | Use |
| --- | --- |
| 9W | Best for personal and home use, this low wattage is not ideal for salons and is mainly found in portable, battery operated cool air nail dryers. |
| 36W | A 36 watt dryer will provide enough power for professional and salon use. Ideal for Shellac polish and gel nails. |
| 54W | This is the highest wattage of nail dryer and is perfect for busy salons and professionals looking for fast results, although these dryers cost a little more than a 36 watt dryer. |
Replacement Bulbs for Nail Dryers
UV nail dryers use black light bulbs, which will need replacing fairly frequently. So it is important that professional nail salons keep a stock of UV bulbs to hand in case one blows during the working day. By buying replacement UV bulbs online on websites such as eBay, salons can make significant savings, as bulbs are often available to buy in multi-packs, saving even more money. Bulbs can be found in a range of wattages from 9 watts to 54 watts.
How to Buy Used UV Nail Dryers on eBay
The easiest way to buy used UV Nail Dryers online is to explore eBay. Just visit eBay and go to the drop-down menu of categories, which you will find at the left hand side of the page. Select Health and Beautyaand this will open up a list of sub-categories. Scroll down and select Hand and Foot Care.. Then, in the categories menu on the left hand side bar, click on Nail Dryers.. From here you can click on 'used' under the condition sub-heading in the left hand menu.
Narrowing a search further is easy by selecting from a range of refinements including the location of the seller and whether to opt for items available at online auction or 'buy it now' – these items are available at a fixed price, allowing for immediate purchase.
There are many different models and wattages of nail dryer available, and searches can be narrowed using a certain term if looking for something specific. Just type the words related to the search, such as 'Used UV Nail Lamp 36W' into the main search box. For further tips on how to search eBay, go to their Search Tips page.
Conclusion
Buying a used UV nail dryer online is easy on websites such as eBay. Professional nail salons and freelance nail technicians can offer a quicker and more efficient service to their customers by using UV nail lamps to dry nails, allowing multiple coats to be applied in quick succession. With the average 9W nail dryer taking around 3 minutes to dry a nail, professional technicians should invest in high wattage units for faster results and to ensure that clients are not left waiting.
As newer UV nail dryers are released onto the market, many professional salons sell their existing UV dryers online, on websites such as eBay, where smaller salons, technicians and individuals can often pick up a used UV nail dryer at a competitive price, saving money compared to buying a new dryer. Used UV nail lamps are available in excellent condition, but buyers should always check the product description in full, to ensure that they know exactly what they are purchasing.