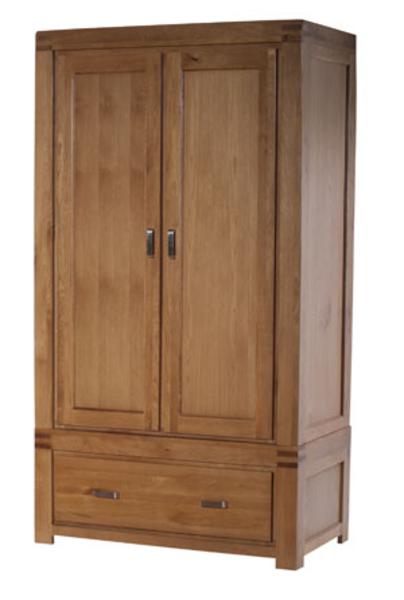 A wardrobe is usually the second biggest item of furniture in the bedroom next to the bed, and it should be given just as much thought if not more thought than the bed. As a consumer, the use of the wardrobe needs to be clear before making a purchase. A used wardrobe can be just as good as a new one if the buyer finds one made from a good quality wood. That way, if it needs any work, all that is necessary is just a light sanding and a repaint or stain.
Used wardrobes are usually older and have a lot more character than new, modern wardrobes, which means they fit into the styling of older houses a lot more easily. eBay has a wide variety of good quality used wardrobes for sale. The information provided below is designed to educate the consumer on used wardrobes and what to look for when making a purchase. A consumer can use the information to find and purchase the right used wardrobe to suit their needs, style, and budget.
A wardrobe is such a versatile piece of furniture, which is why there are a few key decisions a consumer has to make before purchasing a used wardrobe. These are the three main points to consider before purchasing a used wardrobe: What function does the wardrobe provide, what size wardrobe is required, and what type of wardrobe fits best within the home.
Functions of a Used Wardrobe
Deciding on the function of the used wardrobe may be the most important decision a consumer has to make when looking to buy one. Does it need to have long hanging space for ball gowns and dresses? Or a shorter hanging space for blouses and shirts? Does it require shelving above the hanging rail or drawers for underwear and socks? If the used wardrobe has shelving, is it removable or adjustable? All these questions need to be answered, so the consumer knows what type of wardrobe to look for. Besides the obvious, a wardrobe can be used for many other purposes, such as:
TV Cabinet
A used wardrobe can be used as a TV cabinet and storage space for DVDs, Blu Rays, and CDs. Without very much modification at all, it can be a relatively cheap alternative to a more common TV cabinet.
Additional Storage
Used wardrobes with a lot of shelving are a great alternative for additional storage. They look great in a laundry room as a linen cupboard or in a kitchen or lounge room for storage to put away items, such as plates, books, wardrobe accessories that do not fit in the current wardrobe, and crafts. With a little bit of imagination and minimal alterations, a used wardrobe can be a very versatile and functional piece of furniture.
Best Used Wardrobe Size
There is no point buying a huge used wardrobe when the space available is minimal. The two main things to take into consideration are skirting boards and sloping ceilings. If these are factored into the measurements, the used wardrobe should fit perfectly. Do not forget to consider the measurements in other areas of the house as the wardrobe needs to get to its final destination, so consider any narrow hallways or stairways before making a purchase.
Freestanding Wardrobe
A freestanding wardrobe is designed to fit into an average alcove. A freestanding wardrobe can take up excessive room, especially if the area is not utilised correctly. Having said that, there are a number of benefits to owning a freestanding wardrobe. The biggest advantage to a freestanding wardrobe is that the layout of the room can be changed at any time as the freestanding wardrobe is easily disassembled and reassembled.
Fitted Wardrobe
The fitted wardrobe can result in more space, it also gives the room a more formal look, and it is a great way to maximise space. Unfortunately, once a fitted wardrobe is installed, it is very hard to change the layout of a room. Because its nature, a fitted wardrobe fits into every centimetre of the provided space, but due to the expense of moving a fitted wardrobe, it is a less popular choice.
What to Look for When Purchasing a Used Wardrobe
Always examine the item before making any purchase. If there are small scratches or dents, then that is not too much of an issue as they can usually be sanded out of the wardrobe. A wardrobe with serious structural damage like a missing structural board should be avoided as they can be quite difficult to repair. Water damaged wardrobes should be avoided as well as they usually hold a lot of mould as well as odours, and they can become quite flimsy.
To test the strength of the wardrobe, give it a little push to determine its sturdiness and whether it is level and structurally sound. Wardrobes made out of the harder woods like walnut, oak, teak, and mahogany are usually stronger as the wood does not damage as easily as the softer woods like pine and fir.
Know the Difference between "Character" and "Damaged Goods"
A few scratches, some small dings, water rings, and discolouration can be considered features that give a wardrobe character, and they are fixable. However, water damage, wood worm, and split timber are irreparable damages and should be avoided.
Be Realistic About Repairs
If a used wardrobe is advertised as damaged, do not be over ambitious in terms of repairing it. An item may look like a simple fix—a bit of sanding here and some stain there—but it could end up making a small problem worse and more expensive. Be realistic with the skills required to fix a used wardrobe that is damaged.
Smell
If the used wardrobe has an odour to it, the consumer really needs to decide if the smell is bearable as this piece will be inside the house 24 hours a day, seven days a week. To help get rid of any smells, airing out the used wardrobe by putting the drawers (if there are any) or if possible the whole wardrobe outside in the sun for an afternoon can be help. Doing so opens the woods pores and helps release trapped odours. If there is still a small amount of odour left, fill a salad plate with baking soda and place it inside the wardrobe. This should clear up any remaining smells.
How to Purchase a Used Wardrobe on eBay
There is a wide variety of used wardrobes for sale on eBay in all sorts of sizes, materials, and colours. Before you start the search, knowing what style of wardrobe you want is a good idea. Then, by utilising the search bar at the top of any of the eBay pages, you can type in keywords related to the wardrobe. eBay then provides you with a list of items that match your keyword search. If the search does not give you the desired results, you can always try adding more or less keywords to your search.
Once you are happy with your search results, scroll through the used wardrobes until you find the one you would like to purchase. You need to read the seller's listing thoroughly to answer any questions you may have about the condition of the wardrobe, delivery time, costs, and return policy. If you still have questions, contact the seller directly. Make sure to also check the feedback to determine the quality of service to expect and whether you can trust a seller or not.
Conclusion
A little paint, stain, and sanding can turn a tired, old used wardrobe into a revitalised, gorgeous piece of furniture. Older, wooden wardrobes are lighter than newer wardrobes that are made out of more composite materials; however, they are extremely durable and will usually survive several moves intact. If possible, an older, wooden, freestanding, used wardrobe is the best type of used wardrobe to buy because they are more durable and can be moved around more easily.
There are plenty of fantastic used wardrobes for sale on eBay, but research is still necessary before making any purchases. The wardrobe should be structurally sound and the right size to be able to fit in the provided space. Furthermore, its purpose should be clear so that one that does not fit the consumer's needs is not purchased. Think about what items of clothing will go into the used wardrobe to help determine its use.
Moreover, take into consideration that an older wardrobe is likely to be a little scratched and dented, but if it is made from quality wood, the damages can be sanded or painted over. Any used wardrobe is going to require some work, so make sure to purchase a wardrobe that can be easily repaired; otherwise, it could become more expensive than necessary. For all used wardrobe purchases, eBay provides a convenient venue to find the perfect one. Its many features and tools can guide all buyer to a used wardrobe that suits their needs.