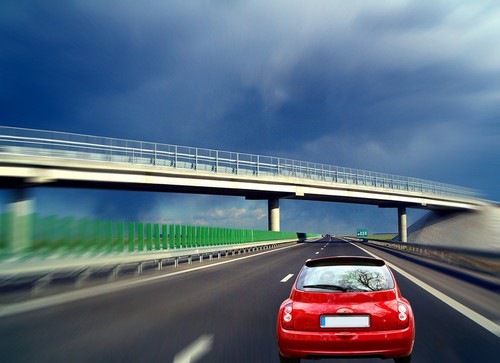 Nissan has worked hard to become a leading manufacturer in the newer crossover class of car. As crossovers have boomed in popularity, Nissan has put its stamp on the class with the Juke. This sporty vehicle features a four-wheel drive, like sport utility vehicles, or SUVs, do, but it handles more like a sedan. Consumers looking for a car that they can bring on outdoor adventures without numerous passengers should enjoy the Juke's off-road capability in a trimmed-down frame.
Buying a new Nissan Juke requires a significant investment, but one can save by purchasing a used one instead. As with other pre-owned cars, buying a used Nissan Juke requires some extra planning. One should learn about the Nissan Juke in general and should also pay attention to a few features of the car, such as its condition, that are specific to used cars. Although one can find used Nissan Jukes through the traditional channels for used cars, eBay can be a useful resource. On this website, consumers can make successful purchases when they know how to use the website's search tools effectively and evaluate the sellers there.
Learn About the Nissan Juke
Potential buyers can develop an idea of what to look for in a used Nissan Juke by learning about this model's prominent design features. Knowing which trims are available, how the Juke looks, what the interior is like, and how the car performs helps consumers make favourable purchases of used models.
Trims
Nissan has manufactured the Juke in a few different trims since 2010, and the table below lists the trims that have been available over the years.
| | |
| --- | --- |
| Trim | Description |
| | Entry-level trim; has featured 1.5 dCi 81 kW diesel or 1.6 69 kW petrol engine |
| Acenta | Larger wheels and more styling highlights than Visia; has been available with 1.5 dCi 81 kW diesel or 1.6 86 kW petrol engine |
| Acenta Premium | Features touchscreen computer; has been available with 1.6 DIG-T 140 petrol engine addition to 1.5 dCi 81 kW diesel and 1.6 86 kW petrol options |
| N-Tec | Features 18-inch wheels and additional styling highlights; has been available with 1.6 DIG-T 140 and 1.6 86 kW petrol and 1.5 dCi 81 kW engines |
| Tekna | Luxury trim with numerous style highlights; has featured 1.5 dCi 81 kW diesel, 1.6 86 kW petrol, or 1.6 DIG-T 140 kW engine |
| Nismo | Top-of-the-line trim; large wheels and plenty of accenting; has been available with 1.6 DIG-T 147 kW petrol engine |
One can add numerous options, such as a Bluetooth hands-free kit and chrome trim, when purchasing a new Juke at a Nissan dealership. Those planning to purchase a used Juke have significantly less control over the add-ons available for the cars they like. It is, however, possible to add aftermarket accessories to a used car.
Exterior Style
Each Nissan Juke trim has the same general, distinctive exterior style. With its long bonnet featuring slim lights along its sides, moderately angled windshield, gently sloping roof, and high wheel arches, the Juke is a unique car on the road. Whereas many other crossover vehicles lean a bit more towards one car class than the other, the exterior style of Nissan's crossover perfectly straddles the line between SUV and sedan. As far as the Juke looks from the outside, it is a great car for consumers who want something more substantial than a sedan but not as bulky as an SUV.
Interior Features
The interior of the Juke is not as bold as the exterior, as designers seem to have opted for utility over luxury. It is possible to get leather upholstery, though trims usually feature cloth seats. Those who buy a new Juke can add features such as ambience lighting, so seekers of used Jukes may come across models with upgraded interiors. In general, though, the Nissan Juke has a practical interior. Designers have fitted it with hard plastic along the dashboard and door panels, though metallic door handles make for eye-catching accenting.
Performance
The Nissan Juke blends many of the favourable performance features of SUVs and sedans. The driver sits high as in an SUV, yet the Juke handles much like a sedan. It leans a bit more around curves than a sedan does, but it corners very well for a car its size.
The engine's 1.5-litre or 1.6-litre volume is respectably large for a car of this size. The Juke does not pull as powerfully as a full-sized SUV or hit speeds that performance sedans are capable of, but it performs between these two car classes in these areas. The 1.6-litre, non-turbo engine hits 60 mph in just under 11 seconds and has a top speed of about 110 mph. The turbo engine trims almost three seconds off the time it takes the non-turbo engine to reach 60 mph, and it has a top speed of 134 mph.
What to Look for When Buying a Used Nissan Juke
After consumers have a good overview of the Nissan Juke, they can consider a few aspects that are particular to models on the used market. Factors such as a used Juke's condition, engine type, transmission, and colour all influence price or performance.
Condition
Condition heavily influences the value of a used Nissan Juke. Buying used saves consumers considerable amounts of money over buying new. The condition of a used car, however, can vary greatly. Consumers should pay attention to the amount of miles on a used Nissan Juke's odometer. They should also inspect the exterior for scratches and small dents. Blemishes to the interior, such as torn seats and stains, also reduce a used Juke's value. Lastly, consumers should have a professional inspect a used Juke to ensure that the moving parts function as they should.
Fuel Type
The Nissan Juke can come with either a petrol or a diesel engine. The table below lists the pros and cons of each option.
| | | |
| --- | --- | --- |
| Fuel Type | Pros | Cons |
| | Reduced initial cost for car; refuelling costs less | Less fuel efficient; lower resale value |
| Diesel | More fuel efficient; can resell for more money | Car costs more initially; refuelling costs more |
Those planning to purchase a used Nissan Juke may pay more for one with a diesel engine, but they can recover that cost at the gas station and when they resell the car. Buying a used Juke with a petrol engine can initially save consumers money.
Transmission
Many Nissan Jukes sold in the United Kingdom have manual transmission . This type of transmission improves the Juke's fuel efficiency and acceleration when compared to automatic transmission . Although it is more difficult to find, a used Juke with an automatic transmission is easier to operate than one with manual transmission.
Colour
Although it does not affect performance or comfort, colour is still an important consideration in the process of buying a car. Those looking for a used Nissan Juke should be pleased to learn that there are numerous colour options available. They can choose from traditional colours, such as black , red, white , or silver , or a less common hue, such as orange .
How to Buy a Used Nissan Juke on eBay
Potential buyers of a used Nissan Juke can check at local used car dealerships and search online used car markets. Those looking to buy a used Nissan Juke can also search on eBay. Many sellers list used Jukes on the site, and consumers can easily search for cars that meet their standards.
Consumers can search for used Nissan Jukes from the eBay Motors page or any eBay page with the search bar. For the former option, potential buyers can choose this make and model from the dropdown menus and then select the "used" option when eBay returns results. For the latter option, consumers can enter a term such as " Nissan Juke" and choose the category related to cars and then the "used" option to see the listings. Shoppers can choose filtering options, such as mileage, colour, and fuel type, to hone in on the used Jukes that suit their preferences.
Consumers can evaluate sellers of used Nissan Jukes on eBay by looking at feedback the sellers have received. They can access this collection of comments and ratings from other buyers by clicking on the seller's username. This information helps potential buyers determine whether a seller is worth dealing with.
Conclusion
The Nissan Juke blends the four-wheel drive of an SUV with the nimble handling of a sedan, making this car fun to drive and capable of handling tough terrain. These features, however, can come with a significant price tag. One way to get the Nissan Juke's benefits without paying a premium price for them is to buy this type of car in used condition. A used Nissan Juke can perform as well as a new one, but it usually costs significantly less.
Learning about the Nissan Juke in general, including the trims offered and its exterior style, interior features, and performance, helps consumers know what to expect in a good-quality used Juke. Taking into account the condition, fuel type, and transmission assists consumers in accurately evaluating the used Jukes they look at. eBay has a large market for used Nissan Jukes, so consumers who want to use the site as a source should know how to search and evaluate sellers there. The Nissan Juke is a fun car to own, and buyers can save themselves money and headaches by purchasing used ones on eBay.