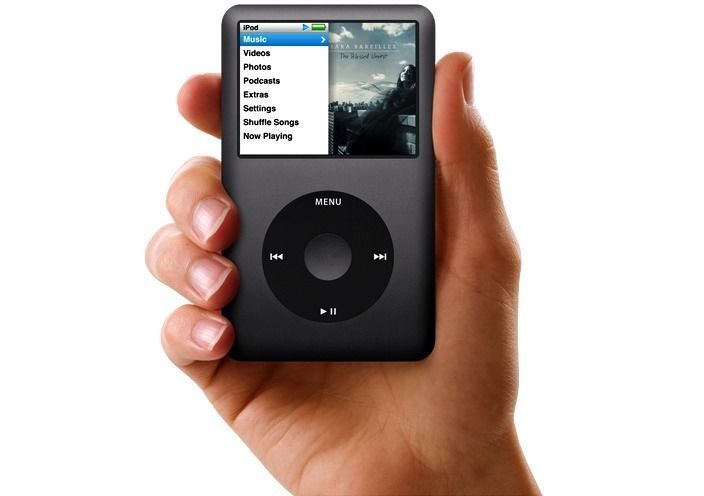 Thanks to the quality of Apple products, there are not many concerns when it comes to buying a used iPod. Like all used electronics purchases, however, care must be taken to ensure the correct product is chosen for the needs of the buyer, the product works as it should, is in a reasonable condition and provides usability and enjoyment for the longest amount of time possible. This guide covers the iPod family and what each product is designed for and how to navigate the world of used iPod purchasing to find the right solution.
iPod Family and History
The first iPod was released in 2001. It could hold 1,000 songs and came with a distinctive circular navigation and a mechanical scroll wheel, which later evolved into the convenient touch-sensitive scroll wheel. Since this first model was introduced, the iPod family has grown and diversified to include the iPod Classic, iPod Mini (discontinued), iPod Nano, iPod Shuffle and iPod Touch. Apple updates and improves their iPod product lines on a regular basis; up until 2010 a new iteration, or generation, of iPod Nano was released every year.
The iPod Generations
With each new generation of each new particular iPod, the general trend is for increased battery life, more storage capacity, less weight, better display, and more features. This is not always the case however, as for example the 7th generation iPod Nano is larger and heavier than the 6th Nano, and the 5th Nano has a camera while the 6th Nano does not. In some cases a new generation will look completely different to the one that came before, and in others the new model will look very similar. What is assured, however, is the continual improvement of design, technology, and features with each new generation.
iPod Classic
The iPod Classic is the largest member of the iPod family. It can hold the most songs and has long battery life, though is less portable than the other iPods. The latest 6th-generation iPod Classic can hold up to 40,000 songs, play videos and view photo slideshows.
iPod Mini
The iPod Mini was introduced in 2004 as the portable and stylish alternative to the original iPod. The 2nd generation Mini came in either 4GB or 6GB versions, capable of storing 1,000 and 1,500 songs respectively.
iPod Nano
The iPod Nano served as the replacement for the iPod mini, and since it was first introduced in 2005, it has proved to be incredibly popular, turning over 7 generations with each introducing new styles, innovations and features.
iPod Shuffle
The iPod Shuffle is the smallest and most portable of all the iPods. They were the first iPods to introduce flash memory and are unique in that they have no interface, touch wheel, or playlist management features; it automatically shuffles the songs stored on the drive. With a discreet design and small storage capacity, they are mainly designed for use while exercising. The latest 4th generation Shuffle features VoiceOver, which voices the name of the current artist and track at the press of a button.
iPod Touch
Introduced most recently in 2007, the iPod Touch comes with a touch screen and the same operating system that can be found in the iPhone. Touch comes with many more features than other iPods, including a camera, Wi-Fi, iTunes and App Store, internet browsing, and games. Apart from not having traditional mobile phone capabilities it is extremely similar to the iPhone.
Considerations for Buying a Used iPod
There are various factors to be assessed and features to be considered when buying an iPod.
The Generation
It is not enough to know just the type of iPod being sold. The generation of the iPod and the year the iPod in question was released is just as important crucial to know. It is generally better to go with the latest generation possible, though it all depends on the exact iPod in question.
Battery Life
Undoubtedly, the most important factor with any used iPod is the battery life. Most iPod batteries are lithium ion, which hold lots of charge and lasts for a good length of time, but nevertheless, after a year of regular use the battery life will drop. The batteries tend to fail completely with 3-4 years of regular use (within 1,000 charging cycles), though battery life can continue for much longer than this if use is infrequent. Always check the age of the iPod and how much it has been used, and check to see how long the battery lasts in its current state.
| | |
| --- | --- |
| iPod Version | Battery Life (New - Audio Playback) |
| | 40 |
| Touch (5th/4th Gen '10/'12) | 40 |
| Nano (7th Gen) | 30 |
| Nano (2nd - 6th Gen '06 - '12) | 24 |
| Classic (5th Gen '05 60/80GB) | 20 |
| Mini (2nd Gen '05) | 18 |
| Shuffle (4th Gen '10 -) | 15 |
| Shuffle (3rd Gen '09) | 10 |
Storage Capacity
Depending on the length and file-type of each song, roughly 150-200 songs can be stored per gigabyte (GB) of storage space. With the exception of the 4th generation iPod Shuffle and the 1st generation Mini, each iPod version and generation comes with multiple storage capacity options.
| | |
| --- | --- |
| iPod Version | Storage Capacity (GB) |
| | 80, 120, 160 |
| Classic (5th Gen '05) | 30, 60, 80 |
| Mini (2nd Gen '05) | 4, 6 |
| Nano (7th Gen '12 -) | 16 |
| Nano (5th/6th Gen '09-'10) | 8, 16 |
| Shuffle (4th Gen '10-) | 2 |
| Shuffle (3rd Gen '09-'10) | 2, 4 |
| Touch (4th/5th Gen '10 -) | 8, 16, 32, 64 |
Screen Quality and Condition
iPods are unanimously designed for portable use, and though they are coated with protected materials, they still fall victim to wear and tear over time. The screen is scratch-resistant, but screen scratches are a common issue with used iPods, so make sure the condition of the screen is checked.
Flash Drives
All iPods come with internal drives for storing media files. Older iPods and certain iPod versions come with disk drives, while newer iPods and other versions come with flash memory. Disk drives are less reliable and break more easily, while flash drives are more stable and reliable and last for longer.
| | |
| --- | --- |
| Classic | Disk |
| Mini | Disk |
| Nano | Flash |
| Shuffle | Flash |
| Touch | Flash |
Accessories
iPods have their own Apple branded USB cables and chargers, and new iPods come with earphones included - check to see if these accessories are provided with the iPod. Apple branded earphones usually break after a year of active use or less. USB cables can be used to charge the iPod from a computer or tablet.
Repairs
If an iPod component fails, it can be sent to Apple for repair. It is important to realise that these repairs often cost as much as buying second hand, and repairs are not available for iPods that are over 7 years old.
Summary
All reputable buyers selling working iPods in a respectable condition with reasonable battery life should provide all of the information considered above. Get in contact if important information has been left out, and do not purchase with anyone who is unwilling to provide all of the information. Always check to see if the manufacturer warranty is still in effect.
Purchasing a Used iPod on eBay
To purchase a used iPod on eBay, first head to the eBay homepage. Click on the Sound & Vision link, which can be found under the Electronics & Technology tab. The iPods & MP3 Players listings page can be found on the left side of the Sound & Vision category page. To limit the listings to used iPods only, click on the Apple checkbox (under Brand) and the Used checkbox (under Condition), which can be found to the left of the listings. The search listings on the left hand side can also be used to specify the exact Model (Touch, Nano, Classic...) and Generation of iPod, as well as Colour, Storage Capacity, and Features. For example, a used iPod Nano , a used 60-80GB 6th generation iPod classic . The tabs just above the search can be used to specify the Buying Format (Auction or Buy it Now), and to sort the listings according to relevancy, price and seller distance.
Conclusion
Apple have poured creativity, practicality, and innovation into each new type and generation of iPod, and this is why they are such a fantastic way to store and play music and other media. Money can be saved when purchasing used, and as long as the used product is checked and researched carefully, it will provide listening pleasure for a long time to come.