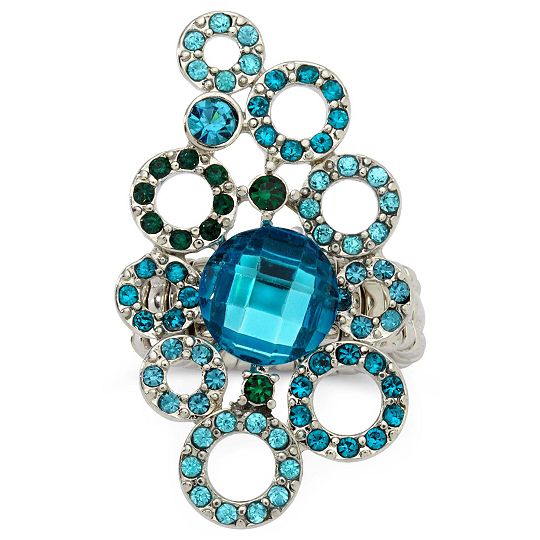 Cocktail rings are large, dramatic pieces of jewellery. They are said to have started as a fashion during the Prohibition era in the United States, where women wore them to illegal cocktail parties. In more modern times, cocktail rings have come in and out of fashion over the years as special occasion or even everyday jewellery.
Buyers interested in vintage cocktail rings should know several things before purchasing them on eBay. Vintage cocktail rings can have either precious or semi-precious metals and stones, but some rings are just costume jewellery, depending on the era and original owner and the design of the piece. Because cocktail rings came into high fashion in the 1930s, buyers should understand the different styles that can be seen in vintage cocktail rings. The style and the materials can help a buyer understand the general era of the ring. Finally, since many early cocktail rings came out of the United States, it is helpful to have general information on the different size equivalents between UK and US jewellery, as well as the measurement around the finger.
Choosing Between Fine and Costume Jewellery Vintage Cocktail Rings
Vintage cocktails rings can be found on eBay either as fine or costume jewellery. Fine jewellery cocktail rings are frequently made of gold or platinum mounts. The stones can be diamond, emerald, amethyst, or any other precious or semi-precious stone. Vintage cocktail rings can have larger carat stones, sometimes three to five or more carats. If they do not have larger stones, they have many smaller stones in a large setting. This, combined with the vintage nature of the ring means buyers can expect fine jewellery vintage cocktail rings to be quite expensive, ranging from several hundred to thousands of pounds.
Costume vintage cocktail rings generally do not have much gold or other precious materials. When shopping for costume cocktail rings on eBay, buyers should be aware that some sellers may not know the exact materials included. As vintage cocktail rings were meant to simulate fine jewellery, buyers may occasionally find silver rings that incorporate semi-precious stones such as garnet or peridot. Occasionally, buyers may even find on eBay well-made costume jewellery that includes a gold setting but less expensive stones. However, it is safe to assume that most vintage cocktail rings that can be found for sale on eBay have faux stones, including Lucite and plastic, in the setting. Since vintage cocktail ring settings are gold plated, eBay buyers should carefully inspect the photos of the ring they want to buy to ensure it is in acceptable condition. They should also expect the colour to wear thin over time, exposing more and more of the metal underneath.
Understanding Vintage Cocktail Rings Styles
Cocktail rings date back to the 1920s. However, buyers should keep in mind that vintage jewellery generally refers to pieces from the 1950s and later decades. Jewellery from the 1920s to the 1950s is usually categorised as antique jewellery, but some eBay sellers mark these pieces as vintage.
Art Deco Cocktail Rings
The art deco era (1920-1935) of jewellery had two distinct parts, the early and late periods. On the whole, jewellery design included geometric and abstract patterns. Early in the era, a great deal of colour could be found in jewellery pieces, including cocktail rings. On the other hand, the latter part of the art deco era saw a shift to monochromatic pieces.
Art deco jewellery also reflected an influence of cubism as an art form, as well as African, Persian, American Indian, and even Egyptian designs. Platinum and white gold was popular for settings; silver and silver-toned metals were evident in costume jewellery. Art deco cocktail rings tend to make use of smaller stones in more complex settings. In modern times, jewellery from this era is very popular, and buyers interested in art deco style may find even costume cocktail rings from this era are sold on eBay at a higher price, comparable to that of fine jewellery.
Retro Cocktail Rings
The retro era of jewellery was from 1935 to 1960. This era saw a huge influence from the rise of Hollywood. Buyers looking for jewellery from this era can find large, colourful, chunky pieces. Since the focus was on larger, chunky stones, fewer gems were used for cocktail rings in this era. More often, semi-precious stones such as citrine and aquamarine were used. Gold, and particularly rose gold, was often used for settings since platinum was scarce during the war. Retro vintage cocktail rings often have gold plated settings and one large stone as a centrepiece, sometimes with smaller stones. Costume cocktail rings often made use of Lucite and other synthetic materials.
Post-1960s Cocktail Rings
After the 1960s, cocktail rings were influenced by fashion trends and came in and out of style. On the whole, vintage cocktail rings from the 1960s and later are still large, ornate pieces that use colour and design for attention. In the 1970s, for example, there was a renewed interest in Asian culture and natural materials. Vintage cocktail rings from this time may show influence from nature along with materials such as bone, leather, and ivory. Also popular was reproduction jewellery from earlier eras. On the other hand, the 1980s saw a return to glamorous style and use of colour in cocktail rings.
Selecting Vintage Cocktail Rings in the Right Size
Vintage cocktail rings can come from the United States or another country with different ring sizing standards. While most sellers of vintage jewellery can give the original size and a size equivalent, it is helpful to have sizing standards at hand when shopping for a vintage cocktail ring on eBay. The following chart gives the most common UK sizes followed by the US size as well as the size around the finger in millimetres.
| UK Ring Size | US Size | Inside Circumference (Millimetres) |
| --- | --- | --- |
| G 1/2 | 3 3/4 | 46.1 |
| H | 4 | 46.8 |
| H 1/2 | 4 1/4 | 47.4 |
| I | 4 1/2 | 48 |
| J | 4 3/4 | 48.7 |
| J 1/2 | 5 | 49.3 |
| K | 5 1/4 | 50 |
| K 1/2 | 5 1/2 | 50.6 |
| L | 5 3/4 | 51.2 |
| L 1/2 | 6 | 51.9 |
| M | 6 1/4 | 52.5 |
| M 1/2 | 6 1/2 | 53.1 |
| N | 6 3/4 | 53.8 |
| N 1/2 | 7 | 54.4 |
| O | 7 1/4 | 55.1 |
| O 1/2 | 7 1/2 | 55.7 |
| P | 7 3/4 | 56.3 |
| P 1/2 | 8 | 57 |
| Q | 8 1/4 | 57.6 |
| Q 1/2 | 8 1/2 | 58.3 |
| R | 8 3/4 | 58.9 |
| R 1/2 | 9 | 59.5 |
| S | 9 1/4 | 60.2 |
| S 1/2 | 9 1/2 | 60.8 |
| T | 9 3/8 | 61.4 |
| T 1/2 | 10 | 62.1 |
This chart is not comprehensive; rather it gives the most common sizes for rings. If buyers do not know their ring size, they should measure it with a piece of paper or string. The millimetres measurement around the outside of the finger can help in determining the size. When shopping for vintage cocktail rings on eBay, buyers should remember that costume jewellery may be more difficult to have resized by a jeweller. On the other hand, some costume rings are adjustable to most sizes, allowing for most people to purchase without concern.
Buying Vintage Cocktail Rings on eBay
Whether fine or costume jewellery, made of real diamonds or plastic, vintage cocktail rings available on eBay come in various sizes, colours, and styles, suitable for any buyer's preferences. To look for vintage cocktail rings, you can enter a term in the search box on any eBay page. For example, searching for 'vintage cocktail ring' returns all listings with those words mentioned. However, if you know you are interested in a specific type, stone, or metal, you can refine your search. For instance, searching for 'amethyst vintage cocktail ring' or 'silver vintage cocktail ring' returns more detailed listings. You can also narrow down the listings with a price range or type of jewellery.
Once you have researched the available listings on eBay and are ready to make a decision on the perfect vintage cocktail ring, you can start by looking closely at the item descriptions. Vintage cocktail rings that are costume jewellery can be adjustable in size and much less expensive than fine jewellery, making a buying decision easier. On the other hand, fine jewellery vintage cocktail rings are made of gold or another precious metal. If bought in the wrong size, they must be resized by a jeweller. These rings are usually expensive, being composed of a precious metal and a precious or semi-precious stone of five or more carats in size. If you have any questions or want to see more photographs, you can always contact the seller.
Conclusion
Vintage cocktail rings can be the perfect finishing touch on any outfit, not just a piece of jewellery worn to a party. Buyers looking to find the perfect vintage cocktail ring need to understand some of the decisions they need to make. First of all, there is a choice between fine or vintage jewellery. Costume jewellery vintage cocktail rings are an inexpensive way to add some colour to a jewellery collection, while their fine jewellery counterparts can be elegant and maintain their value over time. Moreover, understanding the differences in the eras of vintage jewellery can help buyers refine their search results when shopping on eBay. Finally, since many early vintage cocktail rings originated in the United States, it is helpful for buyers to have an understanding of the differences in ring sizes. Vintage cocktail rings, particularly the costume jewellery variety, are a popular choice for women who want some variety in their jewellery choices. Buyers shopping for a vintage cocktail ring on eBay can choose from a large selection of fine and costume vintage rings at prices suitable to any budget.