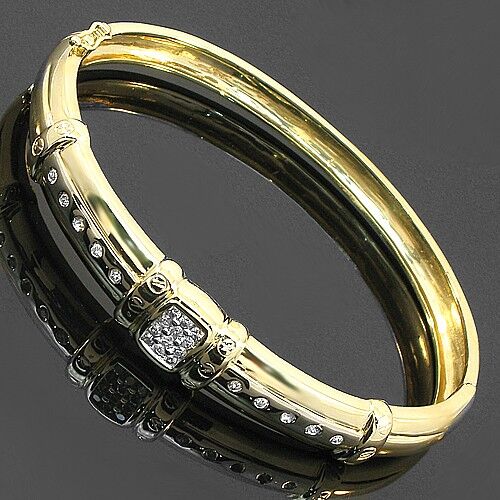 From the arms of fashion runway models, to the necks of Hollywood starlets, fine vintage jewellery can be spotted everywhere today. Vintage items such as earrings, pendants, and bangles are increasing in popularity as more people come to appreciate the beauty and quality of fine vintage jewellery. Whether looking to purchase a vintage diamond bangle to add to a personal collection or as a unique gift for that special someone, consumers searching for vintage diamond bangles need to be armed with the knowhow to distinguish fine vintage jewellery from vintage costume jewellery. Determining the quality of materials, understanding the diamond rating system, and recognising precious metal markings are three important skills when purchasing any type of fine jewellery. Consumers should also familiarise themselves with the styles of different fashion eras and the identifying markings and characteristics of different designers. Consumers equipped with such knowledge are ready to purchase a vintage diamond bangle with confidence and security.
About Vintage Jewellery
Knowing the differences between estate, antique, and vintage jewellery makes the hunt for a genuine vintage diamond bangle easier. Before venturing out to buy a vintage diamond bangle, take the time to learn the difference between estate jewellery, vintage jewellery and antique jewellery. Additionally, knowing how to differentiate fine vintage jewellery from vintage costume jewellery helps eliminate the possibility of paying too much for a piece.
The Meaning of Estate Jewellery
The term "estate jewellery" encompasses not only jewellery that comes from estate sales, but also virtually any piece that was previously owned. Although modern pieces are sometimes found in estate sales, the majority of estate jewellery tends to be older pieces. Collectors classify estate jewellery as either antique or vintage, depending on the age of the piece.
Antique Jewellery
Antique jewellery typically refers to jewellery more than 100 years old. Some collectors categorise any jewellery made prior to the 1920s as antique jewellery. The construction and styling of antique jewellery are what set it apart from contemporary pieces. Different clasps, longer prongs, and uniquely cut diamonds differentiate antique jewellery from reproductions and contemporary pieces. The quality of the materials used in true antique jewellery means antique jewellery is costlier than vintage costume jewellery, and it tends to hold its value over time.
Vintage Jewellery
Vintage jewellery includes both costume jewellery and fine jewellery from roughly the 1930s to 1990. Due to the high-quality workmanship and materials used in hand-crafted, fine vintage jewellery, many of these pieces have survived the years. Fine vintage jewellery includes pieces made with precious stones and precious metals, which would have been costly when purchased new. Like antique jewellery, fine vintage jewellery retains its value and typically sells quickly at auctions and estate sales.
Costume jewellery, as it is known today, was first produced and became popular in the 1930s. Affordable for almost everyone, it was not made to be passed down through generations. However, despite being mass-produced with inexpensive materials such as gemstones, glass, plastics, and lower grade metals, the quality of the workmanship resulted in a multitude of pieces surviving through the decades.
Identifying a Vintage Bangle by Era
A bit of knowledge regarding the designers, markings, styles, and materials used during different eras goes a long way to ensuring the piece you find is truly a piece of fine jewellery. While many pieces include a signature, stamp, or trademark which identifies the designer, most of them have no markings at all. To confidently purchase a vintage diamond bangle, consumers should research brand markings and manufacturer locations.
Art Deco
The 1920s enjoyed a resurgence of jewellery production and sales after the devastation of World War I. Fashionable, sleeveless dress styles for women made bangles particularly popular. Diamonds were the gemstone of choice in jewellery from this era; these were typically square, or French cut. Platinum was the most popular metal, although white gold and silver were also used. Designs featured geometric and linear styling, and pieces were adorned with both natural and synthetic sapphires and rubies. Many of the green stone accents of this era were green glass. Natural emeralds are a rare find in art deco jewellery.
Some of the most famous designers of this era were Cartier, Mauboussin, Fouquet, Boucheron, Dunand, and Brandt. Tiffany, Winston, Shreve, and Spaulding & Company were popular U.S. designers. The practice of signing jewellery became common during this era, which means modern collectors can often easily identify Art Deco pieces.
Retro Period Jewellery
From the mid-1930s until the late 1940s, jewellery became more dramatic. The influence of Hollywood glamour can be seen in jewellery from this era. Oversized pieces with whimsical or asymmetrical designs made from yellow and rose gold were popular. Medium sized diamonds, both round cut and baguette, are still plentiful and widely used in modern retro-style pieces. Retro-era jewellery is now highly collectible, as much of it was melted down and used for scrap metal in earlier decades.
Notable U.S. designers from this era include John Rubel, William Russer, Oscar Heyman, and Verdura. Bailey, Banks and Biddle and Black Starr & Frost are two other firms with strong reputations. Famous European designers include Chamut, Buccellati, Castelli, and Bulgari.
Jewellery of the Fifties
Diamonds, precious gems, and platinum were all used in abundance in the flashy jewellery of the 1950s. Yellow gold was also highly popular, but was not generally paired with diamonds. Jewellery from this era was often sold as matching sets that included rings, earrings, bracelets, and brooches. Styles were open and airy, and included abstract, free-form, linear, and floral designs. Many pieces from this era were unique, handcrafted designs, as prominent European painters and sculptors encouraged designers to create "wearable art".
Harry Winston was a particularly innovative designer from this era. Designers Van Cleef & Arpels, Sterl, and Jean Schlumberger for Tiffany also enjoyed widespread popularity.
1960s Jewellery
By the 1960s, jewellery designers were so numerous that styles can no longer easily be categorised. Design tastes changed almost seasonally, and styles ranged from smaller Victorian revival designs to simple styles intended for everyday wear. Also popular were ethnic designs, with Asian, Indian, and Egyptian influences moving to the forefront. In the late sixties, big, bold, colourful characteristics of Mod fashion began to carry over to some jewellery styles. Diamonds were typically paired with gold during this era.
Designers such as Kenneth Lane, Trifari, Goldette, and Monet grew in popularity during this time. Many designer pieces from this era were left unsigned, sold only with paper hangtags.
Late 20th Century Styles
The '70s saw a revival of Art Nouveau, along with a trend toward nature influences. Jewellery was designed to make a statement, and ethnic and bohemian styles continued to be popular. Sets of thin metal bangles were popular, as were charm bracelets. Scandinavian silver was widely used. The disco movement of the late 1970s had a noticeable influence on jewellery design, as can be seen in the sparkling, flashy designs from those years.
With the 1980s began a mix of old and new. Fads came and went quickly, and jewellery styles changed with them. Designs encompassed everything from colourful, to glitzy, to simple metal styles.
What to Look for When Shopping for a Vintage Diamond Bangle
The four most important characteristics of a diamond are its cut, colour, clarity, and carat. Known in the industry as the Four Cs, these characteristics directly impact a diamond's beauty, brilliance, and value. Being familiar with the grading systems for these characteristics takes the guesswork out of buying a diamond. It is also important to know a bit about the metals in which a diamond is set in order to understand the overall value and durability of the piece.
The Four Cs
Every genuine diamond is judged in four categories. The cut, carat, clarity, and carat must be assessed and graded by a professional before a diamond's true value can be determined. Diamonds that have been professionally graded or valued have certification papers. Shoppers should look for certified diamonds, and should ask to be furnished with the appropriate paperwork when purchasing a vintage diamond bangle.
The Four Cs are each discussed in the sections below.
Cut
The cut of a diamond is simply its overall shape. A diamond's brilliance can be greatly improved depending on the specific cuts and proportions used. Most diamonds that pre-date the 20th Century are mine cut. Older vintage diamonds are often square cut, or cut in what is known as European style. As equipment and technology improved and styles changed, round, marquise, pear, heart, princess, and baguette cut diamonds came in and out of popularity.
Until the late 19th Century, diamonds were very rare, and were cut for maximum weight retention from the rough shape. The old mine cut diamonds were chunky. They had a square outline with a small table and large culet (top & bottom facets) reflecting the crystal shape from which they were cut.
Carat
The weight of a diamond is measured in carats. One carat is equal to 200 milligrams. Carats are also measured in points, with one carat being the equivalent of 100 points. A diamond's value increases substantially as its carat weight increases.
Clarity
A diamond's clarity is impaired by naturally occurring flaws, called inclusions. Inclusions are caused by traces of minerals that occur naturally in all diamonds, with the exception of extremely rare, flawless diamonds. The Gemological Institute of America developed the GIA scale, shown below, as a way to rate the clarity of diamonds.
| Rating | Definition | Description |
| --- | --- | --- |
| FL | Flawless | No internal inclusions under 10x magnification, no external blemishes |
| IF | Internally flawless | No internal inclusions under 10x magnification, may have some external blemishes |
| VVS1, VVS2 | Very, very slightly included | Miniscule inclusions barely discernible under 10x magnification |
| VS1, VS2 | Very slightly included | Tiny inclusions, hard to locate under 10x magnification |
| SI1, SI2, SI3 | Slightly included | Inclusions that are easily spotted under 10x magnification |
| I1, I2, I3 | Included | Inclusions that are generally noticeable with the naked eye |
The rating system detailed above is is universally recognised. There are six categories and eleven ratings in total, with diamonds rated as "Included" being considered imperfect and of little value.
Colour
To the naked eye, the majority of diamonds appear colourless. In reality, there is a small amount of colouring, usually yellow, in every diamond. Nearly colourless diamonds are the most valuable, and value decreases as colouring becomes more noticeable. However, diamonds with a deep canary yellow colouring are a valuable exception to this rule.
The GIA also uses a letter scale to rate the colour of diamonds, as shown below in the table. Diamonds are assigned a letter from D to Z depending on the amount of colour in the diamond.
| Rating | Description |
| --- | --- |
| D to F | Colourless |
| G to K | Nearly colourless |
| L to N | Faint colouring |
| O to R | Very light colouring |
| S to Z | Light yellow colour |
The nature of this scale is such that there is very little difference in colour presence from one letter to the next. As the rating approaches Z, the diamond is considered less pure, tends to absorb more light, and is therefore less brilliant.
Purity Marks on Vintage Jewellery
Purity marks are pictures or numbers stamped into a piece of metal jewellery that indicate the purity of the metal alloy used to make the jewellery. Different countries use different markings, and markings have changed throughout the years, but all vintage jewellery made with precious metals should have some type of purity mark.
Several different purity marks are described in the chart below. These purity marks are the ones most commonly found on jewellery manufactured during the 20th Century.
| Country of Origin | Type of Metal | Purity Markings |
| --- | --- | --- |
| Great Britain | gold | 9-, 14-, 18-, 22-ct to indicate the carat weight; 12- and 15-ct were used prior to 1932; alternatively, a crown plus a numeral were used |
| Great Britain | silver | Pictorial marks of a lion's head or a Britannia mark to indicate 925 and 958 silver, respectively |
| Great Britain | platinum | Pictorial mark of an orb |
| United States | gold | 9-, 10-, 12-, 14, 18, 22-, and 24-kt indicate U.S. karat weight |
| United States | silver | 925 stamp, 925/1000, or "sterling" |
| France | gold | Pictorial mark of an eagle's head to indicate 10-ct gold |
| France | silver | Pictorial mark of a boar's head or a crab to indicate 800/1000 silver |
Many other markings are out there, but those listed above are some of the most common found on vintage jewellery. Purity markings are not mandatory in many countries, so pieces without one are not necessarily manufactured from low-grade alloys.
Find a Diamond Vintage Bangle on eBay
Shoppers searching for a vintage diamond bangle should head to the eBay homepage and enter appropriate and specific search terms into the search box. For example, just type in "vintage diamond bangle" from any eBay page to get a list of all the items that feature these keywords.
Consumers shopping on eBay can search an extensive inventory of items from all over the world while conveniently shopping from the comfort of their homes. With competitive prices, free shipping, and the security of paying through PayPal, eBay is a solid choice for online shopping. Shoppers can use features such as "ask a question" and "seller ratings" to get more information about an item or a seller's reputation before purchasing an item.
Conclusion
Armed with the necessary knowledge, shoppers searching for a vintage diamond bangle can look for great pieces at antique shops, estate sales, and auction houses. Occasionally, fine vintage jewellery ends up at thrift stores, where the pieces sometimes sell for much less than their true value. For a better selection, shoppers can head to Internet. Online vintage jewellery stores and auction sites generally offer an extensive inventory of vintage jewellery and search engines make it easy to find a piece by designer, era, or type of jewellery. Pay attention to condition, brand, and quality when shopping for any vintage jewellery item. Get to know the designers as well as the most popular styles of each era, and check the item for purity markings and a maker's mark. Ask for certification that the stones are genuine and any appraisal paperwork if one has been completed. With a little research and careful shopping, shoppers can find a beautiful vintage diamond bangle to wear for those special occasions or to add to their vintage jewellery collections.