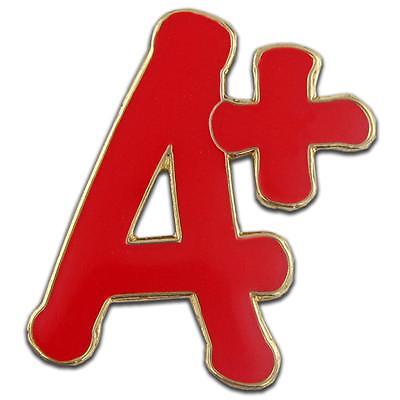 Vintage enamel pins are a collector's item. They grew in popularity during the 1960s because they were fresh and new. Sometimes called brooches, pins can be a fun, inexpensive piece to add to an ensemble. They were mass produced, which was popular during that time period. One of the advantages of vintage enamel pins is that they can be worn in many different ways to give the wearer's style a bit of a pop. When purchasing a vintage enamel pin, it is most likely going to be used, so the condition may be important. Knowledge of enamel jewellery history, design, types, and style are important when purchasing a pin. It is also important to look out for pin conditions, and to have a basic idea of how to clean and care for enamel pins. Do not hesitate to research the manufacturer and check their recommendations, as well as seeing help from a professional. This is especially recommended when purchasing a pin to add to a collection.
Vintage enamel pins are available in vintage stores, second hand stores, and on various jewellery websites. Also, eBay has a large selection of enamel pins in every style, and at a variety of prices fit for any budget.
History of Jewellery Enameling
Enameling is the process of fusing glass onto metal. Enameling jewellery is a very old practice that has been used for centuries, dating all the way back to the Egyptians. Enamel is allochromatic glass that typically has quartz sand, potassium, and iron oxide, and borax. The combination of these items creates a colourless and transparent base, and colour is later added with metal oxides and chlorides. After this is placed into a furnace, the details are applied through filing and polishing.
While enameled jewellery has changed over time, a lot of the artistic detail work remains intact. When pins gained their momentum in the 1900s, they began to incorporate all different types of themes and styles. The mass production processes that came to fruition in the 1950s and 1960s encouraged the boom in enamel pins, because they became easy and inexpensive to mass produce. Buyers consider that era a golden age, of sorts, and many of the pins manufactured during that time period have become collector's items.
Vintage Enamel Pin Styles
Vintage enamel pins are used to make a specific fashion statement. Holiday vintage enamel pins display a certain affinity for a specific holiday. Other types of pins demonstrate a fondness for certain time periods, or fashion icons. Another frequent use of enamel pins is to show club membership, or to support a sports team or organisation.
When vintage enamel pins were first mass manufactured, designers styled the pins to display popular trends of the time. This was true particularly during the 1950s and 1960s, and the impact of these pins not to be undervalued. Pins that were designed for Trifari Inc. later became the symbol for the country. Trifari's popular pins included fruit pins, patriotic pins, and their trademark crowns. Some other popular pin designers included Larry Vrba (who focused on Christmas styles), Coro Duettes (from the 1930s to the 1950s), and Eisenberg & Sons (who utilised aqua, and crystal glass). Marcel Boucher designed for Cartier before the mid-1930s. Cartier is a well-known jewellery company that designs high end, quality products.
Guilloche is a type of engraving that repeats a small pattern to create a broader, overall image. It has been used in architectural design dating back as far as ancient Greece, and it is a popular decoration for vintage enamel pins, amongst various other arts and designs.
There are other styles to consider when purchasing an enamel pin, as well. For instance, art deco enamel pins are still very popular. Art deco is a style that gained momentum during the 1920s and 1930s. It was known for its use of layers and bold coloured shapes.
Also, retro enamel pins are in great demand. They represent images or styles of popular culture from certain time periods. Retro is most commonly used to reference the 1960s and 1970s, and often utilises characters and cartoons from commercials and products that were well-known during those decades.
Antique enamel pins typically are of higher quality, and are from the earliest time period of enamelled pins. All of these styles fall under the category of vintage, which encompasses a lot of time periods and styles, making vintage enamel pin collections varied and timeless.
Vintage Enamel Pin Collections
Some individuals enjoy collecting pins of a certain type or of a specific style. One popular choice amongst enamel pin collectors is vintage flower pins. Flower pins have consistently been popular because pins allow a lovely flower to be displayed in multiple layers, and therefore in a three dimensional way.
Pin collections include a lot of different types of pins. Some collections are based around a theme or event, like holidays, year events, or personal occasions like birthdays and weddings. Other collections may be built around a single topic, such as a particular model of car, or a specific type of butterfly. Animal pin collections are also very popular.
Other collections may be more focused on the designer or manufacturer, and may concentrate on specific brands, designers, or a particular era. Such collections may also revolve around a certain pin style, like art deco, or vintage pins from the 1930s. Collections come in many different sizes, and are fun to watch as they grow and expand.
Vintage Enamel Pin Condition
Buyers should make sure to determine the pin condition before buying. Check the pin for any damage, and research its history if possible. Lots of reading material is available on pins. Most of the vintage enamel pins on the market are in good condition, especially those which have been kept by collectors. But this is not always the case. Some indicators that a pin has been poorly kept include cracking or tarnish. Also beware of poor craftsmanship.
Another thing that buyers should be aware of when collecting pins is the possibility of reproductions or fakes. These are becoming increasingly more difficult to spot; inexperienced buyers may need to consult a professional. Because vintage enamel pins are typically inexpensive, the possibility of a reproduction may not be an issue, unless the buyer's intent is to keep it as part of an investment collection.
Some tarnishing or markings can be removed from a pin with the proper cleaning and care procedures. Proper cleaning requires using a cotton cloth, and a cleaning liquid that cannot damage the jewellery. Before using a liquid, check to make sure that it is safe for use on all of the materials in the piece.
How to Buy a Vintage Enamel Pin on eBay
Begin your search by typing "vintage enamel pin" into the search bar on the eBay homepage. If you are looking for a pin with a specific holiday theme, add that holiday in the descriptions in the search bar to narrow down the results. Other keyword options you can enter include different fashion styles, eras, and different pin designers from different stores. All of these factors can be used to narrow down the search results.
Be sure to look at multiple photos of the item, and read the item description listing before committing to a purchase. Investigate the seller's other items for sale, if any. Other pins may be available for purchase, and in some situations, the seller may be putting an entire pin collections up for sale. If you are looking to expand your collection, finding a good seller with quality items is a good start.
Read feedback from previous buyers to determine how well the seller has satisfied other customers over the last 12 months. If you have any questions about the pin, message the seller to clarify any confusion before purchasing.
Conclusion
Vintage enamel pins have consistently been a fashion statement over the decades. Enamelled jewellery has been a popular adornment for a long time. Pins can be used to celebrate holidays, events, cartoons, popular culture items, art, and designers. They also serve as a way for the wearer to identify themselves as a member of a certain club, or to support a team or organisation.
Vintage pins grew in popularity during the 1950s, and had a lot of major designers and niches. Pins can be purchased singly and worn as an accessory, or can be purchased as part of an entire collection. People accumulate many types of collections. Some of these include collections of retro items, state and country flag collections, flower pin collections, and collections of holiday images.
When purchasing a pin, the condition of the pin is extremely important. Pins sometimes have cracks or fading in colouring. Look for these things before purchasing. Another factor to consider is the possibility of reproductions and fakes. These are hard to point out, but it is possible, especially when evaluated by a professional. This only really matters if the buyer intends the pin as part of an investment portfolio or a collection of genuine articles. If the pin is being worn simply as an inexpensive decorative piece, the possibility of it being a reproduction is not as important. Vintage enamel pins are available for purchase in a variety of stores as well as online. eBay offers a wide selection at affordable prices.