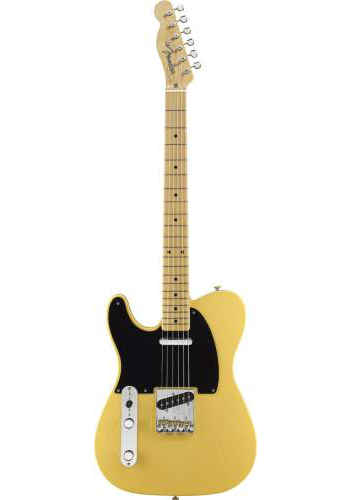 The Telecaster was the first electric guitar produced by the Fender company, and the first electric guitar to be manufactured commercially. It is without doubt one of the most renowned guitars ever made, and vintage models can fetch large sums of money.
The Origins of the Fender Telecaster
The Telecaster started life as the Esquire, was renamed the Broadcaster, and was finally produced as the Telecaster in 1950.
A vintage model is generally considered to be one made before 1980, with 1950's and early 1960's models especially prized by collectors.
Design Features Making the Fender Telecaster Unique
The Telecaster was designed as the first solid-body electric guitar with dual pickups.
Telecaster body

Solid-body

Made of ash, the body was made with an innovative method of band-sawing and routing

Slab body

One slab of wood.

Single cut-away

Distinctive single cut-away design.
Telecaster neck

Single-piece neck

Made from one piece of wood. 22 frets are fitted directly into the neck

Fingerboard

Slab rosewood fingerboards introduced late '50s

Bolt-on fitting

The neck is bolted on to the body, rather than glued. This was a new technique.

Neck size

The neck gradually became thinner throughout the '50s.

Peghead

The Telecaster peghead has remained broadly the same size throughout its life
Other features

Control plate

Removable control plate allowed easy access to the electrics without removing the strings

Two single-coil pickups

Neck and bridge

3-way control

'50-'52. Three control options were: neck pickup with reduced treble, unmodified neck pickup, or neck and bridge pickups. '52 – tone element added, but then lost the ability to combine pickups.

Volume and tone controls

Early models had volume only.

5-screw pickguard

Originally black pickguards, made from ''Bakelite'-style material, then celluloid, and lastly plastic. '54 – white pickguards introduced, with mint pickguards on Custom model. Five screws later increased to eight.

Bridge

Three adjustable saddles – strings mounted in pairs. Later increased to six-saddle bridge. Chrome bridge cover added, but rarely used by players.

Strings

Strings are anchored through the body (except for late '58-59, when anchored to the bridge).

Other features

Minor alterations were made to smaller features, such as knobs and switches.
1960s Features
During the 1960s, several changes were made to the Telecaster's features.
Telecaster 1960s features

Neck

The width of the neck gradually increased. Single-piece maple neck reintroduced 1969

Fingerboard

Slab rosewood fingerboard replaced with veneered ('62). Clay dots replaced with pearl dots ('64). Optional glued maple fingerboard from 1965.

Strings

Strings anchored through the body again

3-way switch control

New-style 3-way switch introduced: neck, bridge, and combination ('67)

Pickguard

3-ply white pickguard introduced ('64)

Finish

Optional Pink Paisley and Blue Floral finishes
Post-CBS Changes
In 1965 Fender was taken over by CBS, who revised production techniques to make them more cost-effective. Players reported less attention paid to fine details and the construction. It was perceived that there was a loss of quality and tone to guitars made after 1965.
1970s Features
Following the take-over by CBS, some further changes to the Telecaster were made in the 1970s.
Telecaster 1970s features

Body

New 'notchless' body design introduced

Other features

Further changes were made to smaller elements such as the switches, wiring etc.
Fender Telecaster Models
As well as the original Telecaster, fender produced further Telecaster models.
Custom Telecaster
Custom Telecaster

Date

1959 - 1968

Body

Rounder shape and added body binding.

Colour

Three-colour 'Sunburst' design.

Pickups

One humbucker at the neck and a single-coil pickup at the bridge.

Pickguard

Mint-coloured pickguard
Telecaster Thinline
In the late 1967, Fender began to have difficulty in procuring the lightweight ash needed for the Telecaster body, so Fender redesigned the Telecaster to use heavier ash by hollowing out cavities in the solid body (known as a 'Smuggler's Tele'). In late 1968, this design was marketed as the Telecaster Thinline.
Telecaster Thinline

Body

Cavities routed and thin ash 'plate' as glued to the back. Single F-hole.

Maple neck

Original version had a maple-cap neck, but in '69 a single-piece maple neck introduced.

Fingerboard

Rosewood veneer fingerboard available as an option '68-'71.

Pickups

1971 – single-coil pickups replaced with humbuckers

Pickguard

'Pearloid' pickguard

Finish

Natural wood finish initially. 1969 – 3-colour 'Sunburst' available as an option

Mahogany version

A mahogany version was also sold, but few produced.
Telecaster Deluxe
Telecaster Deluxe

Date

'72-'81, later reissued

Body

Standard Telecaster body

Neck

Single-piece maple neck, larger peghead (similar to the Fender Stratocaster)

Pickups

Humbuckers

Bridge

Tremolo bridge option after 1973
Other Telecasters
Other versions include the Mahogany Telecaster (1963 -1964), although very few were ever produced, and the Rosewood Telecaster, with the neck and body made from rosewood, first issued in 1969. Signature Telecasters, designed to reproduce the specifications of famous Tele players are also available.
Buying a Vintage Fender Telecaster
Buying a vintage Telecaster will involve a good deal if research and preparation, as it is essential to undertake careful check to ensure that the guitar in question is a genuine vintage Telecaster.
The 'After-Market'
Fender's revolutionary design and construction process enabled the Telecaster to be built easily using innovative techniques, and dismantled just as easily for repair or maintenance. There is a buoyant 'after-market' available, in which companies specialise in selling genuine Fender parts, or even in constructing complete guitars to the Fender specifications.
For this reason, checking that a guitar was truly manufactured before 1980, and has all its original parts is not a straightforward process. It is important to check the following features of any Telecatser model before deciding on a final purchase.
Check the Serial Numbers and Codes
All Telecasters have a variety of serial numbers and codes, which can be used to identify when the guitar was made.
Serial Numbers
All genuine Telecaster will have serial numbers, although the exact style and positioning varies depending on the year of manufacture. If there are no serial numbers, it is impossible to tell whether or not the guitar is a genuine vintage guitar.
Date Codes
As with serial numbers, the format and positioning can vary enormously, and it is important to know both where to look for the date code, and also the format, so that the information can be 'decoded' to check that it matches with the specifications of the guitar.
Other Codes
Other codes include: Neck stamps, body stamps, pot codes, pickup codes, and large letter stamps.
Check the General Features
Researching the exact specifications for the model in question will help a buyer to spot any anachronism in the features, which will show whether or not the guitar is genuine.
General features

Frets and fingerboard

Vintage guitars are likely to have worn frets, so new ones could indicate replacements. Check that the fingerboard matches with the specifications for the period.

Pickups

Original Telecasters have two single-coil pickups. Only specific models have humbuckers, so check specifications carefully

Pickguard

A new pickguard may indicate it is a replacement, as vintage pickguards should be worn. Check the colour and material to be sure it matches with specifications for the date of manufacture.

Logo

The Fender logo has undergone many changes, so check that any logo is consistent with the date of production.

Colour

Check that the colour of the guitar matches availability, especially on very early guitars, as there was only a limited colour range before 1965.
Additional History
It is also very helpful if the seller can supply any additional information about the guitar. For example, there may be a receipt showing when and where the guitar was first purchased, or information about previous buyers. If a famous player has previously owned the guitar, and there is some verification, then this could increase the value. This kind of information, together with the other checks, should help ascertain if the instrument is a vintage guitar.
Information About the Guitar
For a buyer who is purchasing a guitar directly from the seller, it should be easy to examine the guitar carefully, and carry out any necessary checks, as well as trying the guitar to assess the sound. Both retailers and private sellers should be able to supply plenty of information about the guitar. If the guitar is being sold online, the seller should provide a full description, photographs to verify important information and the condition of the instrument, and also be willing to answer any questions.
Buying a Vintage Fender Telecaster on eBay
To buy a vintage Telecaster on eBay, begin at the home page, hover over All Categories and select Musical Instruments. Select Electric from the Guitars menu, and then select Fender from the Brand menu. Select Used from the Condition menu. It will then be possible to refine the search further using key words.
Conclusion
The Fender Telecaster is a unique and wonderful guitar, and is a prized possession for any keen collector of vintage guitars. With a little research and planning, owning a vintage Telecaster could be only a few steps away.