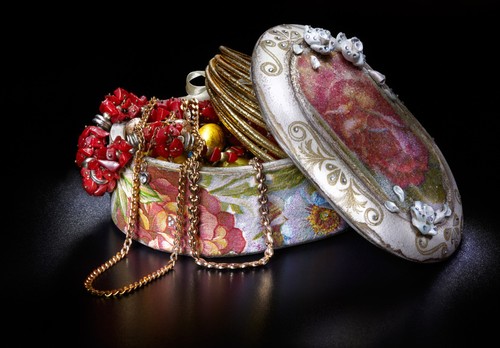 A vintage jewellery box is a fantastic way to organise and store jewellery as well as add a tasteful aesthetic feature to a room. Vintage simply means originating from a previous era. Therefore, vintage jewellery boxes are likely going to be second-hand. A vintage jewellery box holds jewellery such as rings, necklaces, earrings, and bracelets. Vintage jewellery boxes are made from a variety of different materials and can include precious metals and gemstones as well. The fabric of the vintage jewellery box liner also varies, and can be anything from paper to satin.
A major consideration when purchasing a vintage jewellery box is the size. Prospective buyers should be conscious of how much jewellery they own, and how much they intend to store in the box, as the sizes of vintage jewellery boxes varies greatly. A jewellery box is sometimes also called a casket and has been used in the past as a status symbol to indicate wealth and beauty. Vintage jewellery boxes are appropriate for both men and women. Buyers have many options when it comes to purchasing a vintage jewellery box and should narrow their search by focusing on the size and style.
Types of Vintage Jewellery Boxes
Vintage jewellery boxes come in two main types. The first type of vintage jewellery box is the box style. This is model is used for storing jewellery in an organised manner. It may have different compartments, shelves, or other organisational and storage features. Box models can also be ornate but typically this is not the purpose of a box model. If a buyer is in the market for a simple vintage jewellery box that is just to store jewellery, the box model is an excellent choice.
Display Models
The alternative to the the box style is the display model. Display models are designed to do what their namesake implies and display the jewellery inside of the box, in an aesthetically pleasing way. This is sometimes accomplished by decorating a specific jewellery box, or by simply positioning the jewellery it contains in an aesthetically pleasing way to display it. One final type of vintage jewellery box is the packaging model. This model is a small portable type of vintage jewellery box that is usually intended for taking small amounts of jewellery on the go.
Materials
Vintage jewellery boxes may be made out of a variety of materials. For display jewellery boxes, glass is often favoured as it is an ideal way to showcase the jewellery inside of the box. Wood is a cost effective option that provides a sturdy, durable option. Leather is a another good option and is a tasteful, professional choice as well. Some vintage jewellery boxes can be made of precious metals, and some even include rare gemstones. While these vintage jewellery boxes are often attractive to prospective buyers, they should be aware of how these additional features can ultimately affect the overall price of the vintage jewellery box.
Vintage Jewellery Box Liners
Another important part of the vintage jewellery box is the liner. Liners make up the surface area that the jewellery rests on. To those who own very durable jewellery, this may not be as much of a concern. For these types of buyers, a paper line is likely sufficient. To those who favour more fragile pieces, a soft liner is of the utmost important. These buyers should look at velvet as a viable option. Liners should be soft to the touch and pleasing to the user, but should not be the primary focus unless the liner could potentially damage sensitive jewellery.
Suitability
Vintage jewellery boxes may be designed for specific purposes. Buyers should be aware of the limitations of any vintage jewellery box they intend to purchase. Vintage jewellery boxes may be small and only suited to one or two types of jewellery such as brooches/pins, earrings, and rings. There are also very specially designed vintage jewellery boxes for watches as well. These are typically the display model of vintage jewellery boxes, and typically display the watch in a very presentable manner. Buyers should be careful since a jewellery box designed to hold one type of jewellery may not accommodate another type of jewellery.
Year
Jewellery boxes were once considered treasure chests for royalty back in medieval times, so needless to say, vintage jewellery boxes can date back to quite a long time ago. From the ancient era until present day, jewellery boxes have been made. This gives buyers a huge range of options in when shopping for a vintage jewellery box. Most products are "used" since the definition of vintage is from a previous generation, though "new" vintage jewellery boxes may also be found by using eBay's search options. Buyers should look into the styles of different generations and determine which one appeals to them in order to expedite their search for a vintage jewellery box.
Evaluating Price
Vintage jewellery boxes can vary dramatically in price. Some vintage jewellery boxes may have been family heirlooms passed from generation to generation and therefore, are very expensive simply due to their age. Budget conscious shoppers have to look for more function instead of form, as is it the additional features of a vintage jewellery box that can quickly drive up the price.
Music
One feature many are familiar with in vintage jewellery boxes is music that they play. Vintage music jewellery boxes are widely considered to be a classic item. Many feature small scenes to compliment the music, such as ballerinas that spin when the box is opened. Music plays when the box is opened and continue until the user decides to close it. Typically vintage music jewellery boxes run on batteries or must be periodically hand wound.
A True Collector's Item
Being so diverse across so many different time periods, vintage jewellery boxes are a favourite item of collector's. While this means the market has many active buyers, it also reflects a vibrant and robust market that can often favour buyers. Some of the more sought after vintage jewellery boxes are: porcelain trinket boxes, metal jewellery boxes with artwork, vintage jewellery boxes from the Civil War era, and those jewellery boxes that commemorate significant historical events. With the explosion of the internet, rare jewellery boxes are becoming easier to find, adding to an already significant marketplace like eBay.
Decorative Influences
Vintage jewellery boxes are often made in the style of other household items to improve their ability to blend in to their environment. A common strategy is to create vintage jewellery boxes that look like cabinets, drawers, or even hutches. Except in rare cases, these pieces of furniture are miniaturized. These models of vintage jewellery boxes are a great way to incorporate some fashion into a room as a piece of decor. Vintage jewellery boxes not only fit into a room's pre existing decor, they could quite possibly add to it in a way that not many pieces can.
How to Buy a Vintage Jewellery Box on eBay
As buyers should discover early in their search, there are many different vintage jewellery box model and styles available, many of which have different appearances, and are suitable for different things. With such an active and diverse market, eBay can be a great place to start a search for a vintage jewellery box. Buyers can quickly, and easily, get familiar with the options available and more accurately articulate what it is they are seeking.
Keyword Searching on eBay
A keyword search on eBay is an ideal way for prospective buyers to start looking. If a buyer has already determined what their specific needs are, they can begin the search with vintage jewellery box and additional detail, to narrow the search further. Search results can be refined using the categories provided by eBay. This allows buyers to filter their results based on price, style of vintage jewellery box, material, and functionality. Vintage jewellery boxes are typically small items so shipping may not be costly, but larger boxes can be logistically problematic so keep local sellers in mind as a possible option.
Conclusion
Finding the right vintage jewellery box can be a challenge considering the diversity of options available on the market, and the competitive marketplace rife with collectors. Prospective buyers should not be discouraged though as their is a vintage jewellery box to suit every buyers needs. If a buyer is still early in the shopping process, they can just search for vintage jewellery box, and eBay displays many different options to help simplify the purchasing process.
A buyer needs to focus on the three main factors. First, which type of the vintage jewellery box best serves the buyer's purpose. Next, the buyer must consider the size and functionality of the vintage jewellery box. Finally, buyers should consider the aesthetics which includes the materials, additional attractive features, and specifically with vintage jewellery boxes, which era the item is from. Buyers should also consider the liner before finalising the purchase. With the widest range of options and intuitive, easy to use search tool, eBay is a vintage jewellery box shopper's best friend.