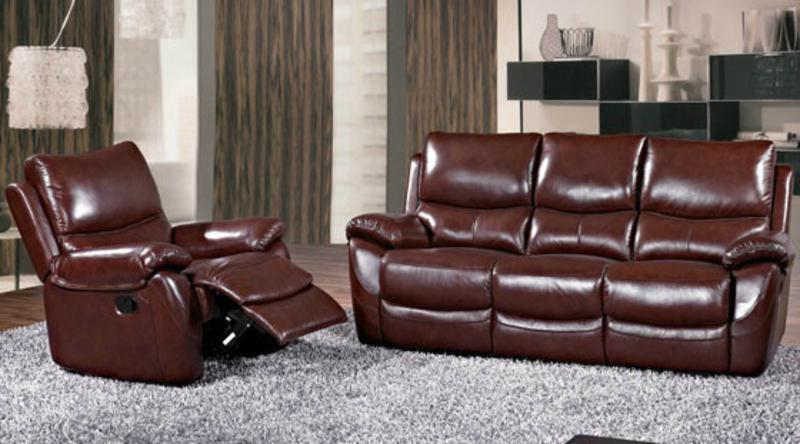 Purchasing an item such as a sofa should always be carried out carefully and with consideration. This is particularly true when buying a vintage item, and vintage leather sofas are no exception. Leather is a popular choice of sofa covering as it has enduring style, and if well looked after, it softens and develops over time, and is hard wearing. The addition of a vintage item to a home adds eclecticism and a touch of character that can not be found in a modern piece. Taking the time to choose the right sofa means that it will become a long-term investment and a key piece of furniture in the home.
About Vintage Leather Sofas
The term vintage can be used rather loosely and its definition blurred, however, there are guidelines to what is vintage and what is not. Whereas a true antique is an item that is over 100 years old, vintage is not tied down to a particular time frame. To be vintage, the item must be over 20 years old, but it is more about the style of the item that defines it as vintage. A vintage item will generally reflect the best of a particular style of furniture from a particular era. For example, a vintage 1920s leather sofa should display all of the hallmarks of an Art Deco item. The term retro is also used, but this more commonly describes a style of item that is currently out of fashion. When searching for a vintage leather sofa, it is wise to also look for items listed as antique and retro, as the terms are sometimes incorrectly mixed up. When buying a vintage piece, read the item description very carefully and examine all of the photos. Because of the age of vintage items, there is often wear and tear on them. Some of this can add to the character of the piece, whereas some can detract from it. The amount of wear that is acceptable is largely a personal choice. Many vintage pieces can easily be restored, so should not necessarily be disregarded if some damage is apparent. The base of the sofa can be resprung and cushions refilled. The price of restoring the item should be taken into consideration when setting a budget. Leather has an enduring appeal due to the fact that it develops with age and often improves in texture and appearance over time. This is true more of high quality leather than lesser quality. Vintage sofas generally have wooden frames and it is a good idea, if possible, to ascertain the condition of the frame before purchase. Vintage leather sofas come in two-seater and three-seater styles, like modern sofas, but it is also possible to find very large pieces. This is mainly down to the fact that in certain eras, room sizes were much larger than they are today, and the sizes of the furniture reflect that. Vintage sofas from decades such as the 1960s and 1970s also come in sofa bed varieties. The size and style of the vintage leather sofa chosen largely depends upon the home into which it is going to go. These things should be considered carefully before committing to purchase a sofa so that the correct item is bought. A popular style of vintage leather sofa is a Chesterfield, which has a buttoned back and high arm rests. This style became popular in the 1900s. Despite its traditional appearance, it can work well in both modern and old-fashioned décor schemes. Leather sofas were also popular during the Art Deco era and these sofas have clean lines and curved arm rests. Again, these sofas work well in a 1920s scheme, but also in a contemporary setting. The choice is down to personal taste. Buying vintage can be a good budget option, but vintage leather sofas can also cost far more than modern pieces if they are a particularly good example or are rare.
Grades of Leather Available
Like any other material, leather comes in different forms and grades. The type of leather selected may be down to personal taste or can be selected for its quality. The table below summarises some of the terms that are used to describe the different types of leather available.
| | |
| --- | --- |
| Full grain | Full grain is the highest grade of leather. Prized for its suppleness and premium quality, this leather improves with age. During the manufacturing process it is subjected to far less chemical treatment than some types of leather, therefore, there is less chance of it being weakened. Full grain leather is not sanded down, so small imperfections that naturally arise can be seen. |
| Corrected grain | Corrected grain leather is still high quality leather, however, the top surface of the hide has been sanded and buffed to remove the imperfections found in the top grain. It has a more shiny appearance than full grain leather. |
| Split | Split grain leather is made of the hide that is removed from the underside of the higher quality full grain leather. Because of this, it is not as thick or durable as full grain but does offer a budget option for those looking for a particular style without the high price tag. |
| Bonded | Bonded leather is the lowest quality of leather as it is made from small scraps of leather that is reconstituted to form the fabric. This leather is not as strong or as durable as full hide leather |
| Suede | Suede has a soft, fuzzy texture and is made out of the hide that is left after the rougher, outer layer is removed. |
| Faux | Faux leather is a man made leather substitute. It does not age in the same way as natural leather, however, it is a good budget option and was used extensively in 1950s vintage sofas. |
Caring for a Vintage Leather Sofa
Because leather is a natural product, it requires gentle and specialist cleaning to be kept in the best condition possible. Because leather is essentially skin, a rule of thumb for its care is that it should be treated with the same respect and care that human skin affords. This is particularly true of vintage leather as it has already stood the tests of time and should be treated gently to ensure its continued endurance. Below is a table to summarise the best care for a vintage leather sofa.
| | |
| --- | --- |
| Clean and vacuum | Regularly dust the sofa with a dry cloth and vacuum in the corners and under the seat cushions if they are removable. |
| Avoid over-wetting & detergents | Leather can be wiped with a damp cloth, but avoid excessive moisture and do not use detergents on it as they may cause staining. |
| Use specialist leather cleaning products | There are a number of specialist leather cleaning products on the market. As leather is treated with a protective layer, it is not necessary to use expensive products frequently. Keeping the sofa clean will be adequate on a daily basis and a biannual specialist cleaning will keep it in good condition. |
| Rotate cushions | If the sofa has removable cushions, turn them regularly to give even wear. |
| Keep out of direct sunlight | Like any fabric, leather may fade if placed in direct sunlight, so rotate furniture around the room to prevent constant exposure, or avoid it altogether. |
Conclusion
A vintage leather sofa is a classic piece of furniture known for its timeless style and lasting quality. These pieces are built to last and offer a degree of workmanship not often found in their modern counterparts. A leather sofa is an investment for the home, so care should be taken in choosing a sofa that fits the room in size and style, the determined budget, and the requirements of condition. Particular attention should be paid to the condition of the piece when buying vintage, so that the leather sofa will be a long-term investment. eBay offers the perfect forum for finding a vintage leather sofa as its search tools enable all specific criteria to be met and the exact item found.