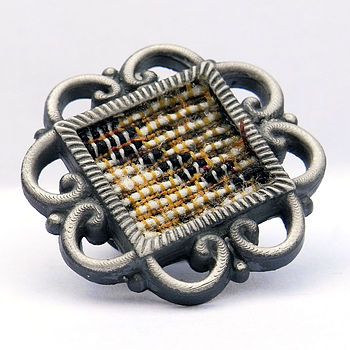 Vintage pins have a variety of forms. Tie pins, for example, are popular with men for their stylish look. Hat pins, shawl pins, brooches, and hair pins tend to be favoured by women. These vintage pins are feminine and attractive. While some vintage pins serve a practical purpose, they are commonly worn as an aesthetically pleasing fashion accessory. Many buyers also choose to collect them. Before buying a vintage pin it is important to examine it to ensure that a good quality item is acquired. Check the pin for telltale signs of damage and repair and ensure that it is well constructed.
When buying a vintage pin on eBay it is useful to consider the types available and how to check their condition. eBay has an extensive selection vintage pins, which are easy to find using the website's search features. eBay is packed full of tools that make shopping for vintage pins easy for everyone.
Types of Vintage Pins
Many types of vintage pins can be found on eBay. They are made from different materials and serve different purposes. Some buyers purchase vintage pins to add to a collection, while others buy them as an attractive fashion accessory.
Vintage Hat Pins
A vintage hat pin is a long, thin pin used to secure a hat to the head. The pin is pushed through the hat and is caught in the hair to hold the hat in place. Vintage hat pins have large, decorative heads that can be made from anything, including metal, bakelite, and plastic. The pin itself is usually made of metal.
Vintage Hair Pins
A vintage hair pin is usually a comparatively short pin that helps to hold the hair up and in a desired style. Longer hair pins are also available that are similar to hat pins. Vintage hair pins are often straight with a bauble or decorative head.
Vintage Tie Pins
Vintage tie pins are both decorative and practical: they are designed to keep a tie in place. These short pins are usually made from a variety of metals and have a decorative, but masculine head. Vintage tie pins are considered to be very fashionable and sophisticated.
Vintage Pin Brooches
Vintage pin brooches are small brooches, mainly worn for decoration, although they can also be used to secure parts of an outfit. They can be any shape including round, butterfly, or long and thin, and are often found encrusted in gems or cut glass stones.
Vintage Shawl and Scarf Pins
Shawl and scarf pins are small, delicate, and decorative. They are used to secure the ends of a shawl or scarf together. They have a pin style closing mechanism and are usually made of metal, combined with gemstones, plastic, or bakelite.
Factors to Consider When Buying a Vintage Pin
Purchasing a vintage pin is a matter of personal taste. However, buyers also need to know the factors to consider to make sure that they are purchasing a good quality pin. When buying a vintage pin, buyers should check its condition and construction.
Signs of Wear for a Vintage Pin
As with all vintage jewellery and accessories, some minor wear and tear is to be expected for a vintage pin. A total absence of wear and tear is usually considered to be a sign that the pin is not vintage, as vintage items are likely to have been used during their lifespan. Regardless of the type of pin, light wear, including small scuffs and very minor surface scratches, can be expected on the body. The back and clasp of the pin is also likely to have evidence of wear, where it has rubbed against fabric while in use. Some pins have moderate to significant wear around the fastening mechanism as a result of being opened and closed many times. eBay has many good quality vintage pins of all types, with only minor wear.
Signs of Repair for a Vintage Pin
Buyers purchasing vintage pins are strongly advised to look for signs of repair and restoration. Many vintage pins, particularly delicate pieces, have at some point undergone a form of repair. Repairs should be well hidden. There should be no obvious signs, such as glue emerging from beneath repairs or misaligned adornments that look out of place and ruin the appearance of the pin.
Construction of a Vintage Pin
When buying vintage pins, buyers should check the construction carefully. The pin should feel secure, and all parts, including stones or other adornments, should be well constructed and set properly. There should be no loose parts or obviously weak joints.
Integrity of the Clasp of a Vintage Pin
Many brooch style pins have a variety of different clasps, but some vintage pins have clasps similar those seen on safety pins. The clasp of the pin should be firmly attached to the underside of the item. The mechanism of the pin should open and close easily and fully. Ideally, if the mechanism has a pin bar, the bar should be completely straight. Bent bars can be straightened and manipulated carefully, but a straight bar indicates that the vintage pin has received proper care and attention.
Summary of Factors to Consider When Buying a Vintage Pin
The table below lists the different elements that a buyer should consider when purchasing a vintage pin. This provides buyers with an easy to use guide to selecting a good quality vintage pin.
Factor to Consider

Description

Signs of wear

Minor wear is normal

Minor wear around the clasp

No signs of severe damage

Signs of repair

No obvious signs of repair

No excessive glue

Adornments should be in place

Construction

Well constructed

No weak points

Fits together properly

Integrity of the clasp

Should hold securely

Should not be bent

No corrosion
Using the table above, buyers can identify all of the key areas that they need to examine when purchasing vintage pins on eBay. The table allows buyers to have confidence that they are purchasing a vintage pin in a good condition.
Buying a Vintage Pin on eBay
Buying a vintage pin on eBay is a straightforward process, as the website is exceptionally user friendly, even for inexperienced online shoppers. Using eBay to purchase vintage pins gives buyers access to a diverse range of products. Searching from the eBay homepage by entering a phrase such as, "vintage pins" in the search box, provides a multitude of item, which buyers can browse at their leisure. For buyers who have a clear idea of what they want, detailed information can be included in the search, such as construction material, pin type, and colour. The useful filters provided by eBay can also be used to narrow down the search results by price and condition.
Contacting a Seller
Before confirming a purchase of a vintage pin on eBay, buyers are advised to read the item listing thoroughly, and examine all of the images closely. If a buyer has any questions about the item after this, then they can contact the seller. Most sellers are more than happy to be of assistance by answering any queries and providing additional images, if required. The buyer and seller can communicate with each other directly by using the "Ask a question" link.
Choosing a Seller
When buying a vintage pin on eBay, buyers wish to acquire a top quality product, as well as experiencing outstanding customer service. Looking at the feedback score of a seller before committing to a purchase provides an indication of their reputation. Ideally, buyers should purchase their vintage pins from sellers with a high percentage of positive feedback. These sellers are known within the eBay community for their reliability, and high quality service and products.
Postage and Packaging
If the buyer purchased a valuable or fragile vintage pin, it is advisable to ensure that the seller offers guaranteed delivery with postal insurance that is equal to, or greater than the value of the vintage pins. If this is not clearly stated in the item listing, it is advisable to contact the seller.
Conclusion
Vintage pins are very fashionable and desirable. Many are aesthetically pleasing, with beautiful designs, from simple to extravagant. Pins for hats, hair, ties, shawls and scarves, as well as pin brooches are all available at excellent prices on eBay, many in a good condition. To ensure a high quality of vintage pin is purchased, buyers need to look for signs of significant wear and tear. Minor wear is expected for any vintage item. Buyers should also make sure that the clasp is tight fitting and is not bent. There should be no obvious signs of repair, such as excess glue emerging from between two parts of the pin. Pins such as hat pins and hair pins should have decorative heads that are fitted securely.
Using eBay to shop for vintage pins provides buyers with a vast number of styles, colours, materials, and sizes to choose from. The easy to use website makes buying vintage pins very simple.