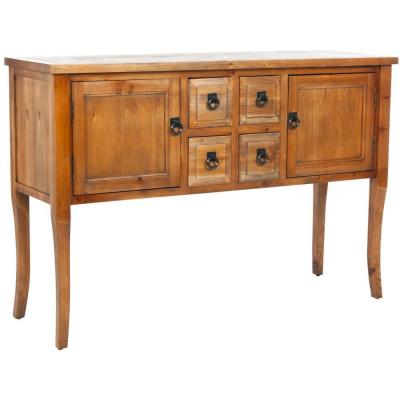 It is amazing how popular vintage sideboards are and how people are always looking to add them as a part of their house furniture. While many may assume that a vintage sideboard is a collector's item and financially out of their reach, it may be a surprise to learn that this is not necessarily the case.
History of Vintage Sideboards
Vintage sideboards first made their appearance in England sometime in the 17th century, but were first used as dressers in houses. However, by the time the 18th century came along, this piece of furniture was shifted to the dining room. Credit for making these sideboards goes to the Swedes, who were responsible for introducing a buffet or a French sideboard during the 16th century. The early designs of vintage sideboards reveal that they were pretty decorative and, people, during those times, used it to display their finest china and silver. It was after the 1770s that twin pedestals were introduced. These too were decorative, but also functional. One pedestal of the sideboard was used to keep plates warm, while the other functioned as a wine cellaret. Many vintage sideboards also have shallow drawers to store napkins, while there are others that have a small cupboard, which was used to keep a chamber pot out of sight. In those times, gentlemen could use the chamber pots, without having to excuse themselves from the dining room or table.
Types of Vintage Sideboards
There are many different types of vintage sideboards, depending on which era they were produced. In fact, there are too many to list down each and every sideboard. However, some of them are described below:
| | |
| --- | --- |
| | This is one of the earliest types of vintage sideboards, and it came with 2 cupboards and plate racks. In addition, there were 4 central drawers. However, the design of a Georgian sideboard can change based on the person who constructed it. |
| William IV Chiffonier | This type of vintage sideboard tends to be extremely decorative to look at, as it was common to add carvings and pilaster to it. The sideboard has two cupboards and also a centre panel. |
| Victorian sideboard | This sideboard can have a concealed drawer along with cupboards and a wine cellaret to keep wine during a meal. |
Design of Vintage Sideboards
When looking at a vintage sideboard, notice that it has a flat surface meant to display food that was going to be served during a meal. The cupboards in the sideboard were meant to store food or wine, along with napkins and cutlery. Some sideboards can have a special compartment known as cellaret, which was meant to keep wine bottles. The design of vintage sideboards made it perfect for people to use them to serve food and also display their silver and china to guests.
How to Buy a Vintage Sideboard?
Being that they are not part of the regular furniture market, the demand for vintage sideboards comes from a specialist market. Remember that a vintage sideboard is a collector's item and not just another piece of nice furniture. Before setting out to buy a vintage sideboard, spend some time thinking about the colour and size. Typically, finding a standard size is not possible, and the colour of the sideboard will depend on the material used to make it. Furthermore, even the height and depth of a vintage sideboard will vary, so make sure that the space where the sideboard will be placed is measured carefully. It makes little sense to purchase a sideboard, only to discover later that it will not fit. Another aspect that should be considered carefully is the design, as some vintage sideboards come just with cabinets, while others come with cabinets as well as shelves and drawers. Vintage sideboards are functional their age and ornate qualities make them ideal additions to a home. Their original colouring means, however, that they may not perfectly match the surrounding colours or decorating scheme in their future home. A contemporary decor, for example, may not be the ideal surroundings to display a vintage sideboard. Therefore, take the decor and style into consideration and then decide on the period of the vintage sideboard to mix and match to enhance the appearance of the room. After having found a prospective vintage sideboard, the following are some points that should be considered before making the final purchase:
| | |
| --- | --- |
| Condition | The vintage sideboard should be inspected thoroughly and all the condition issues must be taken into consideration. If there is damage, consider whether it would be able to repair the damage without causing further problems to the sideboard. |
| Question the seller | Relevant questions pertaining to the vintage sideboard and its condition must be put forward to the seller. At times, it is possible to notice something is amiss and should not hesitate to ask the seller about it. Also, find out how such a pricey piece of item will be shipped, safely. |
| Unfamiliar marks | Check for unfamiliar marks on the vintage sideboard. These marks can often be helpful in determining the actual worth of the sideboard. Sometimes, a seller can inflate or underestimate the value of the sideboard. Therefore, doing homework in advance will help to get a great deal or stay away from a bad one. |
| Vintage or reproduction | The vintage sideboard must be examined carefully. If buying it online, look at the photographs carefully. Most vintage sideboards were hand-planed and this means that they will have some grooves on their surface. If necessary, get an expert on board to view the sideboard and give his authentication. |
| Seller's reputation | While there are genuine and honest sellers, there are few that might not have the required knowledge, especially when it comes to vintage furniture. Therefore, the seller's background should be checked if buying the sideboard from an individual. Be wary of sellers that make unreasonable claims or demands. |
How to Find a Vintage Sideboard on eBay
eBay is one of the best places to buy vintage sideboards, as it is possible to get sideboards from practically any period, and of any style and design. It is possible to buy genuine vintage sideboards through reputable and reliable eBay sellers. Remember that shipping a vintage sideboard is an expensive proposition. Therefore, efforts must be made to buy the product from sellers that are located in the local city or region. Also, ensure that the seller uses blanket-wrap services to ship the sideboard, so that it does not sustain damage during transit. In addition, find out from the seller what the return policy is, just in case a vintage sideboard that was not as per the description on the website is delivered. Searching for a seller on eBay is quite easy. Just entering the Antiques page from the All Categories link on the homepage is the quickest way to begin browsing the many possible options. From here, clicking on the Furniture option would open up different choices. Find the categories listed on the left side of each webpage and this will help locate several vintage sideboard options. Moreover, the search can be narrowed down even further by making use of the Finder option, which will give a list of sideboards based on the style, region, and age. Alternatively, conducting a keyword search by typing in the phrase 'vintage sideboard' into the Search box, and then expanding the results by clicking on Search Title and Description is also a convenient way to search. The fact that buying beautiful and priceless vintage sideboards while sitting at home is so easy is why eBay is one of the preferred online shopping destinations. With the eBay guarantee, ending up being a proud owner of a beautiful vintage sideboard is certain. If all searches on eBay prove to be unfruitful when on the hunt for the perfect vintage sideboard, contact the eBay community and inform them about shopping requirements. This will result in getting emails from some very helpful people, including sellers, and would, most probably, end in finding the sideboard that was always wanted.
Conclusion
When buying a vintage sideboard, the price should not be seen as an investment. Instead, buy a sideboard that suits taste and preference. It goes without saying that a vintage sideboard will appreciate in value with time, but why bother with this aspect when being a true connoisseur of beautiful and old furniture. With eBay, get a great bargain on vintage sideboards after carefully considering all the points mentioned above. Ultimately, owning a vintage sideboard is more than affordable with sites like eBay.