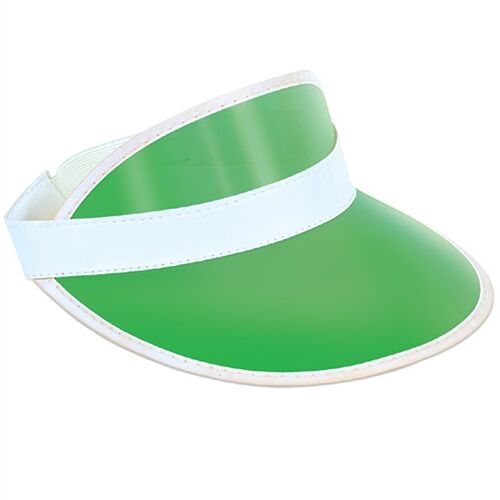 A men's visor is a simple and functional type of hat that shields the wearer's face from the effects of the sun's rays. It also helps to protect the eyes from objects and debris. These hats are crownless and only have a visor, or a brim, and a strap that encircles the wearer's head, keeping the visor securely attached. So, the top of the head is left exposed. Visors are lightweight and easy to pack when going on holiday. They are especially popular among those who engage in outdoor summer sports, such as golf, tennis, and cricket where protection from the sun's bright light helps when spotting the ball. They are also worn for leisurely activities such as lounging by the pool or on the beach.
Visors are available in various sizes, colours, materials, and designs. The visor may be curved or flat, and the strap typically has an adjustable velcro fastener. The strap often doubles as a sweatband, channelling sweat away from the eyes. The front of the visor often has a designer logo. When purchasing a visor at retailers such as eBay, buyers should consider the advantages and disadvantages of this headwear, the various types of materials, and how to select the features of a visor so that they match a man's body type. It is also a good idea to understand how visors are sized and how to reshape their bills, if necessary.
Advantages of Visors
In addition to blocking sunlight and protecting a man's eyes, visors are ideal for men who want to maintain their hairstyle. Unlike a traditional baseball cap, visors do not cover the top of the wearer's head, and therefore, they do not crush the hair.
Disadvantages of Visors
Although their crownless quality can be viewed as a benefit, this can also be characterised as a drawback. The lack of coverage the visor provides to the top of a wearer's head can lead to overexposure on a particularly sunny day. If the man is balding, his head may be susceptible to sunburn if precautionary measures are not taken.
Material for Visors
Visors can be found in a wide array of materials. Deciding which one is best is often a matter of the particular features of the material.
Nylon
Nylon is preferred for its soft, silk-like qualities. It is lightweight, durable, and easy to care for. The material is both stretch and shrink resistant. Nylon visors are hydrophobic, meaning that they expel water. They are also windproof.
Cotton
Cotton fibres tend to get stronger when wet, making cotton visors appropriate beach and pool wear. The material can absorb 20 percent of its weight in water before feeling damp. Cotton is known for absorbing body moisture, which helps to keep the wearer's forehead dry. The material's breathability makes it cooler to wear during the warmer seasons when the sun is beating down overhead. Cotton is soft, which makes it ideal for wearer's with sensitive skin or skin allergies. Cotton visors are machine washable. However, they are prone to shrinking, disfiguration, and fading. Manufacturer's favour this material because it dyes well, allowing visors to be made in a wide array of colours. Cotton is one of the better choices when it comes to visors.
Terry Cloth
Terry cloth is a pile material that is either woven or knitted. The unique weave gives the material its soft, textural appearance. Its high pile loops are able to absorb large amounts of liquid, making terry cloth visors appropriate for men who find themselves sweating on hot days. The loop pile normally remains uncut, but cut versions do exist. Terry cloth is often blended with cotton and can absorb 27 times its own weight in water. Terry cloth is easy to clean and does not shrink with washing. The material is lightweight and withstands repeated wear and laundering. Visors made of other materials may include a terry cloth absorbent sweatband. The loop pile not only acts as a sponge, but also can withstand rubbing, pulling, twisting, and tugging.
Polyester
Polyester is known for its durability and long lasting wear. It is tear resistant and more elastic than cotton. Although these visors are often more affordable, they are less preferred by men due to the lack of the material's breathability. Polyester tends to keep sweat close to the body and does not ventilate as well as cotton.
Visors Based on Body Type
When searching for a visor, buyers should consider how the shape and length of the bill can affect a man's appearance: the visor should always complement a man's body type. The bill of the visor should be in proportion to the man's height. Taller men may opt for a longer bill while a shorter bill best suits shorter men. A man's facial structure also influences the selection. While almost any style of visor flatters a man with an oval shaped face, a man with a long face should consider a visor that has a flatter bill and a large brim. Men with round faces should avoid visors with shorter brims.
Sizing for Visors
Most visors are classified as one-size-fits-all. Alternatively, if the visor is sized according to the head measurement, then men should take the necessary measurements before buying by placing the tape measure around the circumference of the widest part of the head, one inch above the eyebrows. Men can then compare their own measurements to that of a manufacturer's visor size chart. Most visors have a velcro fastener, although other types can be found with elastic, buckle, or plastic adjustable straps. These features allow men to buy a visor that falls within a wide range of their actual head size. High quality visors often come in non-adjustable sizing and are custom fitted to contour to the wearer's head.
Reshaping the Bill of the Visor
The bill of most newly purchased visors are nearly flat, with little bend in them. Specialist shops sell a device that helps to reshape the bill. Alternatively, men can achieve the same results with a few simple household items. To reshape the bill of a visor, men should slightly dampen the material and begin to bend it gradually. Soaking the bill can cause the material to shrink. Men should then place a large ball or other rounded object underneath the bill and secure it in place with a rubber band. It is best to place rubber bands near the front, middle, and back section of the bill so that the material reshapes uniformly. The visor should sit like this for several days before the rubber bands are removed.
How to Buy a Visor on eBay
Shopping for a visor is a straightforward task after buyers have considered the factors needed to a select the perfect accessory. From the eBay homepage, simply enter your search for any type of visor into the search box and a wide variety of results appear, for example, "men's golf visors". Alternatively, buyers can use eBay's advanced search feature. This allows buyers to narrow down results by category, price, or condition. This is also a good tool for buyers who prefer to narrow listings by Top-rated sellers. Read the item listing carefully to find out everything that you need to know about the visor.
Ask a Question
Before completing any purchase on eBay, investigate the seller thoroughly. On eBay, this is simply a matter of reading a seller's feedback comments and checking their rating. Sellers with consistent positive feedback ratings are often classified as Top-rated sellers. These sellers are known for providing high levels of customer service and for dealing fairly in the eBay community. If not all of your questions regarding the visor are answered by the seller's item description, then you are free to use the "Ask a question" feature on the item's listing page. This link is designed to help buyers to communicate effectively with the seller. Most sellers are happy to answer any questions a buyer may have before the item is purchased.
Conclusion
Before buying a visor, it is important to consider the size, material, and features in order to maximise the visor's effectiveness. The visor should comfortably contour to the wearer's head, without hindering his vision. It should still be possible to engage in everyday activities or play sport while wearing the visor. Whether buying a visor for the purpose of shielding the eyes from the sun during a game of golf or for a summer holiday, eBay offers buyers competitive prices designed to fit the limits of any budget. If planning to the wear the visor while participating in water sports, men should consider a material such as terry cloth or cotton, or a material with water repelling qualities. The bill length differs between manufacturer's, so men should take this into account when choosing a style. The bill length can also alter the appearance of a man's body type and face: the length should always be proportionate to a man's stature. eBay has a wide selection of men's visors.