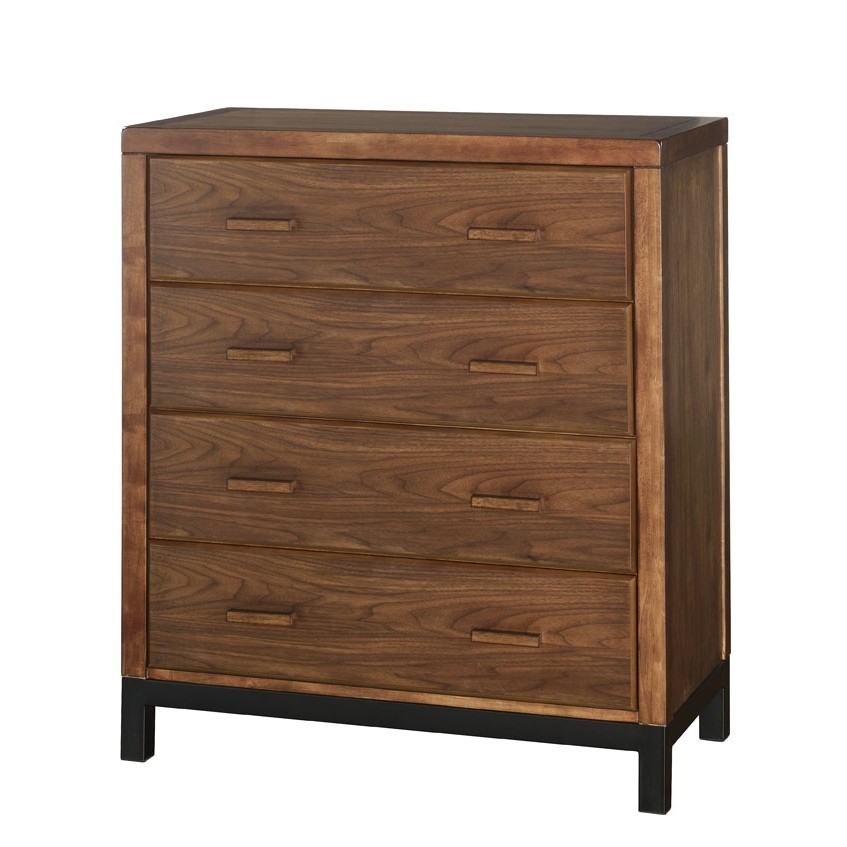 A chest of drawers comes in many different shapes and sizes and has many different names, including a dresser and bureau. Essentially, a chest of drawers is a piece of furniture that has horizontal drawers stacked on top of each other. Even though a chest of drawers, a dresser, and a bureau are commonly mistaken for each other, they do have subtle differences. A dresser usually has drawers and space for a mirror on top that the consumer can use while getting ready, a bureau is essentially the same as a dresser, and a chest of draws is traditionally a waist high cupboard with five to seven horizontal drawers. There is no mirror attached to a chest of drawers.
Traditionally, chest of drawers were used for storing clothing like underwear, and socks, or other items not commonly hung in a wardrobe. It can be as plain or as ornate as the consumer prefers. The information provided is designed to help consumers purchase a walnut chest of drawers that is practical and suits their needs. It explains what to look for in the material used to make the chest of drawers in terms of quality wood and construction as well as tips on the finish.
How to Choose a Quality Chest of Drawers
Typically, a chest of drawers is made from wood, and consumers need to know how to go about checking the quality of this piece of furniture. If they can learn to judge quality by determining the wood used to make the chest of drawers, the finish of the item, and how the chest of drawers was constructed, then they can find a good quality chest of drawers that will last a long time at a reasonable price.
Wood
The type of wood used to make a chest of drawers has a lot of bearing on how long that chest of drawers can last. There are three types of wood: hardwood, softwood, and engineered wood. A quality piece of furniture is typically made from hardwood, coming from deciduous trees like walnut, oak, mahogany, maple, teak, birch, or cherry. The wood is then air and kiln dried to remove any moisture.
Softwood is produced from pine, fir, redwood, and cedar. It does produce good quality furniture, but it is not as durable and is more easily dented or scratched. Unfortunately, modern furniture is no longer constructed from entirely wood and usually includes plywood or engineered wood due to the added strength, which helps prevent splitting or warping. If combined with a high quality veneer, the furniture of today can be highly attractive and long-lasting.
Construction
The way a chest of drawers is constructed contributes to its functionality, its durability; and in some cases, its appearance. Two of the oldest ways to construct a good quality piece of furniture are dovetails mortise and tenon. These two ways of fastening wood together provide strength and are the best looking joints; therefore, they produce aesthetically pleasing furniture. A good joint may have dowel or screws, but it should never be stapled or have glue showing outside the joint. On the inside of each drawer, there should be a block in each corner. This is only visible from the inside and is bolted to each side of the interior corners to add strength. A well-constructed walnut chest of drawers has the same quality workmanship on the back and inconspicuous areas as well as on the front and more visible areas.
The drawers need to fit well and be on guides; they should not stick or jam, and they should have stoppers to prevent the drawers from sliding out. Check the sturdiness of the chest of drawers by giving it a gentle nudge. If it rocks, twists, squeaks, wobbles, or is not level with the floor, then this is a piece of furniture of lesser quality and should be avoided.
Finish
A good chest of drawers should have a quality finish, which involves sanding, staining, and finishing. Below are some tips to help consumers determine what an overall good finish is.
Sanding
Sanding is the first step in the finishing process and probably the most important. A good quality walnut chest of drawers should be smooth with no rough patches. If the sanding is done against the wood grain instead of with it, the piece may look unattractive and may have dark lines or scratches across the surface. A poorly sanded item does not evenly soak up the stain either, so make sure to check the item from every angle.
Stain
A good stain enhances the natural beauty of the wood whilst adding colour. It can make a piece of pine look like walnut or make two pieces of wood look similar. A high quality stain leaves an even finish with no dark spots. All sides and ends should be the same tone. If a buyer is purchasing a chest of drawers made from walnut, then a clear stain is the best as this brings out the wood's natural colour. If walnut is the preferred colouring, but the chest of drawers is made from another type of wood, there are stains that can produce a walnut colour, giving the illusion that it is made from walnut.
Finish
The finish on a wooden piece of furniture can be a high gloss or matte. A high quality finish is smooth and free from rough spots, dust specs, or bubbles. Depth and richness results from adding multiple coats of either matte or high gloss finish with a light sanding in between coats. This is also another important step in the finishing process.
Affordability
A good walnut chest of drawers can be relatively expensive. If buyers are on a budget, they can consider purchasing one made from softwood like pine and have it stained walnut. Although softwoods are more easily damaged as mentioned above, they can still be very good pieces of furniture. Alternatively, eBay has a great range of quality walnut chest of drawers for sale at affordable prices.
Chest of Drawers Placement
Modern times have seen the chest of drawers evolve from just a piece of bedroom furniture to a piece of furniture that can be used in all rooms. A chest of drawers can be used in the lounge room as an entertainment cabinet or in a bathroom or laundry for extra storage. With some imagination, the possibilities are endless. One of the first steps is to determine the chest of drawers' function. From here, size and room placement can be determined. The wrong placement of a chest of drawers in a room can make the room look cluttered and untidy, or if the chest of drawers is too small, the room can end up looking sparse and homely. The right sized chest of drawers with the correct placement in a room can give the space a whole new lease of life.
Buy a Walnut Chest of Drawers on eBay
eBay has a great selection of walnut chest of drawers for sale both new and used. As there is an abundance of walnut chest of drawers available, the best place to start is with a keyword search. This helps minimise the number of items you have to look through. If you are looking for an antique walnut chest of drawers you would use the previous words as your keyword search. eBay then displays all of the matching items for you in the search results. Once you have found an item or items of interest, you may need to contact the seller. One of the most important things to obtain from the seller is as many pictures of the chest of drawers as possible. You should get pictures of the front, back and sides, and of any damage the seller may have mentioned in their advertisement.
If you are buying internationally, check not only with the seller but also with customs as well to make sure the item is allowed. Depending on the item's age and possibility of carrying wood worms, it may not be allowed entry. Other things to consider are delivery time, shipping costs, and a return policy in case your item arrives damaged.
Conclusion
Choosing the right walnut chest of drawers can be a difficult task. One of the most important things to keep in mind is that the construction of the item is paramount for longevity and functionality. Following that is size. Where in the room is the walnut chest of drawers to be placed? What room is the chest of drawers going into? These are all questions that should have an answer before purchasing the item. The walnut chest of drawers can be a stand out piece of furniture in a dining room or a hallway but that can only be so if it fits in the space provided in terms of décor and placement. Another thing to consider is whether the chest of drawers can fit through hallways or up the stairs to get to its final destination. Once all of these questions have been answered it is relatively easy to find the perfect walnut chest of drawers.