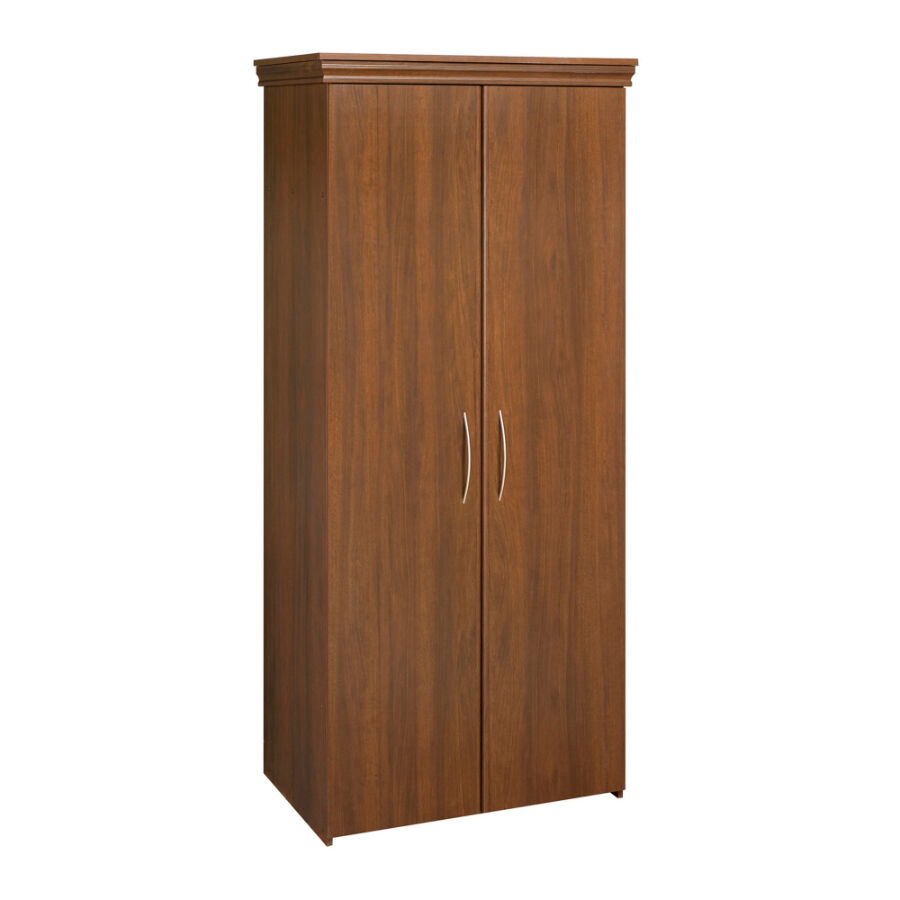 A wardrobe is a common piece of bedroom furniture, and consumers are starting to see a wardrobe's versatility. It is steadily becoming a piece of furniture found in other rooms, such as dining rooms, bathrooms, and hallways. A wardrobe comes in a variety of different sizes with the most common two being single door and double door wardrobes. The height and depth of a wardrobe varies with each individual wardrobe. The most common depth of a wardrobe is 650 millimetres. With more and more consumers investing in wardrobes, a good quality wardrobe can be harder to come by.
Most wardrobes purchased are freestanding wardrobes, which means they can be moved around if required. It also means that size is a very important consideration. With eBay, there are endless opportunities to purchase the perfect walnut wardrobe. If consumers consider the material of the wardrobe and the style, they should be able to confidently select the correct wardrobe for their needs and budget.
Walnut Wardrobe Materials
Wardrobes are made from three main types of wood: hardwood, softwood, and engineered wood. A hardwood is usually constructed better and therefore more expensive. A hardwood is just that, a hard wood, which means it does not damage as easily. It can still get dents and scratches, but overall, a hardwood holds up better than others. Furniture made from hardwoods is typically more expensive due to the quality of the wood and therefore the longevity of the item. Walnut is a hardwood, so if money is not as big of a concern, a 100 percent walnut wardrobe can be purchased on eBay.
If money is an issue, then a wardrobe made from softwood like pine or redwood can be stained with a walnut stain to give the wardrobe the preferred colour finish. As softwood is more inclined to dent or scratch easily, more care is necessary. Furthermore, engineered wood or man-made wood is usually used in flat pack products, but like the softwood, it can be stained a walnut colour to have the preferred walnut finish. Lastly, engineered wood is generally stronger than softwoods.
Choosing the Best Freestanding Walnut Wardrobe
The best freestanding walnut wardrobe depends on the needs and style of the consumer as well as on the wardrobe system that is to be created. There are many factors a consumer must consider before buying a freestanding walnut wardrobe. First, will the freestanding walnut wardrobe accommodate the items it is required to store and is it required to hold clothes for one or two people? Is it going in a different part of the house to hold linen, crafts, crockery, or is it to be used as an entertainment unit? As a consumer once this decision has been made, it will be easier to determine the size.
Also, the consumer should consider the available space for the wardrobe. As a freestanding wardrobe is not built into the room, it needs to look like it belongs in the room. If measurements are not taken or they are taken incorrectly, the freestanding wardrobe can look out of place and awkward. Consideration needs to be given to the other interior décor. There is no point purchasing an antique walnut wardrobe if the other decor is more modern or contemporary. With some imagination a walnut wardrobe can look great with what some people would call mismatched furniture. The consumer really needs to have experience with this styling before giving it a go. A freestanding wardrobe can look quite elegant when it is paired with the right furniture in the right setting.
Freestanding Walnut Wardrobe Styles
Typically, a freestanding wardrobe is a single door wardrobe or a double door wardrobe with the single wardrobes being significantly smaller than the doubles. The double door wardrobes are the most popular, especially with people who have limited storage options.
Single Door Wardrobes
A single door wardrobe is great for children or a single person as it can hold the clothes of one person, but it does not have enough space to hold two people's clothes. This type of wardrobe is also great as an extra linen cupboard or pantry. A single door wardrobe is not typically a built-in piece of furniture and can be utilised in many different areas of the house.
Double Door Wardrobes
A double door wardrobe is a large item of furniture with enough room to store clothes for two adults. Double door wardrobes have an abundance of storage versatility and are commonly used in the dining room to store linen, cutlery, and plates, as freestanding closets in hallways and bathrooms, as well as a double wardrobe in a bedroom. As it is quite large, it is more suited to storing larger items or large quantities of items.
How to Mix Wood Furniture Finishes
Most consumers believe that pieces furniture have to match. Some of the most appealing and interesting styled rooms come from matching wood tones. One way to tie in a walnut wardrobe is to look at the wood grain and identify the tones in the wood. There might be hints of red or dark chocolate. Whatever tone is detected can be matched to other furniture in the room.
Make one piece of furniture the focal point in the room. As the wardrobe may be the largest item, it can have an impressive impact, so surround it with items that are a contrasting colour. A room should always be balanced, so the colours that are on one side of the room should be the same as on the other side of the room. This grounds the space and allows other pieces of furniture to have a brighter or deeper contrast.
Walnut Wardrobe Size
Just because a single door wardrobe is smaller than a double door wardrobe does not mean that all single door or all double door wardrobes are the same size. The sizes vary between wardrobes in each category. To find the best fitting freestanding wardrobe, these size differences have to be acknowledged. Single and double door wardrobes vary in both height and width. Due to these variations, there are no common sizes to use as a guide. The best thing to do is measure the space available, decide whether single or double door is required, and start searching from there.
Do not forget to allow for the skirting boards, sloping ceilings, or any other ceiling differences that may affect how the wardrobe fits into place. Another thing to consider is any stairways that the walnut wardrobe may have to ascend or descend as well as any narrow hallways.
How to Buy a Walnut Wardrobe on eBay
Great deals can be had everywhere on eBay, whether you want to take part in an auction or buy something at a fixed price. You can even take part in an auction style listing to win the perfect item. Every day eBay sellers offer items for sale around the world, so you are not limited to making a purchase in your immediate area, which opens up a lot more possibilities. eBay can seem a bit daunting at first with so many products available for sale. Where does the consumer start? How does a consumer even begin to sift through all the information? The four main things to consider when purchasing an item on eBay are to find the desired item, learn about it, review the seller's feedback, and make the purchase.
To find a walnut wardrobe on eBay, perform a keyword search. This search can be as broad or as narrow as you like, e.g., walnut wardrobe or antique walnut wardrobe. All items matching your search will be displayed. Then, to learn more about an item, read the description carefully. If you have any unanswered questions, ask the seller for more information. Also, be sure to look through the seller's feedback. Read what other people have written and see if they were happy with the seller's service. This ensures that all eBay users engage with trustworthy sellers. Finally, once you have completed all of this, you are ready to finalise the payment and purchase the item.
Conclusion
With so many options available on eBay, there is something to be had for everyone. Whether it is a double door or single door wardrobe size is important. There is no standard wardrobe size, so taking the correct measurements is important. Wooden furniture can be matched with everything, even wooden furniture of a different colour. When buying products off of eBay, a great habit to get into is using all of the various features and search tools to make the search a quick and easy process.
In addition, budget and the quality of the item go hand in hand. Hardwood products are generally more expensive than other products on the market. Expensive does not always mean it is well-constructed; therefore, conducting thorough research of the wardrobe helps the consumer find the best quality wardrobe at the best price. Following the steps in this guide ensures an enjoyable eBay buying experience.