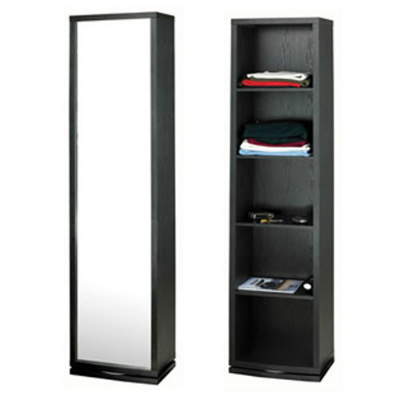 A wardrobe is also known as an armoire. It refers to any large stand-alone cupboard used for storage. As the name suggests, an armoire was originally used to house weapons before they become storage for clothes and the wardrobe we know today. There are still many people who think that a wardrobe is old-fashioned; however, these days there are many modern wardrobes with mirrors that not only steal the show but have the ability to totally transform a room. The majority of the population owns a wardrobe whether it is built-in or freestanding. It is a standard piece of furniture for every household.
A wardrobe with mirrors is ideal for a small room because when it is placed opposite a large window or glass door, it brings the outside in, giving the room a larger feel. A mirrored wardrobe is not restricted to just sliding doors. It can have mirrored doors that open and shut, or it can have two large cupboards on either side with a mirror in the middle. Knowing about the different styles and looks of a wardrobe with mirrors ensures a buyer makes an informed decision for their next mirrored wardrobe purchase.
Original Wardrobes with Mirrors
Original wardrobes with mirrors would have had the mirror in the centre with doors on either side. These wardrobes would have been freestanding wardrobes made from wood. They are also available as single door wardrobes, but those are less popular. Over time these wardrobes with mirrors moved into the sliding door phase. Sliding doors were quite heavy, and unless they were placed on a solid foundation, wooden floors were known to warp under the strain. There was not much choice for the consumer when it came to purchasing a wardrobe of this type. The majority had floor to ceiling glass sliding doors with a garish gold or silver border. As time went on, these borders eventually became more subtle, and a wider range of colours like beige, cream, and white became available.
Modern Wardrobes with Mirrors
Frameless glass sliding doors are a relatively new product on the market, but now the consumer has multiple options to be creative. These glass sliding wardrobe doors are sleek and innovative and can come in just about any colour that the consumer wants. This means that consumers can now blend their wardrobe into the walls or make it the main feature of the room.
The vibrancy of the colours can create a visually striking feature in any room. These doors also could have a pattern or theme on them. The pattern is completely the consumer's choice as the glass is engraved with whatever is requested. This is a great way to personalise a wardrobe. Why not put one of these wardrobes in a lounge room for an entertainment unit or in a hallway as a linen closet. Just because it is called a wardrobe does not mean it is not versatile enough to lend its hand to something else.
Freestanding Wardrobes with Mirrors
The most common wardrobes with mirrors are the older wooden wardrobes that have the mirror in the centre of two doors. These wardrobes have an abundance of character and look great in the right setting. The most important thing to consider is the size of these wardrobes. There needs to be adequate space to move the wardrobe as well as enough space for the wardrobe once it is in the proper room. The benefit of a freestanding wardrobe is that it allows flexibility in a room. Furniture can be moved around without having to base the layout on the position of the wardrobe.
If purchasing a wardrobe, try to leave it in the sun for a few hours before moving it into the house. This allows the wood pores to open and release any minor odours in the wood. Also, structural integrity is very important in wooden furniture. If purchasing online, ask for as many photos and as much information as possible before making a decision. If purchasing from a store, there are some things that can be done to make sure the wardrobe is of good quality. Check that there are no staples or excess glue on the joints. Lean on the wardrobe. If it twists, squeaks, or wobbles, then it is not structurally sound. Lastly, make sure the item is parallel to the floor. Furthermore, a freestanding wardrobe could even be used as a linen closet or entertainment unit.
Built-In Wardrobes with Mirrors
Considering the wardrobe is probably the largest item in the room, it not only needs to be functional, but it also needs to be aesthetically pleasing as well. Floor to ceiling sliding wardrobe doors are a cost effective, space saving solution for any home, thereby making them one of the most popular styles. They provide a clean, minimalist, fashionable finish that can look stunning in any room. Not only does a wardrobe with floor to ceiling mirrors give the room a bigger feel, it also allows consumers to see themselves from head to toe while getting ready. Getting the preferred look depends on getting the right finish to match the room décor. There are two main styles: contemporary and classic.
The Contemporary Look
The contemporary look is minimalist and modern. These wardrobes have been designed with urban living in mind. The contemporary look is achieved by combining clean simple lines with a stylish wood effect and mirrored glass.
The Classic Look
This look creates a classic appearance by pairing a full length mirrored door with an oak effect or white décor panel. This look creates simple, underestimated charm while adding an air of sophistication that compliments any traditionally influenced room.
Interior Storage
The interior storage of a wardrobe is just as versatile as the wardrobe itself. There is an abundance of interior storage options available for wardrobes involving hanging space, shelves, and drawers, but how these options are combined can be quite individualised. For example, if the wardrobe is to be used to store linen or crockery, there might be more shelves and drawers and less hanging space. Additionally, if it is to be used as extra storage for cleaning items, there may be more hanging space providing room for a mop or vacuum and less shelves or drawers.
Wardrobe with Mirrors Sizing
Consider the size of the room that the wardrobe is going into. The ideal depth of a wardrobe is 650 millimetres. This helps prevent wider clothing from getting stuck in the doors. Large wardrobes take up a lot of space, and most consumers fail to measure for every possibility. Make sure when the doors open fully they do not hit light fixtures, other furniture, or doorways. When choosing the right size wardrobe, measure both the width and height. If the wardrobe is going into an older house with decorative cornices, a shorter wardrobe is best. If the ceiling slopes, again a shorter wardrobe is more beneficial. For cathedral-like, taller ceilings, the wardrobe can be as tall or short as the consumer prefers as long as it fits.
Purchasing Wardrobes with Mirrors on eBay
eBay is a great place to find wardrobes with mirrors that you may not be able to find in your local area. As a worldwide company, eBay provides its consumers access to multitudes of new and used items. Making a purchase is extremely easy if you know the basics. Start off by conducting a keyword search. In this instance you might use wardrobes with mirrors or wardrobes with mirrored sliding doors as your keywords.
Once eBay has displayed all the items that match the search, scroll through the items and pick the ones you like. The next step is to do learn as much as you can about the item. Request pictures from every angle of the wardrobe, and always try to find out if the seller has a return policy just in case the item arrives damaged.
If you are considering purchasing a damaged piece of furniture, ask for photos of the damaged area. Photos should be taken of all sides, including inconspicuous areas like the back and bottom. Before committing to buying the item, look into the seller's feedback. Other people may have left comments about their experiences with this person. Once you are confidant you have found the right product and seller, finalise the transaction.
Conclusion
The internal layout of a wardrobe is just as important as the external features. Wardrobes can have as much or as little hanging space, shelves, or drawers as the consumer likes. If purchasing an antique wardrobe with mirrors, shelving can be added if it is not already there. The look of the wardrobe comes down to individual taste. Do not be deterred from an item just because it may be the wrong colour. There are many ways around this. If done correctly, different wood colours can look fantastic in the same room. In any case, it could even be sanded back and stained a different colour.
Obviously, size is of great importance, so the measurements should be carefully taken so the wardrobe fits properly. All in all, wardrobes with mirrors are great household furniture pieces that provide the consumer with so many possibilities, regardless of if they are built-in, freestanding, antique, or modern.