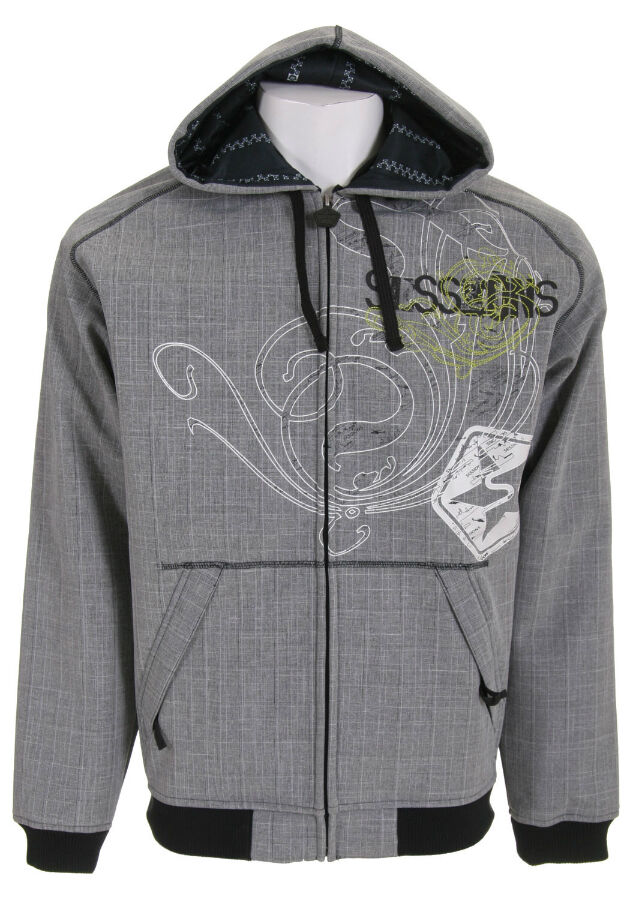 A hooded sweatshirt, often referred to as a hoodie, is a great autumn and winter alternative to a jacket. Nearly all hoodies are long sleeved, but a few clothing companies make fashion forward short sleeved and sleeveless hoodies. Although hoodies are not as dressy as most jackets, blazers, or other winter coats, they are both casual and comfortable and easy to pair with jeans, skirts, and other casual bottoms. Hoodies come in an array of fits; some are designed to fit snuggly, while others are baggy. Unisex hoodies tend to be on the larger side, and ones tailored to fit women have tapered bodies and sleeves. Hoodies are available in plain solid colours, screened, embroidered, beaded, or studded. In addition to choosing the correct size, women also must choose between a zip up or a pullover. Ladies can keep warm this winter by purchasing a hoodie from department stores, boutique shops, designer websites, and online marketplaces such as eBay.
About Warm Hoodies
Women in search of a casual way to keep warm during winter months undoubtedly love wearing hoodies. Hoodies might refer to any type of hooded sweatshirt, but, like T-shirts, there are limitless options available to women. They are made by nearly every major label, and come in a spectrum of colours, sizes, fits, and designs. No matter what a woman's fashion preferences are, there is a hoodie made for her. Hoodies come with and without zips, pockets, or drawstrings around the hood; they come in heavy-, mid-, and lightweight options. Some are cropped, fitted, elongated, screenprinted, or embroidered. DIY and crafty women may want to buy a plain hoodie and design their own.
Shoppers can buy hoodies from name brand companies such as Abercrombie or Victoria's Secret. They can support their student union by purchasing a uni themed hoodie. Clothing manufacturers make hoodies screened and embroidered with popular movies, fictional or historical characters, band names, local businesses, and more. One increasingly popular trend is the hoodie that zips all the way to the top of the hood. Completely zipping the hood reveals a playful design such as an animal or cartoonish character; there are typically eye and breathing holes incorporated into the design. Although completely zipping up the hood will keep the wearer warm, these types of hoodies are often not school appropriate.
Types of Hoodies
Women have several types of hoodies available to them, most should keep them warm. Thick hoodies layered with a sweater or long sleeve shirt will keep most women toasty and comfortable in cold temperatures. Women will have to decide between two main styles: zip ups or pullovers. When compared to similar pullovers, zip ups are usually more expensive. Although regular cotton hoodies can warm up most women, the best and warmest are either fleece or fur lined. Women shopping for warm hoodies will come across various "fur lined" options, but most of them are faux fur. Below are more detailed descriptions of various types of hoodies.
Zip Up
Zip up hoodies refer to any hoodie that has a zip running down the front of it. Most zips stop at the collar, but some have zips that go to the the top of the hood. Zip up hoodies come in a variety of lengths, and are favoured by women because they are so easy to take off and put on. They often have tapered arms and sides to fit a woman's body. These types of hoodies often have two front pockets, one on each side of the zipper for small items and keeping hands warm.
Pullovers
Pullover hoodies are the alternative to zip ups. Pullovers have no zip, but instead women pull them over their head, sometimes messing up their hair and makeup. They generally fit more loosely than zip ups; arms and sides are typically less tapered. Pullover hoodies will have either no pockets or a single pocket with an opening on each side.
Faux Fur and Fleece Lined Hoodies
Fur lined hoodies are generally not made of real fur, but synthetic materials such as cotton or polyester. Some hoodies have "fur" lining in the whole jacket, including the hood and sleeves, others line only the body. They are trendy in colder climates, and often more expensive than regular cotton hoodies. Although women should check the label before washing their hoodie, most fur lined ones are machine washable.
Fleece has been used to keep women warm with scarves and blankets for decades, so it is no surprise they are a popular option for hoodies. Fleece hoodies are lined with a polyester blend, and this special blend traps in warmth. Both faux fur and fleece lined hoodies are the best options for women who want to purchase a warm hoodie.
Tips for Finding a Warm Hoodie That Fits
When buying a hoodie, women have several decisions to make beyond the style, colour, and brand. It is always a good idea to have at least a black or brown hoodie on hand to match with nearly every outfit. If living in a consistently cool climate, women are going to want several hoodies in their closet. The colder the temperature, the heavier the hoodie should be. Lightweight hoodies are ideal on brisk days when warmth is not essential. Having other neutral colours such as navy, grey, or beige make for great matching pieces, and fun colours such as turquoise, red, or purple can liven up any wardrobe.
In addition to choosing a hoodie's colour, women must also buy one that fits. Although most clothing companies size their hoodies as small, medium, or large, not all sizes fit the same; some brands are notorious for running small, while others are known for being large. The hoodie should fit comfortably at the shoulders and should not pinch at the armpits. Hoodies that feel too tight probably are.
Before buying a hoodie, women should research several brands to see how they fit. Women's hoodies are available in three distinct lengths: cropped, regular, and long. The bottom of a cropped hoodies rest at the top of the trousers or skirt. Regular length ones fall at the hips, and long hoodies stretch below the hips and are typically zip ups. Women should also consider how many layers they will be wearing under the hoodie. Women only wearing a shirt under their hoodies can buy snug fitting ones, but if it will be layered with shirts and a sweater, they may want to buy the next size up or choose a unisex sized hoodie.
How to Buy a Warm Hoodie on eBay
After you have an idea of the colour, size, brand or style of hoodie you are looking for, you are ready to start your search on eBay. Be sure to check out eBay's auctions and sellers' shops to see a comprehensive look at all hoodies. Type in "women's hoodies" into the search bar to see all of eBay's results. Include keywords to narrow down the scope of your search. For example, "small black hoodie" or "Roxy fleece hoodie" are two searches that will yield specific items. Check out eBay's Search Tips pages for even more suggestions for optimising your results.
With so many hoodies available for purchase, the list of possibilities are endless and can be overwhelming for some. Fortunately, eBay allows shoppers to custom sort results by the priorities that matter most. Women can arrange hoodies by lowest to highest price to find the best deals; eBay even factors in shipping costs to ensure shoppers are getting the absolute lowest price. Shoppers can also sort hoodies by highest to lowest price, distance from seller, and time left in auction.
When you find a warm hoodie that fits both your style and budget, there are a few more pieces of information to research before making a bid or purchase. Read the complete listing, including the terms and conditions, to understand what you are buying. If you need clarification on any part of the listing, do not hesitate to Ask a Question to the seller. If you are interested in a used hoodie, make sure it is free of rips, stains, strange smells, broken zips, and other damages.
The last step to take before buying a warm hoodie is looking into the seller's history on eBay to see how he has handled past business. Only buy from sellers with high approval ratings and positive feedback comments. eBay awards sellers with a long-standing reputation of excellent customer service with top rated seller status. See if your seller is top rated by the designating icon next to the username.
Conclusion
Women can stay warm during colder months with a hoodie. Available in nearly every colour and in a variety of cuts, hoodies are a staple in every woman's winter wardrobe. Women can buy hoodies in either designer or off brand labels, and typically more pricey hoodies are of better quality. Women usually have a preference when it comes to choosing between a pullover or zip up; pullovers are less expensive, but putting it on and taking it off can mess up hair and smear makeup. Hoodies are great to throw on to run errands and keep warm, and although some are fashionable, they do not have the ability to dress up outfits the way jackets and other coats can. Fleece and faux fur lined hoodies, are ideal for keeping wearers warm. Ladies can find an extensive collection of warm hoodies at department stores, apparel shops, boutique websites, and online auctions such as eBay.