Besides the bride, the wedding cake gets more attention and photos than any other part of the wedding, and it deserves a beautiful cake stand to show it off. The right stand depends mostly on the design of the cake and other wedding desserts. A small cake looks good on a simple, footed stand, but numerous elaborate options exist for displaying large, multi-tier cakes.
A Cake Stand to Keep
Many brides want their wedding cake stands to become part of their home entertaining essentials. A footed glass cake stand, with or without lacy silver edging, is probably what they have in mind, and this kind of stand works well with a small cake. A tall cake is probably too top-heavy for this kind of stand. Large cakes require stands appropriate for their sizes and designs. When the wedding cake is too large, the happy couple can always serve a small groom's cake on a footed stand.
Stands to Fit the Size and Shape of the Cake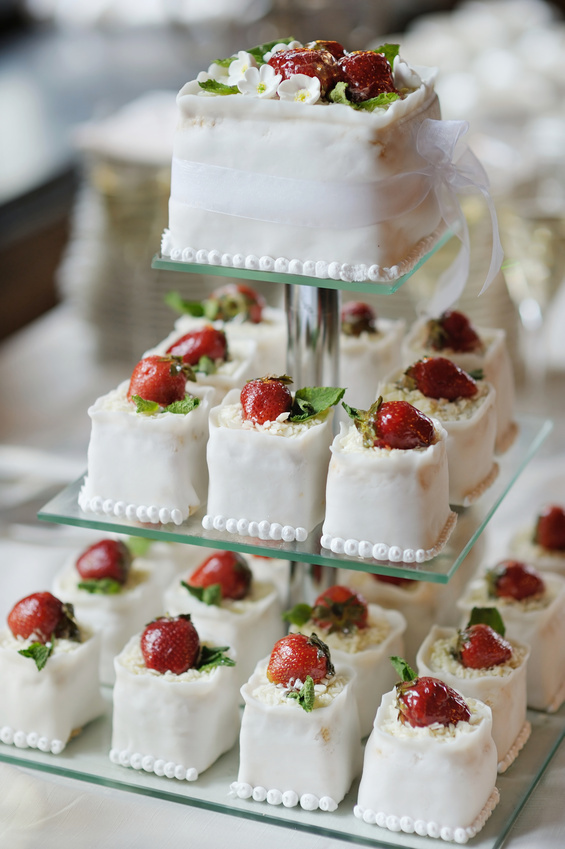 Size and shape play key roles in determining the type of cake stand to use. A round cake requires a round stand, and the lowest level of the stand must be larger than the diameter of the bottom tier of the cake. The stand must remain securely upright when cutting the cake and when admiring guests at the reception accidentally bump the dessert table. Pedestal-type stands suffice for small cakes, but many caterers require more stable stands for large cakes to prevent tipping.
Cake Stands that Complement the Wedding Cake's Design

Many wedding cakes are for particular types of stands. Metal or acrylic cake stands support floating tiers that appear to rest in thin air. A two-tier cake stand, three-tier cake stand, or any multi-tier cake stand may support tiers of similar sizes or different sizes. Some acrylic stands allow for the use of flowers or other items related to the wedding's theme to fill the base or central pillar support. Brides should consult with the caterer or baker before purchasing cake stands to ensure the stands, cakes, and themes all match.
Alternative Dessert Displays
To accommodate diverse tastes and for sheer fun, many brides provide tiered displays of cupcakes and other sweets in lieu of the traditional bride's cake. These look lovely on vintage cake stands or contemporary cupcake stands. Vintage stands usually feature no more than three plates, while contemporary displays may have many more. In some cases, a crafty friend could make custom cake stands using cake stand fittings and sturdy round objects, or a wedding with a rock and roll theme could use old vinyl records as the 'platters' for the cupcakes.