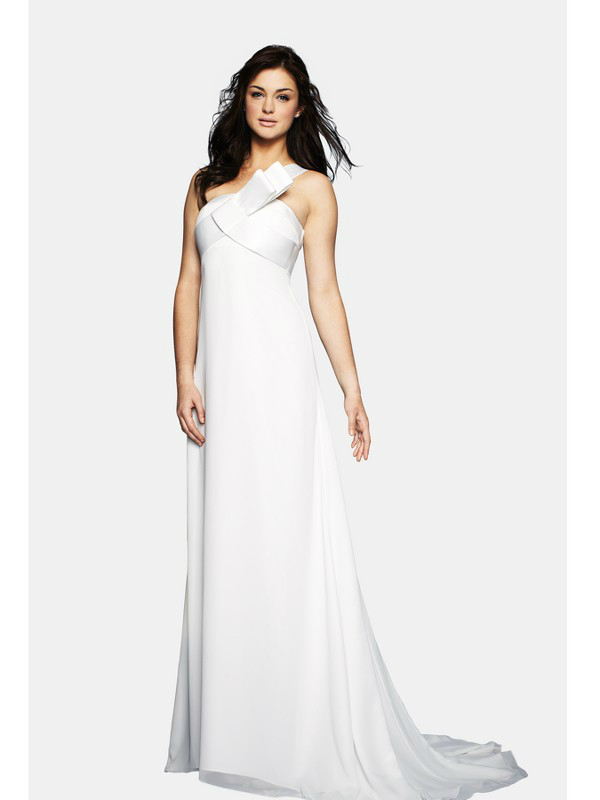 The wedding dress is the epitome of any girl's dream and this is why it should be one of the first things to consider when planning a wedding. Choosing the ideal wedding dress is a difficult decision because there are numerous styles available in a variety of colours and fabrics. When one is on a budget, the decision may be even more difficult.
It is best to start looking for a wedding dress about twelve months before the big day. Thus, brides can take their time to browse through a large selection of wedding dresses, both in stores and online. When buying a wedding dress on a budget, it is important to set the budget beforehand and stick to it because it is easy to crack it at the beauty of some models. Obviously, there are wedding dresses available for all tastes and buyers should be informed about different styles in order to purchase a dress that is consistent with the reception venue and the theme of the wedding.
Tips for Buying a Wedding Dress on a Budget
Contrary to popular belief, it is possible to save money when choosing a wedding dress and in fact there are more than a few ways to do so. There are plenty of wedding dresses that can be bought at down-to-earth prices, so brides should arm themselves with patience and use their creativity in order to find the dress of their dreams with a price tag that will not ruin their budget.
Buying a Wedding Dress Online
This is perhaps the easiest way to find a great deal on a high-quality wedding dress. The number of wedding dresses one can buy online is truly amazing and there should not be any problems in discovering a style that meets all the requirements of a bride. Brides can choose from branded wedding dresses created by designers or go for independent shops that sell wedding gowns on eBay. Buying a wedding gown on eBay does not necessarily mean second hand because there are plenty of discount and independent bridal shops that have stores on eBay. Great deals are available online for brides who do not mind wearing a designer dress from a past collection.
Buying Non-Traditional Wedding Dresses
Another way to save money on a wedding dress is opting for a non-traditional style or colour. Even though this may seem odd to certain family members, wearing a non-traditional wedding gown could be quite fun. Moreover, brides who choose to ignore tradition can actually save a lot of money. Some alternatives to traditional white wedding dresses include royal purple, crimson, and sapphire blue. By keeping the options open when it comes to the colour of the wedding dress, brides can find it a lot easier to find a gown that stays within the budget and actually match the wedding décor.
Buying Vintage Wedding Dresses
Choosing a vintage wedding dress is another idea for saving some money when shopping for wedding gowns. As the retro trend has made quite a comeback in the recent years, opting for a vintage wedding dress may add a unique and sophisticated touch to your wedding. Brides can easily find vintage dresses online, with websites such as eBay offering a wide range of such gown in all styles, colours, and sizes.
Inexpensive Wedding Dresses Styles
Brides on a budget have plenty of options when it comes to the style of their wedding dress. Buyers should keep in mind that some styles are cheaper than others. For instance, a wedding dress with a long trail is significantly more expensive than a simple empire dress. The section below illustrates some of the cheapest styles of wedding dresses available in high-street shops and online, including on eBay.
Column
Column wedding dresses run straight from the top of the shoulders to the floor and sometimes they have a small trail. These dresses can have one or two straps but can also be strapless. These wedding dresses are suitable for petite women, as they may make them appear taller. As they do not hug the wearer's curves, column wedding dresses are ideal for women with a slender or an hourglass figure.
A-Line
Also known as princess-style wedding dresses, A-line wedding gowns are usually strapless and are tight on the bust, becoming wider to the hem. Many dress models include accessories to accentuate the waist. A-line dresses are perfect for brides who wish to draw attention away from their hips. They are thus ideal for women that have the body shape of a rectangle, inverted triangle, hourglass, or pear.
Trumpet
These dresses are also referred to as 'mermaid dresses' because their shape resembles the tail of a mermaid. Trumpet wedding dresses are overall tight and in most of the cases are strapless. Trumpet wedding dresses are ideal for women who wish to accentuate their curves. These dresses are flattering for brides with an hourglass or a rectangle-shaped figure. Petite women, however, should avoid this style, as it may make them appear shorter than they are.
Empire
The main characteristic of an empire wedding dress is the high waistline right under the bust, with the rest of the dress falling to the floor. Empire wedding dresses can be strapless or feature one or two straps. Empire wedding dresses are ideal for brides with an hourglass, pear-shaped, or inverted triangle body shape. The design of these dresses is perfect for women who wish to create a flattering look by hiding their curves.
Ball Gown
Ball gown wedding dresses resemble the princess dresses in children's fairy tales and their main characteristic is that they flare out from the hips to the floor. Most ball gown wedding dresses are strapless and are often paired with bodices. These wedding dresses are recommended for women with pear-shaped bodies, as they are flattering while hiding imperfections in figure at the same time. As with trumpet dresses, ball gown wedding dresses are not the perfect choice for petite women.
Brides on a budget have plenty of styles to choose from when it comes to finding an inexpensive wedding gown. Dresses in all these styles can be found for the price of a regular evening gown, thus being ideal for protecting the budget of a wedding.
Finding a Wedding Dress in the Right Size
When shopping for wedding dresses online, finding the ideal size can sometimes be tricky. A wedding dress needs to fit perfectly in order to look great and be comfortable on the big day. It is essential to take accurate measurements before actually searching for the dress, because this way a bride can save time by eliminating models that do not fit from the beginning. Women who are not sure about how to take their measurements at home may have it done professionally. They should make sure the length of the dress is taken into account besides the bust, waist, and hips sizes, as a wedding dress that is too long or too short is never flattering.
How to Find a Wedding Dress on eBay
The best way to find a wedding dress that does not break your budget is online. It is impossible to find the same variety of styles in high-street stores, so brides who are looking to save some money on the dress for the most important day of their lives should consider buying it on eBay.
It is not difficult to find a cheap wedding dress on eBay. All you need to do is type "wedding dress&" in the search bar on eBay's home page and you will instantly get access to thousands of models in all sizes, colours, and styles. In order to make sure you do not exceed your budget, type the maximum amount you are willing to pay for a wedding dress in the price range field. You can make your search even simpler by entering more information in the search bar, including the preferred size, style, or colour of the dress.
When buying a wedding dress on eBay, you should make sure you have accurate sizing information in order to avoid having to send the dress back because it does not fit. Pay attention to the sizing information offered by the seller and ask for more details if you are not sure. This way, you will avoid paying for returns and repeating the search for the ideal wedding dress.
Conclusion
A wedding is the most important event in the life of a woman and having a tight budget should not be an impediment when it comes to choosing a wedding dress that looks wonderful. There are plenty of styles, colours, and fabrics to choose from, some of them at very low prices, so it should not be too difficult to find a dress that fits properly and satisfies the preferences of the buyer at the same time.
Brides to be who are looking for an inexpensive wedding dress should search for it online because the chances to find a suitable style there are bigger than in the high-street shops. eBay offers a wide selection of wedding dresses in all styles and sizes, so buyers can certainly find something they like at a reasonable price. Whether buyers are looking for a classic white dress or a non-traditional or vintage one, they are sure to find it on eBay.