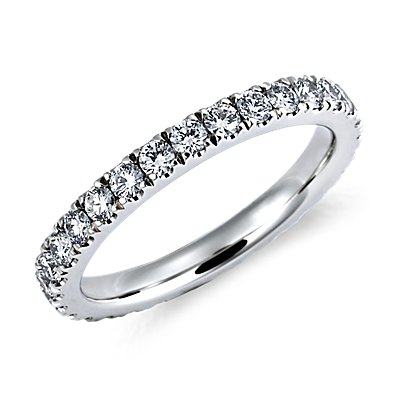 Eternity rings, considered symbols of everlasting love and devotion, are a tradition dating back to the ancient Egyptians. Closely related to a wedding ring, an eternity ring is typically given as a gift to mark an important anniversary or significant event, such as the birth of a first child. Consumers in the market for a white gold eternity ring can find a vast selection on eBay. In order to narrow down the choices available when searching for a white gold eternity ring on eBay, buyers should begin by choosing a setting and style for the ring. Deciding on the number and type of stones in the ring and the carat weight of the white gold setting are other important choices that must be made. Also, the wearer's ring size must be correctly determined beforehand, since eternity rings are difficult to resize. Once a particular ring is selected, buyers are ready to learn about eBay's procedures and search capabilities. Becoming educated in all these areas helps shoppers make better decisions when shopping for a white gold eternity ring on eBay.
Pick an Eternity Ring Style and Setting
Shoppers must first decide which style eternity ring suits their taste and budget. Styles include traditional eternity rings, half eternity rings, or trilogy rings. The setting used for the stones is another important characteristic to consider, as different settings alter the look of the ring.
Styles
A complete circle of stones, most often diamonds, set into a gold band is the classic style for an eternity ring. These rings are beautiful, but are also expensive and difficult to fit and resize. Many jewellers custom make eternity rings since they are nearly impossible (and therefore expensive) to resize. A half eternity ring is an affordable option for many consumers. With stones that span only half the circle, these rings offer the same level of beauty at a much lower cost, since there are significantly fewer stones. Half eternity rings are also easier to resize, if necessary. Another alternative is the diamond trilogy ring. These rings feature three medium to large diamonds set into the band, one stone representing the past, one for the present, and one for the future.
Settings
When shopping for an expensive item like an eternity ring, buyers should find a style and setting they find appealing. Several different settings are available. The chart below outlines the major characteristics of some of the settings most commonly used in eternity rings.
| Setting Design | Description | Benefits and Drawbacks |
| --- | --- | --- |
| Channel Set | Gemstones are sandwiched between two horizontal channels of metal, stones sit securely side by side | Best for round cut stones and hard gems such as diamonds, rubies, and sapphires; difficult to resize |
| Pave Set | Gems are inserted into holes drilled into the ring and remain level with the surface of the metal | Gems sparkle more and appear larger than actual size, not a good choice for fragile gemstones |
| Bezel Set | The perimeter of each stone is fully or partially surrounded by a metal rim | Stones are protected and secure, white gold can make diamonds appear larger |
| End Set | Small plates or rims are pushed over the end edges of the gem to hold it in place | Only used for marquise or emerald cut stones, more stone is visible than with other settings |
| Grain Set | Small beads of gold are raised over the edge of the stone | Works well for small stones, enhances metal shoulders on settings |
A less common setting can provide an interesting twist to an otherwise traditional eternity ring. The chart above lists some of the settings commonly available, although there are other designs available for more adventurous shoppers.
Choosing Gemstones for an Eternity Ring
Deciding on gemstones is the next step. Diamonds are the traditional choice for gemstones in eternity rings. However, many couples abandon tradition for vibrantly coloured gemstone such as rubies, sapphires, or emeralds. Gemstones should be selected based on durability, cut, and colour.
Gemstone Choices for Eternity Rings
Two important factors to keep in mind when selecting gemstones for jewellery are cut and durability. Round and square stones are popular choices. Princess and emerald cut stones also work well in eternity rings due to their compact size. Stone hardness and durability is measured by the Mohs scale, with 10 being the hardest and 1 being the softest. Harder stones are more durable and therefore, more suitable for a ring that is worn every day.
The table below lists several gemstones often used in eternity rings. While many other gemstones that can be used, as well, stones with a Mohs rating below 7 are not recommended for use rings.
| Gemstone | Mohs Rating | Characteristics and Colours |
| --- | --- | --- |
| Diamond | 10 | The hardest, strongest stone; valued for its brilliance and sparkle; clear to pale pink, yellow, blue, orange, green, or brown |
| Ruby | 9 | Highly valued for colour, hardness and sparkle; good alternative to a diamond; dark red or ruby red |
| Sapphire | 9 | Less expensive than diamonds, but nearly as hard; sky blue to dark blue; less common colours are yellow, pink, purple, orange, and green |
| Emerald | 7.5 to 8 | Less durable than diamonds and rubies, tend to be brittle, prized for their deep green colour |
| Amethyst | 7 | Purple variety of quartz, somewhat soft; light to dark purple with deep purple being most valuable |
| Aquamarine | 7.5 to 8 | Semi-hard stone ranging in colour from pale blue to aqua blue or teal |
| Topaz | 8 | Hard but brittle stone ranging from yellow to gold in colour; lesser known colours are pink, red, orange, brown, peach, and blue |
The gemstones in the chart above are good choices for eternity rings due to their durability, hardness, and beauty. Amethyst is the softest stone listed, but in the right setting, it can be almost as durable as the others.
Select the Type of White Gold for an Eternity Ring
The next step toward successfully finding a white gold eternity ring on eBay is to choose the carat weight for the white gold setting. Pure gold is too soft to use for everyday jewellery, so the gold is mixed with other metals to make it stronger. Carat weight refers to the percentage of gold used in the metal alloy.
Determine White Gold Composition by Carat Weight
The cost of gold jewellery decreases as the percentage of gold decreases. However, with the cost savings comes a decrease in durability. The chart below lists the various percentages of gold used in jewellery, along with the carat weight markings and a description of each.
| Per Cent Gold | Carat Weight Markings | Description |
| --- | --- | --- |
| 99, 99.9 | 990, 999, 24ct | Pure gold, considered too soft for most jewellery applications |
| 75 | 750, 18ct | Used in high quality jewellery, durable and valuable |
| 58.3 | 583, 14ct | Durable yet economical, popular choice for everyday jewellery, most popular choice for white gold |
| 37.5 | 375, 9ct | Minimum UK standard for gold, similar to U.S. 10K |
The chart above outlines the types of gold commonly found in the U.K. Other countries manufacture gold in different carat weights, and various carat weights have been used in the past.
Considerations When Purchasing White Gold
White gold is actually yellow gold that has been mixed with nickel and other alloys to make it appear less yellow. It is then coated in a thin layer of rhodium to enhance the colour and shine. The higher the gold content, the yellower the piece appears once the rhodium plating wears off. White gold jewellery needs to be re-plated periodically to keep it looking its best.
Find the Right Size Eternity Ring
Determining ring size can be challenging, and with the difficulty of resizing an eternity ring, many people prefer to use a ring sizing tool or visit a local jeweller to determine ring size. For those who prefer to do it at home, the sections below provide two methods to determine ring size.
Determine Ring Diameter
Using a ring that fits the wearer properly, trace the inside circumference of the ring onto a piece of paper. Measure the diameter of the drawn circle, straight across from one side to the other. Many sellers give ring diameter in their listings. This can also be done by pressing the ring into a bar of soap to make an imprint of the circle.
Ring Size Using String
Wrap a piece of string or a narrow strip of paper around the finger and mark the point where the end overlaps to make a closed circle. Remove the string and measure from the end to the marked point. Compare this measurement to a ring size chart provider by the seller or manufacturer to find the correct size.
How to Buy a White Gold Eternity Ring on eBay
After completing the steps above, you are now ready to search for a white gold eternity ring on eBay. Shoppers new to eBay can find an extensive inventory and user-friendly features. Familiarity with procedures such as searching for an item, shopping in eBay stores, reviewing and giving feedback, and contacting a seller makes shopping on eBay easier and more efficient. A few of eBay's many features are highlighted below. For more in-depth information about buying on eBay, shoppers should access the Getting Started on eBay guide.
Searching for an Item on eBay
The easiest way to search for a white gold eternity ring on eBay is to use the search box found at the top of any eBay web page. Simply type the words "white gold eternity ring" into the box and click "search". This type of search generally returns a large number of results, and shoppers may want to use one of the methods below to narrow the search results to a manageable number.
Narrowing Search Results with Filters
To avoid being overwhelmed by the sheer number of search results, shoppers can take advantage of filters. By selecting the filters provided on the listings page, shoppers can sort results by total carat weight, type of stone, metal, price, brand, and condition (whether new or used). Shoppers can also use the location filter to find items for sale within a certain distance of their postcode. This allows buyers to view the item prior to purchasing, which is an important consideration when buying expensive jewellery items.
Shop in eBay Stores
Consumers who want their items as soon as possible should consider the benefits of shopping in one of the many eBay Shops. Buyers can search eBay Shops by item or by shop name, and can see a seller's entire inventory at once, and can learn about the seller and his or her business.
Understanding Feedback
Feedback is an important tool that protects both buyers and sellers. The seller's feedback rating is indicated by the number next his or her eBay ID on the listing page. Sellers with strong reputations typically have high feedback scores. Both buyers and sellers are allowed to leave feedback regarding their transactions on eBay, to include individual comments. Reviewing comments left by other buyers allows potential customers to evaluate the seller prior to making a purchase.
Seller Policies
Sellers establish their own policies when it comes to shipping and returns. Shoppers should review a seller's policies thoroughly before entering into any transaction.
Shipping
Many sellers offer free shipping or local pickup. Otherwise, estimated shipping costs and times are typically displayed in the item listing. Some sellers offer expedited shipping or ship worldwide. A buyer that has a question that is not answered in an item listing can contact the seller directly for more information.
Returns
Shoppers purchasing expensive items want to look for sellers with consumer friendly return policies. If an item arrives in poor condition, does not fit, or is not as expected, many sellers accept returns and issue refunds within a specified period. Be aware that shipping costs are rarely refundable, and there may be a restocking fee.
Conclusion
A classic eternity ring is a full circle of diamonds set in a narrow band, although the half eternity ring and the diamond trilogy ring are beautiful alternatives. Eternity rings, considered symbols of everlasting love, are expensive items, and as such, care should be taken when selecting one for that special someone. The vast inventory of white gold eternity rings on eBay means a shopper should be able to find just the right ring, no matter what he or she is looking for. Picking a style and setting and choosing the type, cut, and number of stones, along with the carat weight of the white gold ahead of time makes shopping for a white gold eternity ring easier. Shoppers need to pay close attention to ring size to ensure the ring fits, and should review a seller's return policies in case the item does not fit. With numerous user-friendly features and simple navigation tools, shopping on eBay is convenient and easy. Features like multiple search methods, eBay Shops, Feedback, and Help pages make finding a white gold eternity ring on eBay a pleasant experience for any shopper.