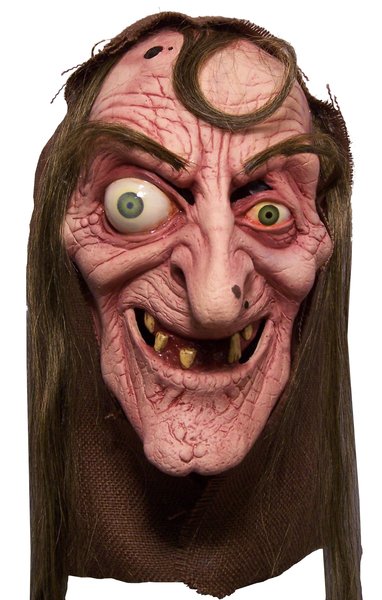 The witch mask is a popular choice of mask for Halloween and fancy dress parties. Witches are synonymous with frightening and scary characters, often derived from historical myth and legend as well as famous movie characters. When buying a witch mask, buyers have a wide range of choices when it comes to style, quality, and price. This guide provides buyers with the necessary information to aid in purchasing any type of witch mask. The guide includes information about the different types of witch masks available, the difference in quality between masks, different masks to suit wearers of any age, and how to find an accurately fitted mask. Buyers can also find useful information about popular accessories to complement the witch masks for the ultimate Halloween costume.
Witch masks are available to purchase from numerous specialty costume stores as well as online. For buyers looking to purchase their witch masks online, this guide includes tips on how to buy a witch mask on eBay.
History of the Witch Mask
Most people do not consider where the concept of the witch mask came from. Many people only have pictures of various movie, television, or storybook characters. In early European history, it was the belief that witches associated with the devil, and they cast spells on people, property, and various objects. Early Christian culture believed that misfortune was associated with witches and witchcraft. Over the 14th to the 18th centuries, as people became more and more afraid of the power that witches could have, witch hunts became a common part of many societies of the time. The concept of the traditional witch as we understand it today, with the long pointed nose, warts, wrinkles, rotten teeth, and cackling laugh, came about through folklore, myth, and legend, with early storybooks portraying witches with these traits. Although the social understanding of witches has changed over the years, the traditional idea of what a witch looks like is reflected in the witch masks of today.
Different Types of Witch Masks
Various types of witch masks are available in the marketplace. Some individuals prefer traditional witch masks, while others like to dress up as famous movie characters.
Traditional Witch Masks
Traditional witch masks, with the long pointed nose, warts, rotten teeth, long matted hair, and black pointed hat, are a popular choice for Halloween and fancy dress costumes. Many variations on the traditional witch mask, including the old lady witch mask, with chubby wrinkled face, fat nose, and hairy mole, can be found. There is also the option of choosing a zombie witch, with pasty grey flesh and dark or bloodied eyes. The sorceress witch mask is also a common variation on the traditional witch mask and ideal for the female wearer. For a masculine take on a witch mask, guys can try the Witch King mask.
Movie Character Witch Masks
Several witch characters were made popular by movies. These include the Wicked Witch from "The Wizard of Oz" with her green flesh, pointed chin, and large black witch hat. Then there is the Witch King from "The Lord of the Rings" trilogy. This masculine witch mask looks like it has been forged out of molten metal, with dramatic spikes protruding from the top of the headpiece. Another popular movie character witch mask is the Grand High Witch from "The Witches", with her gaunt bony features, balding head, and overly long pointed nose.
Witch Mask Quality
Various ranges exist when it comes to the quality of witch masks. The majority of witch masks are made from plastic, latex, or silicone. Each type of mask ranges in price and quality.
Plastic Witch Masks
Plastic witch masks are the least expensive type of mask to buy. They are lightweight and tend to sit on the face, without conforming to the shape of the wearer's face. Most plastic masks only cover the front of the face as opposed to going over the back of the head or extending down the neck. These types of masks are not as durable as other types of masks, and they do not offer a realistic look. They are ideal for children's Halloween costumes and fancy dress parties.
Latex Witch Masks
Latex witch masks are flexible and lightweight. They are more expensive than plastic masks, but less expensive than silicone masks. Latex witch masks often extend over the back of the head and down the neck. They offer a more realistic look than plastic masks do. Latex masks often feature matted hair. A latex mask is suitable for the adult who is looking to find a realistic and scary costume, but does not want to spend a large amount of money.
Silicone Witch Masks
Silicone witch masks tend to be among the more expensive types of masks available. They offer a very lifelike appearance. Silicone masks are lightweight, flexible, durable, and conform to the wearer's face. They allow for the mask to move like a second skin. Silicone masks are used by professional costume designers and on movie sets because of their lifelike appearance. Silicone masks are ideal for those adults looking for top-quality witch masks for any occasion.
Finding a Witch Mask That Fits
Finding the right witch mask that fits the user is an important part of getting a realistic look to any scary witch costume. In order to find the right fit, buyers should measure the vertical circumference of the face, taking measurements from under the chin to the top of the head. The following table provides a list of the average mask sizes and the corresponding dimensions in centimetres.
| Mask Size | Face Circumference |
| --- | --- |
| Small | less than 58 cm |
| Medium | 58 to 65 cm |
| Large | 65 to 72 cm |
| X-Large | more than 72 cm |
Buyers should note that the above table is a guide only. Mask dimensions will vary between different mask brands. It is always best to try the mask on for size before making any final purchase.
Extra Witch Mask Accessories
When looking to complete the witch look, buyers should consider a few accessories to complement a witch mask.
Witch Hats
Witch hats come in a wide range of sizes, shapes, and colours. Traditional witch hats are black pointed cone hats. They epitomise the concept of a traditional witch costume. A good witch hat sits low over the forehead, making the witch mask look more authentic. One can choose a witch hat with a buckle, coloured embellishments, or even creepy spider webs.
Witch Wigs
Witch wigs are another accessory that helps to complement any type of witch mask. Witch wigs can be long and flowing, they can be matted and messy, they can be jet black, or streaked with bold colours. A witch wig is the ideal way to cover the edges of a witch mask, especially if the mask does not extend all the way down the back of the head to the neck.
Witch Outfits
A witch's outfit, with long flowing black gown and cape can complete the costume. Buyers can choose all types of witch outfits, including colourful wistful outfits, sexy short outfits, or full-length sorceress outfits. For the guy who wants to dress as a witch, he can choose a long coat and top hat to create a Witch Doctor outfit.
How to Buy a Witch Mask on eBay
Individuals looking to buy a witch mask online may head to eBay to find their desired masks at competitive prices. To begin the search, buyers can simply type "witch masks" into the search bar on eBay's home page. This brings up a long list of masks for sale on the auction website. Buyers can further refine their search by choosing from the optional sub-categories. They can choose to search by condition, price, buying format, or even location. For those looking for a specific type of witch mask, such as a zombie witch mask or an old lady witch mask, they can simply type either of these or similar phrases into the search bar to get more specific listings. Look on eBay if you're looking for a truly scary Halloween costume.
Top-Rated Sellers
eBay offer buyers the opportunity to purchase from Top-rated sellers, identified by the Top-rated seller badge. Sellers who have been awarded this rating have consistently demonstrated that they provide excellent customer service, receive great customer feedback ratings, and ship items quickly and efficiently. Choosing to buy from a Top-rated seller provides the buyer with extra assurance that he or she will have a positive buying experience on eBay.
Conclusion
Choosing to dress up as a witch is a popular option for children and adults alike. Whether it is an inexpensive child's witch mask for a Halloween costume or a realistic adult's latex witch mask to create that frighteningly lifelike character for a fancy dress party, buyers have a wide range of masks of any style, quality, and price to choose from. When purchasing witch masks, buyers should consider whether they want a traditional mask or a movie character mask, and they should also consider the quality of mask they are after. When buying a witch mask, an individual should think about other accessories he or she may want, such as a hat, wig, or outfit. The accessories can complement any type of witch mask and can help complete a costume. Buyers can find witch masks for sale on eBay. The auction website offers listings from top-rated sellers from all over the world, allowing buyers to purchase their new witch masks with confidence, at competitive prices.