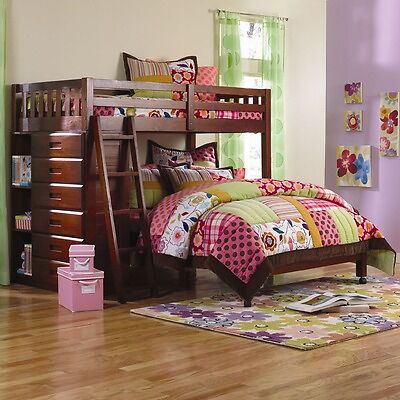 A child's bedroom is the most creative room in a home but it is also the most chaotic. Disorganisation usually runs rampant with toys and clothes being strewn across the floor regularly. It takes a lot for parents to get the room under control, but one tool that can help is having a type of bed that allows for extra storage.
The type of bed that presents itself as a solution to the aforementioned problem is the wooden cabin bed. The bed element is placed at height, which allows the area underneath to be used for storage. Storage options usually include drawers, desks, shelves and wardrobes. This guide will help shoppers find the cabin bed that is right for them. eBay has become a top resource for home furnishings, their trusted sellers can eliminate the hassle that is usually associated with bed shopping
What is a Cabin Bed?
The main reason behind purchasing a cabin bed is evident. It saves space and adds extra storage to an otherwise limited room. Not only do they come in a variety of shapes and sizes, but they also add an extra dimension to a sleeping area. They do away with box springs, making squeaking sounds and creaks will be a thing of the past. Overall, a cabin bed is an economical purchase that is multi-functional in design and purpose.
Types of Cabin Bed
There are four different types of cabin bed to choose from. It's worth researching all models in depth to see if they have any unique features that appeal. They are:
| | |
| --- | --- |
| Asian Cabin Bed | Featuring elements of Asian heritage and culture, this form of cabin bed is considered an exotic option. Modelled after tatami beds, they bring a sense of tranquillity to a room's décor |
| Modern Cabin Bed | A big seller in Europe largely due to its clean and simple design. The beds use straight edges along with a minimalist approach. Affordability is a key upside of buying a modern cabin bed. |
| Storage Cabin Bed | Storage is a key feature of every cabin bed, however, some are built with an appreciable amount. In this type of cabin bed expect to find, wardrobes, draws, shelves and more. |
| Traditional Cabin Bed | The classic form of cabin bed that is inspired by traditional American design. Attempts to blend features of other bed types, in order to create the perfect sleeping apparatus. |
Cabin Bed Materials
Wooden cabin beds are often categorised with the simple tag of 'wood', but there are actually many different types of wood on the market. Make sure that you buy a cabin bed made of a wood that suits your child's needs.
| | |
| --- | --- |
| Maple | A heavy wood that is resistant to everything a child can throw at it. The downside is that its weighty nature means it is difficult to move. |
| Oak | The heaviest wood out of them all and known for its durability. Perfect for customisation as it holds nails and screws well. |
| Walnut | Easy to clean and attractive in appearance, a favourite to the style conscious. Its lustrous finish makes it stand out from the crowd. |
| Rubberwood | Even though environmentally friendly, rubberwood's stability has been questioned. A favourite for those with an artistic touch, as it is built for painting. |
| Pine | The most affordable form of wood, however, it isn't particularly strong, nor does it offer much shock resistance. On the upside, it is similar to walnut in that is adapts to customisation well. |
| MDF | Man-made wood and considered average across the board. Made by gluing wood dust together with a binder, light and easy to manoeuvre. |
Cabin Bed Mattresses
Adults aren't the only ones who can benefit from having a supportive mattress. For cabin beds, there are a five mattress types to choose from. However, mattress choice should always come down to personal preference.
| | |
| --- | --- |
| Open Coil | Great value spring system bedding that provides a mattress for those on a budget. |
| Continuous Spring | Provides a comfortable and responsive mattress, as the springs run from head to toe. It gives children increased support when utilised with a cabin bed. |
| Zoned | These mattresses place focus on the midriff area. Perfect for aiding the spine as a child grows. |
| Pocket Sprung | Uses individual springs that are held in place by fabric. Considered the most durable mattress available by far. |
| Memory Foam | Moulds to the shape of whoever is sleeping on it. Provides all-round support and is extremely comfortable. Can be expensive depending on the brand of mattress maker chosen. |
Cabin Bed Regulations
Almost every cabin bed comes in flat pack form, which means the construction element is usually the responsibility of the shopper. Always read the manufacturers instructions prior to building and have the UK safety regulations in mind. All units should meet the following guidelines in order to be considered a legally standardised bed:
There should be no gaps in the bed that are more than 75mm or less than 60mm.
The access gap to the top bunk must be a minimum of 300mm wide.
The bed must have guardrails on all sides.
The mattress must be 100mm or below the top guardrail.
Cabin beds are not suitable for children under six years of age.
Cabin Bed Safety
Cabin beds elevate the user 5ft to 6ft off the ground, so ensuring that children remain safe while using them is key. Explain to children the basic rules with regards to the correct use of such a bed. Always make sure they're enforced as incorrect use can result in serious injury. These are:
Don't jump off the bed.
Don't lean over the side of the bed.
Don't rock the bed.
Don't overload the bed.
Always use the ladder.
They may seem like simple rules, but they are important to adhere to in order for children to remain safe.
Wooden Bed Care
A wooden cabin bed is an affordable choice that is built with longevity in mind. That said, it pays to take care of a bed in order to see that such longevity is achieved. The following are a few tips that will help keep a wooden cabin bed looking its best.
Dust down the bed whenever it starts looking a little jaded.
Wipe it down regularly with a damp cloth but be careful to make sure no water spots are left on the surface of the wood.
Polish the bed with furniture polish in order to bring back a healthy shine. Oil or wax-based polishes are advised in order to avoid smudges.
When polishing wipe in the direction of the grain in order to get the best possible shine.
If the bed is chipped or dented, varnish it in order to prevent any further damage occurring.
Conclusion
A child's bedroom features various pieces of furniture, but none are more important than the bed. It is crucial that parents purchase the right model, so with this guide and a little bit of time spent on researching the products available on eBay, they won't go wrong with a wooden cabin bed. The comfort factor and storage capabilities make it stand out from the crowd. The big decision comes in selecting the bed that is right for your home and your children.
This guide details all types of beds and mattresses available and will help shoppers make their way through the variety of choices available. eBay is here to make bed shopping a simple process; all you need to do is log on and start exploring the world of wooden cabin beds.