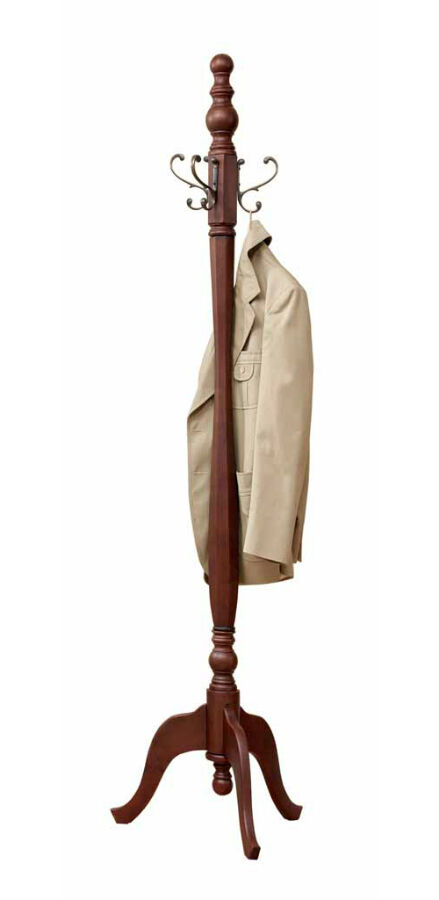 Wooden coat racks provide both a stylish and functional solution to the storage of outer garments in the home. Their tendency to be cold and damp makes them unwelcome in the inner house, so coat racks have become popular hallway furniture to welcome guests and family members alike. Whilst wooden coat racks were once a symbol of status and wealth, they are now inexpensive and available to anybody to own and use.
About Wooden Coat Racks
In times when most houses had tiled or wooden entrance foyers, wooden coat racks provided a good way to allow rain or snow covered coats to drip without worry of staining carpet. Before the 1900s, outer wear was largely confined to trunks and chests, which was impractical when more expensive fabrics began to be used which required hanging. Whilst Thomas Hefferson is widely credited with the invention of the coat hanger, the reliable and popular coat rack's history is a mystery. Early coat racks were called "cloak trees" and were designed to emulate the branches of a tree, but this large creation soon became compacted into the coat racks that we know today. Smaller homes called for coat racks to save wardrobe space and coat racks shrunk in size to accommodate more garments on a smaller frame.
Choosing a Wooden Coat Rack
Wooden coat racks can come in a variety of styles from the crumbling antiques to the super sleek and modern. With a choice of styles, materials, and bolt-on features, finding the perfect wooden coat rack can be an exciting journey of choices.
Type of Coat Rack
| | |
| --- | --- |
| Fixed | Fixed wooden coat racks have begun to replace their larger compatriots as space saving solutions. Attached to a wall through screws or brackets, fixed wooden coat racks are normally rectangular in shape with a row of hooks from which to hang coats. Having the garments flush against the wall saves a lot of space, but many people prefer the classical look of the standing wooden coat rack. |
| Standing | The classical wooden coat rack, derived from the cloak tree, is called a standing, free-standing or bentwood coat rack. It normally reaches about six feet tall, has three or four "feet" and offers hooks around its "head". There are a wide variety of this much loved version, including those with umbrella stands, a second set of lower hooks, and the capability to swivel on a pivot. These are the most popular and oldest of the wooden coat racks, but they're less common in modern houses because of their size. |
| Door | When there isn't enough space for either a standing or a fixed wooden coat rack, the clever "door clip" coat racks come into the fore. They operate by hanging on the top of a door and wedging their weight from either side. Hanging coats on the back of the inside of the door with these racks both saves space and also prevents the need to drill into the door to install hooks. |
Which Wood to Choose?
Each wood has its advantages and disadvantages. Whilst strength is needed for the storage of heavy coats, most wooden coat racks will choose the lumber most attractive and that which ages well.
| | |
| --- | --- |
| Oak | Oak is a very common choice for wooden coat racks, as it accepts stain and finishes very easily. This makes it easily customisable depending upon taste, whilst its resistance to sudden force means hanging up a heavy drenched raincoat won't cause a peg to snap. The weight of oak makes it a good choice, as it will stand solidly and will be unlikely to topple when unbalanced. |
| Ash | Ash is a beautiful wood, much lighter in colour than oak, and is famed for its flexibility. Whilst other harder woods may snap under weight, ash has the ability to flex and bend allowing heavier weights to be held for longer. Along with accepting stain well, it is very easy to work with when using screws, nails, and glue. |
| Mahogany | As one of the more expensive woods, mahogany can be found throughout luxury antique wooden coat racks. The natural dark scarlet patina of the wood makes it highly sought after, and, along with its incredible density and strength, mahogany can also be carved very intricately to create incredible turned legs, pegs and arms of a rack. |
| Pine | Pine is a much cheaper option than most other wood, as it offers the same advantages of being easily carved and accepting paint, though it is very inexpensive. Its prevalence in the Northern Hemisphere and light weight drive down transport and felling costs to make it one of the cheapest ways to create solid wood furniture. |
| Beech | Beech, along with ash, can be steamed and bent into shape. This offers a great tool for wooden coat rack makers in crafting ornate arms to their racks |
Choosing Hooks for a Wooden Coat Rack
The hooks of a wooden coat rack are arguably the most important part, as without them the rack loses its function and cannot offer any storage. Choosing the right material and type of hook can define the storage ability of a wooden coat rack.
| | |
| --- | --- |
| Metal Hooks | Metal hooks are almost exclusively seen on fixed wooden coat racks, though they are sometimes found on door clip racks. With higher strength than wood and the ability to be mass produced, metal hooks offer a great alternative to wooden hooks while often lending themselves to a more modern look. |
| Wooden Hooks | Wooden hooks are normally carved as part and parcel of the coat rack. On standing racks, they are normally made from one piece of wood, which looks very pleasing but can prove difficult if they break. Wooden coat hooks are rare on fixed coat racks unless made from an artificial timber like plywood or MDF. |
| Hat Hooks | Hat hooks are a common feature on wooden coat racks, offering additional space to hang hats from. They normally feature above the coat hooks towards the head of the rack. |
| Single/Double/Triple | Hooks are normally of a single, double or triple design. Double hooks offer a smaller hook just beneath the main hook for tiered storage, whilst triple hooks offer smaller hooks left and right of the main hook. Triple hooks are usually made of metal because of the increased weight they will have to endure. |
| Upward/Outward | Hooks on fixed wooden coat racks can protrude upwards or outwards. Upward coat racks save a little more space by pulling the coats closer to the wall, but they can come into contact with dust and stain walls if they're damp. Outwards coat hooks solve this problem but extend further out, taking up a little more room. |
Hooks and pegs can also be made to swivel on their axis. Connected to a pivoting joint, they can swivel left and right to allow for bulky garments to have its own side whilst smaller items can be protected.
Additional Features Of A Wooden Coat Rack
Fixed wooden coat racks often come with added extras in keeping with their problem solving nature.
| | |
| --- | --- |
| Shelving | A shelf is often installed above fixed coat racks to offer places to keep items needed when leaving the house. The shelves are usually small and can only accommodate smaller belongings like keys, purses, and wallets. |
| Tabletop | Tabletops are less common than shelves but serve the same purpose. They are normally installed at a lower level, around waist height or above. |
| Key Hooks | Small metallic hooks are sometimes found on fixed wooden coat racks, offering a space to store car and house keys. They are almost always made from brass and are often just screw-in hooks, making them easy to replace. |
| Letter Rack | Normally incorporated into the shelf or tabletop addition of a fixed coat rack, a letter rack offers a small storage solution to keeping letters picked up on the way into the home. They also serve as a reminder to post letters when leaving the house. |
Conclusion
Coat racks offer a fantastically stylish solution to the problem of storing outdoor wear. During winter it can be difficult to find places for heavier coats, but a durable wooden coat rack can provide the best place for it. The degree of customisation of coat racks make them a viable piece of furniture for any household, be it decorative or functional. With such a wide array of wooden coat racks in existence, eBay provides a great place to search through thousands of items to find the perfect example.