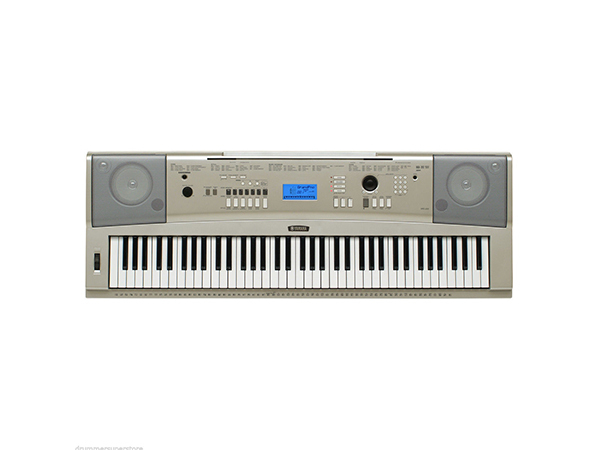 Yamaha are well known for dipping their toes into many business ventures but are perhaps most renowned for their contribution to the music industry, with many ranges of electronic keyboards on offer for both beginner players and seasoned professionals. Yamaha make only high quality, state of the art instruments that are durable and long lasting, meaning they're usable and beneficial when purchased in either a new or used condition. In fact, there are many advantages to buying a used Yamaha electronic keyboard online over a new model from a brick-and-mortar music store.
Deciding on a Used Yamaha Electronic Keyboard
Yamaha are constantly introducing newer models of electronic keyboards and pianos to their range, and in doing so, some older models become discontinued, even though these products still make substantial offerings to the musical world. Purchasing a used model expands the range available to the buyer, who has the choice of an older model no longer sold by conventional music stores, and newer, current models that have been pre-owned and previously used.
Current models that have already been used have the distinct advantage that they're frequently in excellent condition, but are offered for a mere fraction of the recommended retail price. As newer models are introduced to the market all the time, many professionals like to buy electronic keyboards as a short term solution rather than a long term investment, choosing to upgrade as and when the next model in the line is launched. As the Yamaha brand is well known for strength and longevity, some electronic keyboards are in almost new condition even when sold as used, creating the possibility for big savings on original prices.
Choosing a Used Yamaha Electronic Keyboard
Picking the right used Yamaha electronic keyboard depends on a number of factors that greatly influence choice and decision. Buyers should take into account features, keys, and the overall pros and cons of different models and versions before making a purchase.
Used Yamaha Electronic Keyboard Features
Different models contain different aspects and features that enhance the playing experience in different ways. Ranging from the basics to more technologically advanced gadgets, used Yamaha electronic keyboards have features that particularly lend themselves to both beginners and professionals alike.
| | |
| --- | --- |
| Features | Description |
| | Many used Yamaha electronic keyboards are preloaded with a number of songs. This gives inspiration and helps beginners understand the sounds, tones, and concept of playing. |
| Yamaha Education Suite | Y.E.S is Yamaha's educational programme for beginners. It teaches notes, note recognition, chord recognition, and timing through the keyboard along with other useful aspects. |
| Lighted Guide | Keys that light up can help teach beginners how to play a preset song. It's also useful for those switching from a compact to a full size keyboard or vice versa. |
| LCD Finger Guide | Playing the keyboard isn't just about making the right sounds, it's about using the instrument in the correct way. Lighted guides can assist players in learning the correct techniques. |
| Instrumental Voices | Being electronic, the range of sounds and tones the keyboard can produce is almost unlimited. Some Yamaha models come with hundreds of different 'voices' to create unique songs. |
| Touch Sensitive Keys | When learning the correct fingering technique, it can be challenging to press the keys hard enough to create a sound. These sensitive keys eliminate that problem. |
| USB Connection | A built-in USB connection makes it simple to transfer songs from a PC to the keyboard or to export user-created recordings from the keyboard to a PC for sharing. |
| Flash Memory | Many Yamaha models, both old and new, come with a flash memory that is capable of storing a large quantity of recordings and can playback at the touch of a button. |
| Recording | The recording feature is pretty standard amongst electronic keyboard manufacturers. It's one of the most used features and allows players to record their own songs. |
Number of Keys on Used Yamaha Electronic Keyboards
Used Yamaha electronic keyboards are available with different numbers of keys, ranging from the lowest, 32, to the highest, 88. There are advantages and disadvantages to both. Whereas those keyboards with a smaller number of keys are more compact and transportable, the larger versions are much more versatile in terms of sound output and usability.
| | |
| --- | --- |
| Keys | Description |
| | These models are very compact, lightweight, and portable and are often seen as toddler's toys and introductory instruments for children. |
| 49 | A 48 key keyboard has 5 C's and is typically very portable and streamlined. However, they are more limited that the larger models and aren't suited to professionals. |
| 61 | 61 keys is the industry standard for a full size electronic keyboard. This size model is very popular and is a good compromise between portable and piano models. |
| 76 | The 76 key models are edging into electronic piano territory with piano-style keys, but they still retain aspects of the keyboard, with portability being a major factor. |
| 88 | Keyboards with 88 keys are known as electronic pianos. They are a full size piano keyboard and are used when a 61 key keyboard is too limited for what the player needs to create. |
Popular Used Yamaha Electronic Keyboards
There is such a wide range of used Yamaha electronic keyboards available that the choice may initially seem a little overwhelming. While it is important to consider many different choices, a good starting point might be to look into some of Yamaha's most popular models.
| | |
| --- | --- |
| Model | Description |
| | This is an entry-level keyboard particularly suited to beginners. Its features are basic, but the sound quality is high, in keeping with Yamaha's musical instrument reputation. |
| YPT-220 | This is a bit more advanced than the E233 and, at less than 5 kilograms in weight, is one of the most easily transportable models on the market. Comes complete with Y.E.S. |
| EZ200 | The EZ200 is the only Yamaha electronic keyboard to offer guide lights for easier playing, making it the ideal choice for beginners and youngsters. The 61 keys are touch sensitive. |
| PSRE423 | Although inexpensive, this model has features more frequently found on more costly counterparts such as USB connectivity. It gives a very smooth, traditional, and genuine sound. |
| NP-V60 | This model is the junior version of the NP-V80, and both claim to simulate the sounds of a grand piano rather than a standard electronic keyboard. Boasts superior sound quality. |
| P-35 | With 88 keys, this is an electronic piano rather than an electronic keyboard as such. The display is minimal and easy to use, and it comes complete with a sustain pedal. |
Considerations when Buying a Used Yamaha Electronic Keyboard
While new Yamaha electronic keyboards can generally be guaranteed to be in good working order, the same cannot always be said about used instruments, and sometimes items are put up for sale with unidentified and undiagnosed problems that could affect the usability or sound quality of the keyboard. Therefore, it is important to take a few things into consideration when purchasing a used product. It may be beneficial to look at photographs of the keyboard to make sure what is on offer is both clean and complete. If anything is missing, or the casing is badly damaged or dirtied, it could indicate more major issues internally. It may also be useful to physically inspect the item before buying if possible. Turn the keyboard on and press every key. Look to see that the keys correspond to the correct notes and that they return to their original position easily, swiftly, and without any sticking. Fortunately, spare parts and repairs for Yamaha electronic keyboards are relatively inexpensive, so a minor issue or two needn't always be a deal-breaker.
Conclusion
Used Yamaha electronic keyboards can be a worthwhile investment when purchased in a good and usable condition. Opening up the search to include used instruments provides a greater variety of choice and also provides opportunities for big discounts. Yamaha are a well-respected brand and are a world leader in the digital keyboard and piano industry, so their models are typically very long lasting, meaning they are items that do very well when passed down from one owner to another. Used Yamaha electronic keyboards can be purchased through eBay, which is a fantastic place to find a wide variety of products.