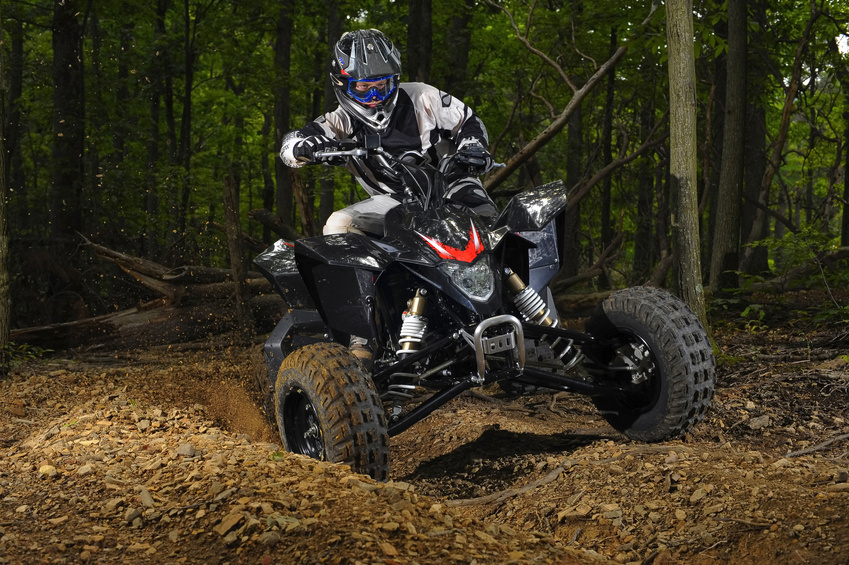 All-terrain vehicles, more commonly known as ATVs, are popular off-road and cross-country vehicles that many people enjoy using for recreation and outdoor work. Running a large-scale farm, for example, is often much smoother when done with a reliable ATV on hand. Recreational riders love these machines for the adventures they can have in the back country, navigating terrain that would be impossible in many other motorised vehicles.
ATV owners may find themselves eventually in need of new engines for their vehicles. One of the best retailers for finding these engines is the online aggregator eBay. On eBay, consumers can choose from many different options offered by the various sellers who are brought together on this site. For consumers who are new to eBay, they may want to learn a bit about the purchasing process on the site. For those who have never replaced ATV engines before, this process may involve a lot of questions that require answers. They may not know the proper size engines they need for their particular vehicles, and they may also need to understand the differences between two-stroke and four-stroke engine options.
Buying an ATV Engine on eBay
Despite its large catalogue of options, eBay actually makes it very easy for consumers to begin the purchasing process by searching through the thousands of listings on the site. When you first visit eBay, you can find a search bar on any of the site's pages. This interface can be used by entering a keyword term and clicking on the search button to bring up all the listings on the site that relate to that keyword or keyword phrase. Of course, before beginning this stage of the purchasing process, consumers should first determine what types of ATVs they have and what types of engines are designed for their vehicles.
Types of ATVs
There are several different types of ATVs, and they put various demands on their engines. Matching an ATV engine to the class of vehicle is important to ensure that a machine works adequately and consistently in certain settings and applications. High-performance users may also want to consider special engine features when selecting engines for demanding scenarios.
Mini ATVs
Mini ATVs are smaller machines that are targeted towards the youth market. These machines typically utilise smaller engines so that younger riders are not overwhelmed by speed or power on machines that are too hard for them to control. These options and their engines are typically more affordable than adult-sized or high-performance, sports ATVs. They are great for recreational use, and families might use several of these machines to enjoy a day riding together as a family.
There are some models of mini ATVs that are slightly more powerful. These are used for competition riding in stock racing. Mini ATVs, in general, come with an automatic transmission for easier handling, and this allows riders to focus on control of the vehicles.
Basic or Entry-Level ATVs
Basic or entry-level ATVs are adult-sized machines that have very minimal mechanical packages. These machines are great choices for beginners, small adults, and those who only ride on occasion recreationally. They can come with manual or automatic transmissions and suspension systems on the front and back of the vehicles that can handle the weight of a small or average-sized adult. Basic ATVs are often three-wheelers, although they can be found as quads, as well. Their engines are usually moderately powered and do not deliver enhanced performance features. They are ideal choices for trail riding and flat ground.
Utility ATVs
Larger adults or those who wish to try out tougher terrain may have utility ATVs. These machines are higher powered than entry-level options, and this allows them to work on rough terrain or even haul loads. Work users of ATVs who use machines on farms or estates may have one of these larger ATVs on hand to tow equipment and supplies or to operate farming machinery. They also give estate managers the ability to travel across large properties over almost any types of terrain, and they have a much higher clearance than standard ATVs. They can come with either two-wheel or four-wheel drive. A four-wheel drive machine typically requires a much sturdier engine than a two-wheel drive machine, although either type may demand enhanced performance features from engines.
Sport Utility ATVs
Sport utility ATVs are versatile machines that deliver higher performance on rough terrain. They can function well in sport and recreational settings or in farm work. These types of ATVs are among the more popular machines on the market. Owners of sport utility ATVs can find a large range of engine options for their vehicles on the eBay marketplace as a result. These machines can be more difficult for beginning riders to control, but they do come with automatic transmissions, in general.
Sport ATVs
Sport ATVs are lighter weight vehicles with powerful engines. This allows them to fly rapidly over rough terrain and makes them a good fit for riders who like off-roading adventures. Due to their light builds, these machines can also be used for trick and stunt riding. Typically, only experienced and advanced riders use these types of vehicles.
High-Performance ATVs
High-performance ATVs are extremely powerful, heavy, demanding machines that are used in off-roading, stunts, and racing. These vehicles typically demand four-stroke engines and additional performance enhancements. The transmission on a high-performance ATV is manual and can have five or six speeds. The suspension systems are comprehensive, but are designed to protect the machine from the demands of a substantial power drive rather than the rider. They should be matched with heavier, larger engines that can handle their stalwart structures and the weight of their chassis.
Choosing Liquid Cooling in an Engine
ATV engines may come with liquid cooling features that allow higher-performance machines to stay cool under stressful operational conditions. When looking for ATV engines, consumers should only consider this feature if they are riding their machines in high demand scenarios. Liquid cooling would not necessarily be needed on a basic ATV or a mini ATV. Utility or sport utility ATVs can benefit from this engine enhancement if the machines are regularly put through their paces in rough conditions. Sport and high-performance ATVs are typically matched with liquid-cooled engines.
Choosing a Two-Stroke or Four-Stroke ATV Engine
When choosing between two-stroke and four-stroke engines, consumers should consider various factors including power, clean performance, and ease of repair. Two-stroke engines are not as environmentally friendly as four-stroke engines, but they have made some significant strides in recent years and are almost on par with four-strokes. For riders who want more power per cycle from engines, a two-stroke may be the wiser choice. They do, however, run at a higher heat and may need more frequent repairs. For riders who want to conduct their own repairs on engines when needed, the simplicity of a two-stroke engine can be easier to navigate than a four-stroke engine. All of these factors should be taken into consideration when choosing between these two options.
Selecting the Proper Engine Size for an ATV
The size of an engine should be matched to the size and demands of an ATV. A smaller unit, such as a mini ATV, does not need a large, two-cylinder engine, for example, but a sport utility ATV does need the sizeable power drive of an engine with more cc's. The following chart provides consumers with a general size reference for matching ATVs to engines.
| ATV Type or Class | Engine Size |
| --- | --- |
| Youth or Mini ATVs | 50cc to 125cc |
| Entry-Level ATVs | 125cc to 250cc |
| Utility ATVs and Sport Utility ATVs | 250cc to 700cc |
| Sport ATVs | 200cc to 400cc |
| High-Performance ATVs | 350cc to twin-cylinder 750cc |
This is a general guideline for selecting an engine for an ATV by size. Consumers may also want to consult an ATV owner's manual and other literature to find specific recommendations for the best matches for their vehicles.
The Purchasing Process on eBay
With this information in hand, you can now dive into the purchasing process on eBay. Run a search using the search bar and a keyword term that denotes some of the features you are looking for in an engine. As you look through the resulting listings, click on the highlighted titles of any listings that seem viable for your machine. Review the specs listed by the seller and also make sure to keep an eye out for any information related to the purchase of the engine, including shipping requirements and payment methods.
Evaluating Sellers on eBay
It is also important when shopping on eBay to take the time to evaluate a seller with whom you wish to do business. eBay makes this a simple process by providing you with customer feedback on sellers and showing you a list of any other listings that a seller has been involved with in the past. Consider also taking time to message a seller directly to ask any specific questions you may have about an engine.
Conclusion
Finding and purchasing the right engine for an ATV is a simple process when it is approached with the right information in hand. Consumers should first consider the classes of ATVs they are using. They should then factor in the demands they put on their ATVs, including hauling tasks, racing, or frequent riding on rough terrain. For consumers who ride in demanding scenarios, upgrades such as liquid cooling systems can enhance performance. The differences between two-stroke and four-stroke engines can also affect the performance and suitability of a specific engine. Matching an ATV to the right engine size is another essential issue that should be carefully considered when making an engine purchase.
With all of these factors taken into consideration, consumers can then tackle the user-friendly purchasing experience on eBay. With its search interface, detailed listings, seller evaluation, and communication tools, eBay can provide consumers with an easy way to find the right engines for all types of ATVs.