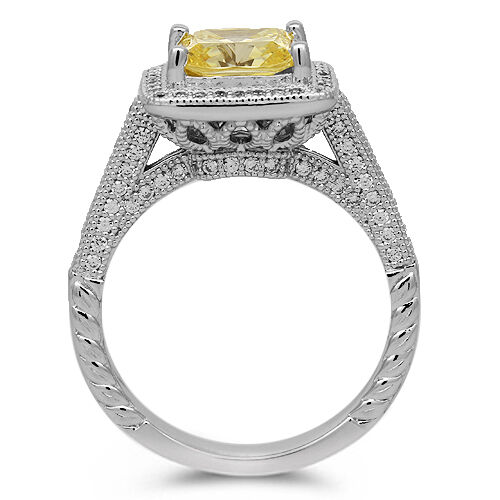 A cocktail ring is an oversized, dramatic ring often worn as a fashion accessory. These rings first came into fashion in the 1930s and continued to grow in popularity throughout the 1940s and 1950s. Traditionally, cocktail rings were worn by women at illegal cocktail parties during the Prohibition era in the United States as a way of flaunting the fact that they were drinking illegally. In more modern times, cocktail rings can be worn for a wide array of occasions. They are suited to both casual and formal settings.
Cocktail rings are available in various styles, sizes, designs, and price ranges. The quality of stone and metal also tends to vary. Earlier trends used precious stones, especially diamonds, but now cocktail rings often feature less expensive alternatives, such as amethysts, garnets, peridot, and blue topaz. These cocktail rings may use real gold for the ring band. Cocktail rings with imitation stones are both affordable and many are difficult to distinguish from a real stone.
In general, the bigger the stone, the better as cocktail rings are designed to be eye catching to draw attention to the wearer. When purchasing an affordable cocktail ring, buyers should understand how a cocktail ring is worn, learn how to choose the most affordable ring, familiarise themselves with the various types of gold, and consider the types of stones used in their production. Affordable cocktail rings can be bought at some jewellery shops and department stores, as well as retailers such as eBay.
How to Wear a Cocktail Ring
Many cocktail rings have a large, centred imitation jewel, classifying them as costume jewellery. Cocktail rings can be worn on any finger, except the ring finger on the left hand as this signals that the wearer is married or engaged. The ring finger on the right hand is a popular choice, although many also wear cocktail rings on their index finger.
Choosing the Most Affordable Cocktail Ring
There are many ways to purchase an affordable cocktail ring, such as ordering a setting and buying a separate loose stone of the quality and size desired. When purchasing a loose stone, buyers should ensure that it is at least three carats, although five or more carats is preferred so that it is large enough for a cocktail ring. Of course, this limits the range of stones that can be used as some, such as diamonds, are very expensive. Synthetic or simulated gems are ideal. They can resemble high quality pieces quite closely without the associated cost. When searching for an affordable cocktail ring, buyers should consider the mixture of stones and colours. Buyers should avoid choosing the same materials and colours because they will tend to blend together. It is best to use a variety of textures, metals, and colours. Buying a used ring is another option to reduce the cost. Some cocktail rings are worn infrequently, so there should be many pre-owned rings available in a good condition.
Types of Gold for Cocktail Rings
Gold is widely used in the creation of cocktail rings. Known for its beauty and rarity, gold is dense, shiny, and a soft malleable metal. Gold by itself is expensive. However, when mixed with other metals to form a more durable alloy, gold is affordably priced. There are three types of gold used for cocktail rings: yellow, rose, and white. Each type differs in colour depending on the metals used to make the alloy.
Type of Gold

Description

Most popular type used in jewellery

Made by mixing pure gold with copper and zinc

The higher the carat, the more golden it appears

No plating is required for it to maintain its colour

Low maintenance metal

Pure gold with a mix of mostly copper

Has a reddish tint

Higher carats of rose gold have a more subtle rose hue

Colour does not fade, chip, or wear off with age

Long wearing metal

Pure gold mixed with metals such as silver and palladium

Looks similar to silver or titanium, with a white-silver hue

Usually coated with rhodium to make the gold look whiter

Requires periodic replating if coated with rhodium

More expensive than yellow and rose gold
When searching for a type of gold, buyers should bear in mind their personal taste as well as the level of care required. Yellow and rose gold require low levels of care, while white gold requires higher levels of maintenance to retain its appearance.
Types of Stones for an Affordable Cocktail Ring
With the wide variety of styles and colours available, buyers are certain to find an affordable cocktail ring stone. Although diamonds are much sought after, adding coloured stones to a cocktail ring is a great way to attract attention, add instant flair, and reduce the cost of the ring. When choosing a stone, wearers should consider their personal colour preferences as well as the characteristics of each jewel.
Sapphire for an Affordable Cocktail Ring
Sapphires is available in a variety of colours. While blue is the most common colour, sapphires can also be found in yellow, pink, and orange. Blue sapphires have been known to range from a very dark and deep blue to a light, airy blue. Sapphire is characterised by its hardness and durability. So, it is easy to care for. It is one of the most popular jewellery stones and is said to symbolise loyalty and trust.
Ruby for an Affordable Cocktail Ring
Ruby is known for its bright red hue and shiny lustre. The colour of a ruby can be bright red, purplish-red, or dark reddish-brown. Ruby is characterised by its exceptional hardness. It is easy to care for, but in extreme cases, it can become damaged if handled roughly. Ruby is often associated with love, passion, and power.
Aquamarine for an Affordable Cocktail Ring
Aquamarine is characterised by its light blue-green hue. It is a common and affordable gem, making it ideal for use in cocktail rings. Aquamarine is often completely flawless. It is known for its hardness and durability. Aquamarine is regarded as the sailor's lucky stone and it is said that the woman who wears it will have a happy marriage, joy, and wealth.
Coral for an Affordable Cocktail Ring
Coral is known for its shiny red-orange exterior, although other colour variations do exist, including white, pink, blue, brown, and black. Coral comes from the sea and can be found at depths of between 3 and 300 metres. It is one of the softest stones available. So, coral can be damaged easily with improper care. When wearing a coral cocktail ring, it is best to avoid it coming into contact with cosmetics, hot water, and bright lights.
Emerald for an Affordable Cocktail Ring
Emerald is a popular type of gemstone and appreciated for its high value. It is known for its deep green hue, durability, and rarity. Emeralds are said to bring good luck to those who wear them and are a popular component of a cocktail ring. The hard exterior of the emerald protects it from scratches. However, the gemstone may develop internal cracks if handled roughly or subjected to extreme temperatures. Buyers should avoid cleaning emeralds with an ultrasonic jewellery cleaner or soap.
Buying an Affordable Cocktail Ring on eBay
An excellent way to find all types of cocktail rings at affordable prices is to shop at eBay. Here the buyer can search through rings that any fashionista would be happy to wear.
Keyword Search
Buyers can begin their search from the eBay homepage. When looking for a specific item, simply type the keywords, such as "cocktail rings", in the search field and this will produce a page of listings for this product. Buyers can then filter their search by condition. In order to find affordable cocktail rings, buyers may choose to limit their search to used cocktail rings. Although pre-owned, many used cocktail rings can be found in a like new condition and have minimal signs of wear. Alternatively, eBay's advanced search feature allows buyers to search within a specific price range. This search method eliminates cocktail rings that are outside of the buyer's budget. Buyers can also read eBay's search tips for other suggestions on the keyword search function.
Conclusion
Cocktail rings are known for their eye catching style and overly large stones. Although the large stone is often associated with a greater cost, there are many ways to stay within the constraints of a buyer's budget. When looking for affordable cocktail rings, buyers should consider the ring band. White gold is known for its beauty. However, yellow or a rose gold can help to cut costs. Buyers should also bear in mind the type of stone used in the cocktail ring. Aquamarine gemstones are affordable and appreciated for their flawlessness and durability. Alternatively, buyers can look for imitation or costume jewellery as an affordable alternative to genuine gemstones. The right costume cocktail ring offers the same beauty and appeal as fine jewellery.
eBay is a great resource for finding affordable cocktail rings. eBay's website features allow buyers to limit their search by price or condition, both of which can help in the search for the perfect affordable cocktail ring.