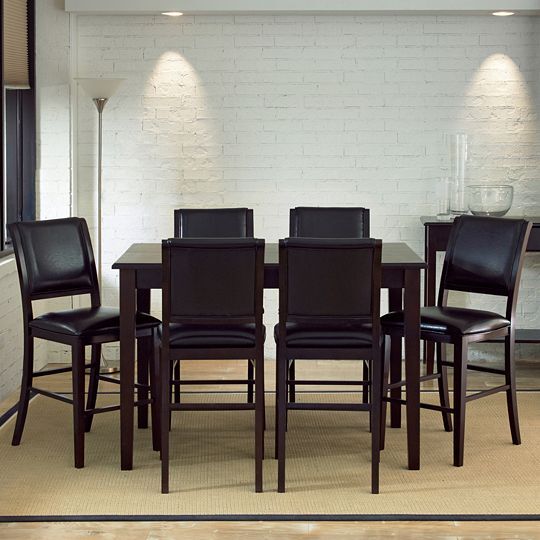 Whether it is for a London studio apartment or an elegant home in the countryside, a dining room set is a great way to furnish a dining space. A dining set includes a dining table and a complement of chairs; they are sold together a more affordable price than when bought separately. Buying a set also saves buyers the effort of locating chairs that match a table, or vice versa. Nevertheless, dining rooms set can be expensive, so this guide offers readers several tips on how to buy the perfect set at an affordable price. It also explains how to evaluate the space the dining room set will occupy, and how to choose a style that complements a room's decor. Using this information, readers should be able to choose a dining room set that is both aesthetically pleasing and affordable.
Evaluating the Space
Before shopping for a dining room set, it is important for buyers to get an idea of what size, shape, and style of furniture they require. The first step in this process is to evaluate the space where the dining room will sit. This includes selecting a space, taking measurements, and deciding on a table shape.
Select a Space
The first consideration in evaluating a space for a dining room set is to choose a where the set will reside. Some people have limited space, and some may prefer to dine in the kitchen. Such people thus require a more casual dining set. On the other hand, those who host guests frequently or who prefer a more formal atmosphere for regular meals should consider a placing their dining set in a formal, separate dining room. Whichever the user decides, the space should, at a minimum, be large enough to accommodate a 100-centimetre wide table. This width is enough to accommodate serving bowls and dishes, while still leaving plenty of room for comfortable dining.
Measure the Space
After choosing the space for the dining room set, measure the dimensions of the space. This should provide a sense of the appropriate size for the dining table required. It is important to measure the doorway width, as well, since there is no point in buying a dining room set that cannot fit through the door.
Once all measurements are taken, use the measurements to get a sense of the room's scale. In other words, consider the placement of the set, and remember that diners will need to have room to slide chairs in and out. Also diners must have enough room between the furniture and the wall to access their seats. Mentally leave enough space on the outside of the room for such access, and measure the distance between the imaginary points of access to get an idea of long and wide the table should be.
Decide on a Table Shape
The last step in evaluating the space is to decide on a table shape. The most common options are square, rectangle, round, and oval. Round and square tables seat fewer people, but they save space. They are also good choices for more intimate dining experiences. Oval and rectangle tables seat more people and are good for formal dining, but they can take up considerably more space. One way to enjoy intimate dining while still being able to accommodate an occasional crowd is to purchase a table with one or more removable leaves. Leaf tables pull apart in the middle, and a leaf sits atop the joints that connect the two ends, creating an elongated table surface for additional diners. The leaf should be stored somewhere safe when not in use. When using a leaf table, it is important to make sure there is room for the extra chairs guests will occupy.
Choose a Style
After gaining a sense of the dimensions of the dining room set, it is time to select a style. The sections below discuss various style and decor options, as well as available construction materials.
Consider Style and Decor Options
If a dining room set is to occupy a kitchen, it should match the existing kitchen furnishings. If the set will occupy a new space, this allows more flexibility in selecting the style and material. And there are many of each to choose from. Buyers can find modern/contemporary, traditional, or antique dining room sets in a variety of materials, from wood, the metals, to plastic. The table below lists each type of style and discusses important features of each.
| Style | Features |
| --- | --- |
| | Tables are often metal and glass, while chairs draw attention to fabric rather than wood; lines are clean and the pieces minimalist |
| | Often made of wood, though chairs may feature fabric; pieces match closely, so that the chairs do not stand out from the table or vice versa; few embellishments |
| | Tables and chairs are very ornate with intricately carved features; curved lines rather than straight; many embellishments; better suited to formal dining |
Some other terms that buyers may come across when shopping for dining room sets are "rustic", "farmhouse", and "French country". These are all fairly traditional or antique styles, though they are subsets with quite a bit of category crossover.
Pick a Material
The next step in selecting a dining room set is to choose the materials from which it is constructed. Many modern sets incorporate glass, metal, or both, while these materials are uncommon in traditional and antique sets. These styles often feature one or more species of fine hardwoods, though softwoods are also used. Hardwoods tend to be suited to more formal dining room sets, and buyers can choose between such options as maple, cherry, oak, walnut, and mahogany. More casual sets often use softwoods, usually pine. Farmhouse and rustic sets are often made of softwoods, which give a set the characteristic "worn" look that distinguishes these styles.
A Few Tips to Save Money
After buyers decide on the size, shape, and style of the ideal dining room set, they should start considering price. The following sections provide several tips to help buyers trim a few pounds off the cost without sacrificing quality, durability, or appearance.
Buy Engineered Woods
One good way to save money is to purchase a dining room set made out of engineered wood, such as particle board. Those who prefer an antique dining room set do not, unfortunately, have this option available to them. However, buyers can find inexpensive particle board sets are in most of the other styles. Even though they are considerably less expensive than a hardwood set, particle board furniture can be quite durable if properly cared for.
Look for an Unassembled Set
Many dining room sets come pre-assembled, a fact which adds to their production costs (and, likewise, their retail price). One way to save a few pounds is to purchase an unassembled set. It requires the buyer to exert a bit of extra effort to assemble the set, but the table and chair set usually costs considerably less when purchased this way. Furthermore, unassembled sets eliminate concerns about whether the furniture will fit through doorways, since everything is disassembled into smaller parts and packaged.
How to Buy an Affordable Dining Room Set on eBay
Those shopping for an affordable dining room set can find a limited selection of items at either brick-and-mortar or online furniture shops. Dining room sets can also be found at antique shows or in local classified ads. For a huge selection and the utmost convenience, buyers should check out online marketplaces such as eBay. eBay offers an enormous selection of affordable dining room sets available there, and you can often find one that meets all your needs for a terrific price, without sacrificing quality or style.
To see all the dining room sets for sale on eBay, go to the site's home page, enter the term "dining room set" into the search bar, and click Search. The listings will be extensive, but you can narrow your search by using more descriptive terms (e.g. "antique dining room set"), and selecting the furniture filter. Once you have a variety of relevant listings, you can filter the results according to price, condition (whether new or used) and location of the seller. Without much effort, you should be able to find an affordable dining room set that satisfies your size, style, and price requirements.
Conclusion
Buying a dining room set is usually a more affordable way to furnish a dining space than by buying a table and chairs separately. Buyers can also save more money by purchasing a set that requires some assembly, and by choosing a set made of less expensive material, such as particle board. Hopefully, this guide has provided readers with money-saving information and the steps necessary to select an appropriate dining set size and attributes. The first step in buying an affordable dining room set is to determine the size and shape required. Next step is to select a style. Finally, buyers have several cost-cutting measures they can implement. By following this guide, buyers can acquire the dining room set they want at an affordable price on eBay.