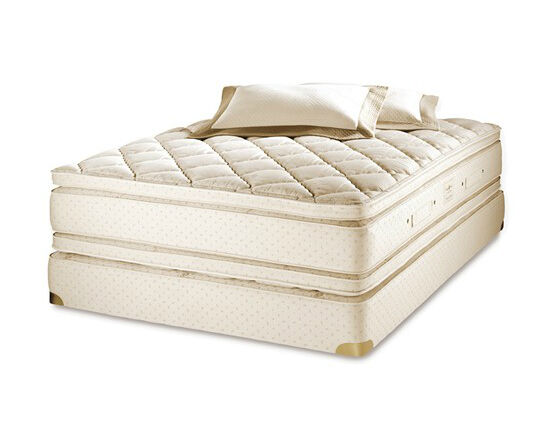 Because most people sleep one-third of their lives, a mattress is one of the most important items one buys, thus, one should make the selection of that mattress with care and consideration. For many, a double mattress is the perfect size, allowing one enough room to stretch out without taking up so much space in the room that it becomes crowded.
According to the International Sleep Products Association, approximately 73,000 mattresses are sold daily, and in 2002 the average price paid for a mattress was £376.20. While this may not seem like all that much to some people, for others it is beyond their reach. Affordable mattresses are available, but one must know where to search. Local mattress shops generally have sales or offer-low end double mattresses. Also check on eBay for an extensive listing of affordable double mattresses from which to choose. When in the market for an affordable double mattress, one should research the different types of mattresses, what materials they are made from, whether box springs come with them and if so what type, how to care for a mattress properly, and what accessories one can buy for a double bed that will match bedroom decor.
The Perfect Double Mattress
The perfect double mattress is one that is made from all natural materials such as cotton, wool, hemp, bamboo, or natural latex. With enough wool, no other flame retardant chemicals are necessary to pass flame retardant regulations, making the mattress much safer. The down side is that sometimes organic or "green" mattresses are more expensive.
Mattress Size and Type
Given the role of one's mattress in a good night's sleep, it is important to buy one that will provide comfort as well as uninterrupted and restful sleep. Most people sleep better if they are not crowded by another person. Thus, mattresses come in six sizes: twin, twin XL, full or double, queen, king, and cal king. For adults who generally sleep alone, a double bed is usually just the right size to allow comfortable space and improved sleep.
With such a variety of mattress types available today, finding the perfect mattress can be a daunting task. Innerspring mattresses, latex foam mattresses, and visco-elastic memory foam mattresses are by far the most common types of mattress available. Each type of mattress has specific features and benefits.
Innerspring Mattresses
Innerspring mattresses consist of an area where springs have been implemented as well as a comfort area with padding. The innerspring provides support and spinal alignment, while the comfort layers, various foams, fibres, and ticking provide the cushy, soft sleeping surface. Pillow-top mattresses provide even more comfort with an additional layer at the surface of the mattress. There are four types of innerspring, or coil, mattresses:
| Innerspring Construction | Features | Advantage/Disadvantages |
| --- | --- | --- |
| Open Coil | The coil is hourglass-shaped and is attached to the surrounding coils with a small helical, or spiral, wire | Although this type of innerspring mattress provides good support initially, this coil system tends to wear out more quickly than other types of coils |
| Offset Coil | This type of coil is similar to open coil mattresses but has a square head, allowing the mattress to better contour to one's body | This type of coil is a bit more cylindrical than an open coil and is more durable |
| Individually Wrapped (or Marshall) Coil | Marshall coil mattresses have cylindrical coils that are wrapped individually and then placed in separate fabric pockets | Because each coil is separate, small areas of the bed can be moved without the rest of the bed being disturbed; tempering to hold its shape over time providing greater durability |
| Continuous Coil | Continuous coil mattresses are made with rows of coils from a single continuous wire | Continuous coil innersprings allow weight load to be shared across the innersprings; each spring remains stronger and more supportive for an innerspring mattress that will remain supportive for a longer period of time |
Although a greater number of coils in an innerspring mattress can translate into a more supportive mattress, the real determination of a supportive mattress is based upon the number of coils, the thickness of each coil, and how the coils are assembled.
Latex Foam Mattresses
A new and popular type of mattress is the latex foam mattresses. This mattress features a latex foam core instead of the traditional innerspring, is very sturdy and breathable, and helps to dissipate the heat buildup that generally occurs with foam mattresses. Because of its construction, the latex foam mattress provides excellent comfort and improved spinal alignment. There are two types of latex: natural and synthetic. Natural latex is a substance secreted by plants naturally and is used in a number of products such as gloves, scratch cards, and chewing gum. Synthetic latex is more resilient than natural latex and, when used for mattresses, provides excellent pressure-relieving comfort.
Memory Foam Mattresses
An extremely popular new addition to mattresses is the memory foam mattress, which features a visco-elastic memory foam core. This special core is the main support system for the mattress, rather than an innerspring. Memory foam performs much like latex foam in regard to its ability to provide comfort and spinal support. When memory foam is in contact with a warm body, it softens and contours around the body. A disadvantage of memory foam is that it does not dissipate heat as well as latex foam mattresses, making it rather warm when sleeping.
Mattress Construction
Mattresses are manufactured in a two ways: one-sided and two-sided construction. One-sided mattresses have padding on the top side only. This style of mattress is not designed to be flipped over, whereas a two-sided mattress has padding on both sides and can be flipped over to extend the life of the mattress and provide better comfort through even wear.
| One-Sided Mattresses | Padding | Two-sided Mattresses | Padding |
| --- | --- | --- | --- |
| One-sided tight top | Tight top mattresses have a surface layer that is attached to a taped edge | Two-sided tight top | Two-sided tight top mattresses have a surface layer that is tightly attached to a taped edge on both sides of the mattress |
| One-sided pillow top | Pillow top mattresses have an attached pillow, or "floating" layer, and are not bound at the edges | Two-sided pillow top | Two-sided pillow top mattresses have an attached pillow, or "floating" layer that is not bound at the edges. This layer exists on both sides of the mattress |
| One-sided euro top | Like the pillow top, Euro top mattresses have an attached pillow, or "floating" layer, that is not bound at the edges | Two-sided euro top | As with the two-sided pillow top, two-sided Euro top mattresses have an attached pillow, or "floating" layer that is not bound at the edges. This layer exists on both sides of the mattress |
To find an affordable double mattress, one should research the types of mattresses available, as some inexpensive mattresses are of inferior quality.
Box Spring
Box springs are not simply a means of holding a mattress higher off the ground; the actual purpose of a box spring is to provide support for the mattress and to act as a shock absorber. Box springs should never be completely rigid, but should have a little "give" to them to allow them to provide support by absorbing pressure from the mattress. There are four different types of support elements.
| Type of Box Spring | Features and Benefits |
| --- | --- |
| Module | The module construction style creates a balance between stability and shock absorption with modules that absorb pressure, reducing wire fatigue and side-to-side sway. Module construction also increases durability |
| Coil | This type of box spring uses shock absorbing, cone-shaped coils for a soft feel on the surface of the bed. Hotels use this style, as the box springs are much sturdier and can resist heavy wear; however, the design does allow for a greater amount of motion than a module box spring |
| Semi-Flex | The semi-flex box springs consists of straight wire that is welded into a cage, and offers zero deflection. This style box spring was originally made to compete against low-cost wood box springs |
| Platform | This type of box spring is the lowest-priced style available. The zero deflection platform is made from a wooden box covered with cardboard and fabric |
One may well ask if there is a true need for a box spring when buying an affordable double mattress, and the answer is that personal choice plays a large part in that determination. Box springs make it easier to get in and out of bed, as they raise the height of the bed, while adding a solid base upon which to place the mattress. One should choose a box spring mattress that is the same size as one's mattress; the actual thickness or depth of the box spring is not important except for aesthetics.
How to Clean and Care for a Mattress
It is just as important to clean a mattress as it is to wash bedding. However, remember that the interior padding of the mattress should not be wet. When cleaning a mattress in warm weather, open windows to allow the surface to dry quickly; if it is cold, simply place a fan facing the mattress and allow it to blow the mattress dry. To properly clean a mattress, follow these steps:
Flip Mattress
Flip the mattress every six months. Flipping a mattress allows it to wear evenly on both sides. As well as flipping the mattress, be sure to turn it so that the head and foot rotate for even wear.
Use a Mattress Cover
Mattress covers will protect the surface of the mattress and extend the time between cleanings. A washable cover is the best choice, as it can be easily removed and thrown in the wash to reduce both dust mite allergies and the need to frequently vacuum the mattress.
Vacuum the Mattress
Mattresses tend to build up dust, dander, and dust mites. Use a vacuum upholstery attachment to thoroughly vacuum the mattress regularly. Mattress covers can help to increase the time between vacuuming as well as protect the mattress.
Upholstery Shampoo
If the mattress is soiled, use an upholstery shampoo with the appropriate machine to shampoo it; alternatively, mix a mild detergent and water, apply the suds only to the soiled areas, and wipe with a sponge. Then, using a sponge and clear warm water, rinse the mattress, first wringing the sponge thoroughly to shed excess water. Wipe and then allow to dry.
Where to Buy an Affordable Double Mattress
There are several ways to go about finding an affordable double mattress. Traditional stores, charity stores, and Internet sales are all methods that can be utilised with great success.
Sales
Department stores often list bedding sales in the newspaper, as do TV or radio, to alert shoppers of a sale that is currently happening or set to begin soon.
Consider looking for sales at traditional mattress stores for scheduled sales, or go to the store and search the 'scratch and dent' section for mattresses that are slightly damaged or irregular. Also check locally for any going-out-of-business sales at stores that routinely sell mattresses. Additionally, newspaper classifieds sometimes list bankruptcy settlements or estate sales that have furniture and mattresses listed for sale at low prices.
Discount Stores
Charity stores often have mattresses for sale at very reduced prices. Some rent-to-own stores offer mattresses that have previously been rented at slashed prices, making this a great option for investigation. Ascertain whether there is any type of warranty still available on the mattress, or if it has passed out of the warranty period.
Internet Sales
Mattress dealers often websites that offer 'online only' deals. For even greater choices and prices, check eBay for an extensive listing of affordable double mattresses.
When buying from eBay, be sure to ask the seller pertinent questions. For instance, when looking at used mattresses, check its condition. Does it have any obvious damage? Are there any noticeable stains present? Find out what exactly you are buying. Does it come with a warranty or a box spring?
How to Buy an Affordable Double Mattress on eBay
To begin searching for an affordable double mattress on eBay, simply type in any relevant keywords into the search bar at the top of any eBay page. For instance, you can type in "new double mattress" and thousands of listings will be generated. To narrow your search and locate on the truly affordable double mattresses, customise your search results. In order to find an affordable double mattress on eBay, you can also opt to search by 'lowest price first' or 'used first' options to generate lists of items that meet those criteria. You may wish to search for local listings to avoid large shipping fees.
When you have chosen a double mattress that you like, read the listing carefully to make a final check regarding the mattress's condition and what the seller's refund or exchange policies may be. If the information is not present, go to the seller's member profile and contact them to ask specific questions prior to completing the sale. While on the site, check for feedback scores other buyers have left to see how well the seller complies with eBay policies and procedures, and remember that searches can be modified to find only top sellers on eBay as well, if one so desires.
Conclusion
When one wishes to buy an affordable double mattress there are many options to consider. One should thoroughly research the subject to determine the best type and style of mattress that is in a reasonable price range, then narrow down the choices to find the highest quality double mattress available that fits within the budget. Used mattresses are an often affordable choice; however, when purchasing a used mattress, be sure to disinfect used mattresses before using them by applying cleaning products that will remove odours and kill bacteria, viruses or mildew. Alternatively, set the mattress in the sun for several hours.
On eBay, one can not only find an affordable double mattress quite easily, but can completely accessorise it as well; for example, with a comforter and pillow sham set and matching valance. One can even buy matching bedroom curtains as well, creating a whole new look to go with the affordable new, or used, double mattress. A new set of luxurious sheets may complete the perfect bedroom; one may even choose to cover the new mattress with Egyptian cotton sheets. No matter what one is looking for, eBay has an extensive selection of affordable double mattresses and accessories to meet anyone's needs.